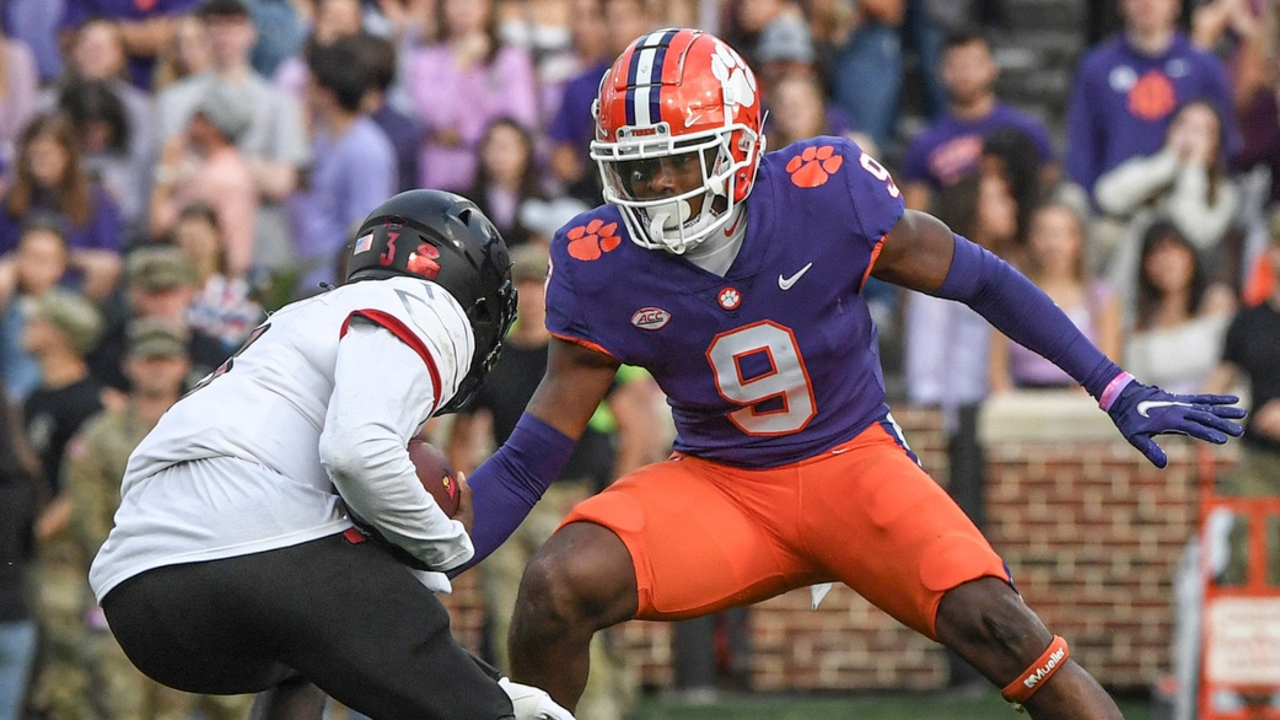 Photo by © Ken Ruinard-USA TODAY Sports
Clemson Football
Clemson safety R.J. Mickens could have special senior campaign
---

---
Before the start of his junior year, senior safety R.J. Mickens was asked what would be a personal goal. "I'm trying to win a Thorpe," he told the group of journalists during the fall of 2022. "Always dream big. There's no one saying that I can't do it and I believe in myself. I can do it."
The Thorpe Award, named for Jim Thorpe and sponsored by Paycom, has been awarded to the top defensive back in college football since 1986.
Mickens missed out on the award, won by TCU senior cornerback Tre'Vius Hodges-Tomlinson, but the Southlake, TX native had a career season.
He had career highs in snaps (519), starts (six), tackles (55), and a team-leading number of interceptions (3). He fell short of his goal of six interceptions, stated in the fall interview, where he also said he wanted to make plays.
In a critical ACC matchup against No. 14 Syracuse at Memorial Stadium, where the fifth-ranked Tigers struggled offensively most of the game, due to four turnovers including a fumble returned for a touchdown, Mickens made a game-clinching play. With the Tigers leading 27-21 in the fourth quarter after trailing by as much as 14 points, Mickens stepped in front of Syracuse receiver Oronde Gadsden II to pick off a pass and end a possible game-winning drive by The Cuse.
"R.J. Mickens is a playmaker, and he's got to be on the field somewhere," said co-defensive coordinator/safeties coach Mickey Conn during the spring. "He can play strong safety. He can play free safety. He can play the nickel. He can play Will linebacker if we need him to. He can play the dime."
Mickens made his starts when Andrew Mukuba was injured or taking snaps at cornerback and star/nickel. The other safeties were graduate senior Jalyn Phillips, who started every game, senior Tyler Venables, a participant in 10 games before missing four with an injury, and freshman Sherrod Covil.
Phillips and Venables were both out this spring leaving Mickens, Mukuba, and Covil to juggle reps with redshirt freshman Kylon Griffin and newcomers Khalil Barnes and Kylen Webb.
"I'm getting reps everywhere," replied Mickens when asked what position he played mostly in the spring. He had four tackles, one pass breakup, and an interception off of a deflection in the Orange and White Spring game. "I pride myself on being able to play every position. I like to play strong, star, free, dime, all those positions. It's just fun being able to be a plug-and-play player and do a lot of different things."
Conn accredits Mickens' versatility to a number of things.
"He's just a smart player," Coach said. "He recognizes formations and he understands schemes really well. And of course, he's got a background with his dad being in the NFL and he came from a great program out in Texas. So, he's been coached well."
Mickens's father is former Texas A&M and 10-year NFL cornerback Ray Mickens (1996-2006) and he played for Southlake Carroll High, a powerhouse in Texas football for over 30 years and once coached by legend Todd Dodge, the former coach of quarterback Cade Klubnik at Westlake High (TX).
As for the Thorpe Award, an award no Tiger has won and former All-American safety Deandre McDaniel (Clemson senior defensive assistant), a semifinalist with eight interceptions, was snubbed in 2009 and former cornerback Tye Hill was a finalist in 2005, Mickens could have competition in the Upstate.
Cornerback Nate Wiggins and Mukuba, named to the award's watchlist last season, should be among the best defensive backs in college football and watchlist notables in July.
Mickens has five career interceptions, more than Wiggins (1), Mukuba (1), and Venables (1) have combined (3). With more playing time, who knows, maybe he emerges as a dark horse Thorpe Award candidate by October when semifinalists are announced.
Never miss the latest news from Clemson Sports Talk!
Join our free email list