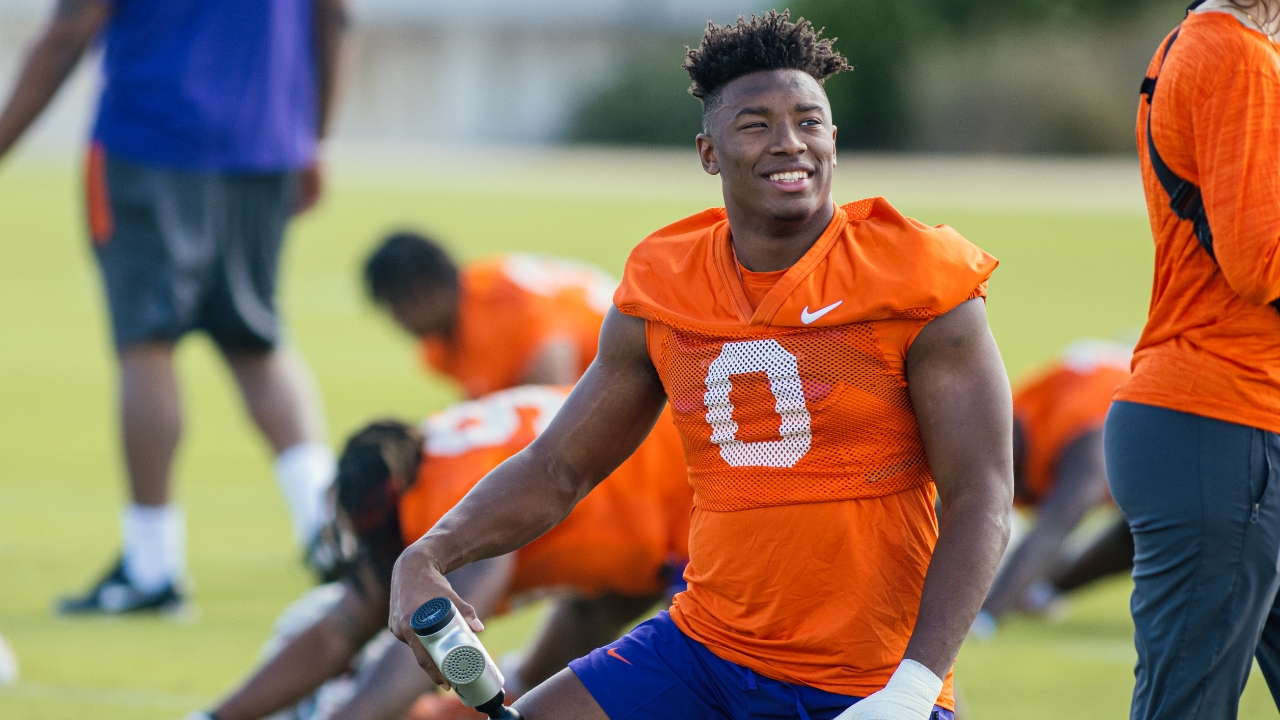 Clemson Football
Clemson's Barrett Carter one of 42 named to 2023 Lott IMPACT® Trophy Watchlist
---
NEWPORT BEACH, CA. – The Pacific Club IMPACT® Foundation announced the 42 candidates for the 2023 Lott IMPACT® Trophy at a luncheon today in Newport Beach, the twentieth season of this award.

The 42-man Lott IMPACT® Trophy Watch List is comprised of 16 linebackers, 13 defensive backs and 13 defensive linemen. There are nine players from SEC schools, the most of any conference, followed by the Big Ten and Pac 12 with eight players each. There are six players from both the Big 12 and ACC, with an additional five from non-Power 5 conference schools.

The Lott IMPACT® Trophy is the only major college football award that considers character.

Named after former NFL Hall of Fame star Ronnie Lott, The Lott Trophy annually goes to the Defensive IMPACT Player of the Year, a player who has had the biggest impact on his team both on and off the field.

IMPACT stands for Integrity, Maturity, Performance, Academics, Community and Tenacity, all characteristics exhibited by Lott during his illustrious playing career.

The annual winner is selected by a national voter panel, consisting of former winners, members of the media, coaches, and members of the Board of Directors of The IMPACT® Foundation.

The winner is announced at a gala black-tie event at The Pacific Club in Newport Beach, California December 10, 2023.

USC head coach Lincoln Riley, was the keynote speaker at the luncheon. The Pacific Club IMPACT® Foundation also made charitable donations to Beyond Blindness and The California Showcase.

THE 2023 LOTT IMPACT® TROPHY WATCH LIST:
JAISHAWN BARHAM, Maryland, LB, 6-3, 230, Soph., District Heights, MD: Returning Freshman All-American, All-Big Ten honorable mention. Team high 6.5 tackles for a loss, 58 total tackles led all Big Ten freshmen.

CHICO BENNETT Jr., Virginia, DE, 6-4, 252, Sr., Ashbury, Va.: Led Cavaliers with 7 sacks; All-ACC Honorable Mention.

COBEE BRYANT, Kansas, CB, 6-0, 178, Jr., Evergreen, Ala: All Big-12; Had 34 by tackles; 11 passes defended; 5 career interceptions.

CALEN BULLOCK, USC, DB, 6-3, 190, Jr., Pasadena, Calif.: Returning PFF 1st team All-American. 87 career tackles, with 7 interceptions (one for a TD), and 8 PBU. Was a Freshman All-American in 2021.

JORDAN BURCH, Oregon, DE, Transfer from South Carolina. 7.5 tackles for a loss, 3.5 sacks, and 3 passes defended in 2022. SEC 1st Year Academic Honor Roll.

BEN BYWATER, BYU, LB, 6-3, 230, Jr. Salt Lake City: On Lott Watch list last year Player of Week once; Led Cougars in tackles (98) for second straight year; Has 215 career tackles; Academic All-District; Eagle Scout.

ABDUL CARTER, Penn State, LB, 6-3, 249, Soph, Philadelphia, PA: Returning Freshman All-American and All-Big Ten. 6.5 sacks (4th Big Ten), 10.5 tackles for a loss. One of 8 Nittany Lions all-time with 6+ sacks and 10+ TFL in a season, 2nd ever by a freshman. Volunteer tutor.

BARRETT CARTER, Clemson, LB, 6-1, 225, Jr., Suwanee, Ga.: Pre-season All-American; All-ACC, 10.5 tackles for loss last year: ACC Honor Roll; Dabo Swinney calls him "one of the best pure football players I've had in 20 years."

DeWAYNE CARTER, Duke, DL, 6-3, 303, R Sr, Pickertington, OH: Team Captain. 36 tackles last season, 11 for a loss, including 5.5 sacks. Also forced and recovered 3 fumbles, with 4 passes defended. Allstate AFCA Good Works Team and member of the NCAA Football Oversight Committee Student-Athlete Connection Group.

JOSH CELISCAR, UCF, DE, 6-4, 265, Sr.,Winter Haven, Fla.: Has 104 career tackles, 20.5 tackles for loss, 8 sacks, 5 forced fumbles; Dean's List; AAC All-Academic team; Pre-finance major.

MASON COBB, USC, LB, 6-0, 230, Provo, Utah: Transfer from Oklahoma State. In three seasons with the Cowboys he had 108 tackles, 16.0 for a loss. All-Big 12 & Academic All-Big 12.

JUNIOR COLSON, Michigan, LB, 6-2, 235 Jr, Brentwood, Tenn.: Returning 2nd team All-Big Ten. Team leader in tackles (101), 6 for a loss, with 2 sacks. Born in Haiti, moved to US at 9.

TOMMY EICHENBERG, Ohio State, LB, 6-2, 239, Sr, Cleveland, Ohio: Lott Trophy Finalist. Team Captain. Buckeye's leading tackler. 186 career tackles, 18.5 TFLs, 32 games played and 17 starts. 3x Academic All-Big Ten.

JUSTIN FLOWE, Arizona, LB, 6-2, Jr., Upland, Calif.: Transfer from Oregon. Consensus 5-star prospect out of high school. 35 tackles, 2.5 for a loss in 10 games.

JAYLAN FORD, Texas, LB, 6-3, 234, Sr., Frisco, Tx: 119 tackles, 10 tackles for loss; All-Big 12, 3rd team All-American; 3-time conference defensive Player of the Week; Academic All-Big 12.

MARCUS FUQUA, Buffalo, S, 6-0, 195, Southfield, Mi.; 3rd team All-American; Tied for national lead with 7 interceptions (3 in one game when he was National Defensive Player of the Week); All-MAC first team.

CEDRIC GRAY, North Carolina, LB, 6-3, 230, Sr., Charlotte, NC.: His 145 tackles were most among Power 5 schools; Had 12 tackles for loss; Team Captain; 2nd team All-American; All-ACC.

JOHNNY HODGES, TCU, LB, 6-2, 240, Sr., Darnestown, Md., Led team with 87 tackles; 9.5 tackles for loss; All-Big 12; Navy transfer.

TY'RON HOPPER, Missouri, LB, 6-2, 221, Sr., Shelby, N.C.: Began career at Florida. 77 tackles, 14 for a loss, with 6 QB hurries last season.

TRAVIS HUNTER, Colorado, DB, 6-1, 165, Soph, Suwannee, GA. Former #1 overall recruit, top ranked transfer in NCAA (Jackson State). Jerry Rice award finalist (Top FCS freshman). 20 tackles, 10 PBU, 2 INT, forced fumble.

PATRICK JENKINS, Tulane, DL, 6-2, 305, Sr., New Orleans: Led team with 9 tackles for loss last season; 38 total tackles. Transfer from TCU.

WILL JOHNSON, Michigan, DB, 6-2, 194, Soph. Detroit, MI: 27 tackles, 2.0 for a loss and 3 INT. Freshman All-American. Has drawn some comparisons to Patrick Surtain II. Son of former Michigan standout Deon Johnson.

KAMREN KINCHENS, Miami, S, 5-11, 200, Jr., Miami: All-American last season; Had historic day vs. Georgia Tech with 3 interceptions, one for a 99-yard touchdown return; Led team in tackles with 59, 6 interceptions on season.

KALEN KING, Penn State, CB, 5-11, 190. Jr, Detroit, MI: PFF Top rated CB in 2022 (93.3 rating). 18 PBUs, 3rd most nationally, led Big Ten. 2nd Team All-American.

LAIATU LATU, UCLA, DE, 6-4, 265, RJr., Sacramento, Calif.: Led Bruins with 12.5 tackles for loss and 10.5 sacks, 8th nationally in sacks per game. 1st Team All-Pac 12. College Football Comeback Player of the Year after missing previous two seasons due to injury.

DWIGHT MCGLOTHERN, Arkansas, DB, 6-2, 190, Sr, Houston, TX: 4 interceptions, led team in 2022. Plus 10 PBUs, 52 Tackles, 43 solo. All-SEC 2nd team. Transferred from LSU prior to 2022.

GA'QUINCY 'Kool-Aid' McKINSTRY, Alabama, CB, 6-1, 195, Jr. Birmingham, Alabama-: Returning All-American, Bednarik Semifinalist. Led team with 15 pass breakups to go with two fumble recoveries and an interception. Also returns punts. SEC Academic Honor Roll, Projected top 10 pick.

MALACHI MOORE, Alabama, DB, 6-0, 198, Sr., Trussville, AL. 5 PBUs, 1.5 sacks in 2022 with 31 tackles and a blocked punt for a touchdown. Has dealt with injuries. SEC All-Academic team.

BENJAMIN MORRISON, Notre Dame, CB, 6-0, 170, So., Phoenix: Had 3 interceptions vs, Boston College and 2 vs. Clemson, one for a 96-yard touchdown return; National Player of the Week twice last season as a freshman; Frosh All-American.

JER'ZHAN NEWTON, Illinois, DT, 6-2, 295, Jr. St. Petersburg, FL.: Returning All-American, 2x All-Big Ten, top returning DL in nation (PFF). Led nations top scoring defense in tackles for a loss (14) and sacks (5.5), with 11 QB hurries, and let the nation in QB hits (19). Academic All-Big Ten.

JOSH NEWTON, TCU, CB, 6-0, 195, Sr., Monroe, La.: All-Big 12; Had 15 passes defended, 3 interceptions, one for 57-yard touchdown return.

COLLIN OLIVER, Oklahoma State, DE, 6-2, 235, Oklahoma City, Jr., All-Big 12 (second team); All-Big 12 Academic Team; Frosh Defensive Player of the Year in the Big-12; Had 12 quarterback hurries, 7.5 tackles for loss and 5 sacks last year.

HAROLD PERKINS JR., LSU, LB, 6-1, 220, Soph, New Orleans, LA.: Former 5 star prospect. 72 tackles, 7.5 sacks, 4 fumbles forced, 3 passes defended, interception. SEC All-Freshman team.

KARENE REID, Utah, LB, 6-0, 227, Jr., American Fork, Utah: First team All-Pac 12. CSC Academic All-District. 72 tackles (9.5 TFL, 5.0 sacks), one forced fumble, one recovery, an interception, three pass breakups and a QB hurry. Brother, Gabe, is also a standout for the Utes.

MAASON SMITH, LSU, DL, 6-6, 310, R Soph, Houma, LA. 2021 Freshman All-American, suffered season ending knee injury in the 2022 opener. Top D-Line recruit in nation out of high school.

MALAKI STARKS Georgia, S, 6-1, 205, Soph. Jefferson, GA: Led Bulldogs with 7 PBUs and was Georgia's third leading tackler (68), with 2 interceptions. National Freshman of the Year Finalist. 5 star recruit. PFFs #3 returning safety.

DANNY STUTSMAN, Oklahoma, LB, 6-4, 240, Jr., Windermere, Fl.: Had 118 tackles, 4th in the nation; 18 tackles vs. Texas Tech; 9.5 tackles for loss; Honorable Mention All-Big 12.

BRALEN TRICE, Washington, DE, 6-4, 267, Jr., Phoenix, AZ. Returning 1st team All-Pac 12. 9 sacks last season, 3rd in the Pac 12, also T-4 in the conference with 12.0 tackles for a loss. Projected 1st round pick.

J.T. TUIMOLOAU, Ohio State, DE, 6-4, 270, Jr., Edgewood, Wash.: Six tackles, two sacks, two interceptions, one forced fumble and fumble recovery, and one touchdown, top rated defensive recruit in school history. Projected 1st round pick.

JARED VERSE, Florida State, DE, 6-4, 250, Sr., Dayton, Ohio: Returning All-American. Had 17 tackles for losses and 9 sacks last year; Florida State Defensive Player of the Year; Projected to be Top 10 pick in NFL draft, but opted to return for senior season.

DEONE WALKER, Kentucky, DL, 6-6, 348, Soph, Detroit, Mich. Freshman-All American, Freshman of the Year Semifinalist. 40 tackles, 4.5 for a loss, 5 hurries,2 PBUs and a forced fumble.

NATHANIEL WATSON, Mississippi State, LB, 6-2, 240, Maplesville, AL: Returning 2nd team All-SEC. SEC 2nd leading tackler (113) and team best 12.0 for a loss with 6 sacks. 2020 Academic Honor Roll.

Previous Winners of the Lott IMPACT® Trophy
2004 – David Pollack, Georgia
2005 – DeMeco Ryans, Alabama
2006 – Dante Hughes, Cal
2007 – Glenn Dorsey, LSU
2008 – James Laurinaitis, Ohio State
2009 – Jerry Hughes, TCU
2010 – J.J. Watt, Wisconsin
2011 – Luke Kuechly, Boston College
2012 – Manti Te'o, Notre Dame
2013 – Anthony Barr, UCLA
2014 – Eric Kendricks, UCLA
2015 – Carl Nassib, Penn State
2016 – Jabrill Peppers, Michigan
2017 – Josey Jewell, Iowa
2018 – Josh Allen, Kentucky
2019 – Derrick Brown, Auburn
2020 – Paddy Fisher, Northwestern
2021 – Aidan Hutchinson, Michigan
2022 – Will Anderson Jr., Alabama
Never miss the latest news from Clemson Sports Talk!
Join our free email list