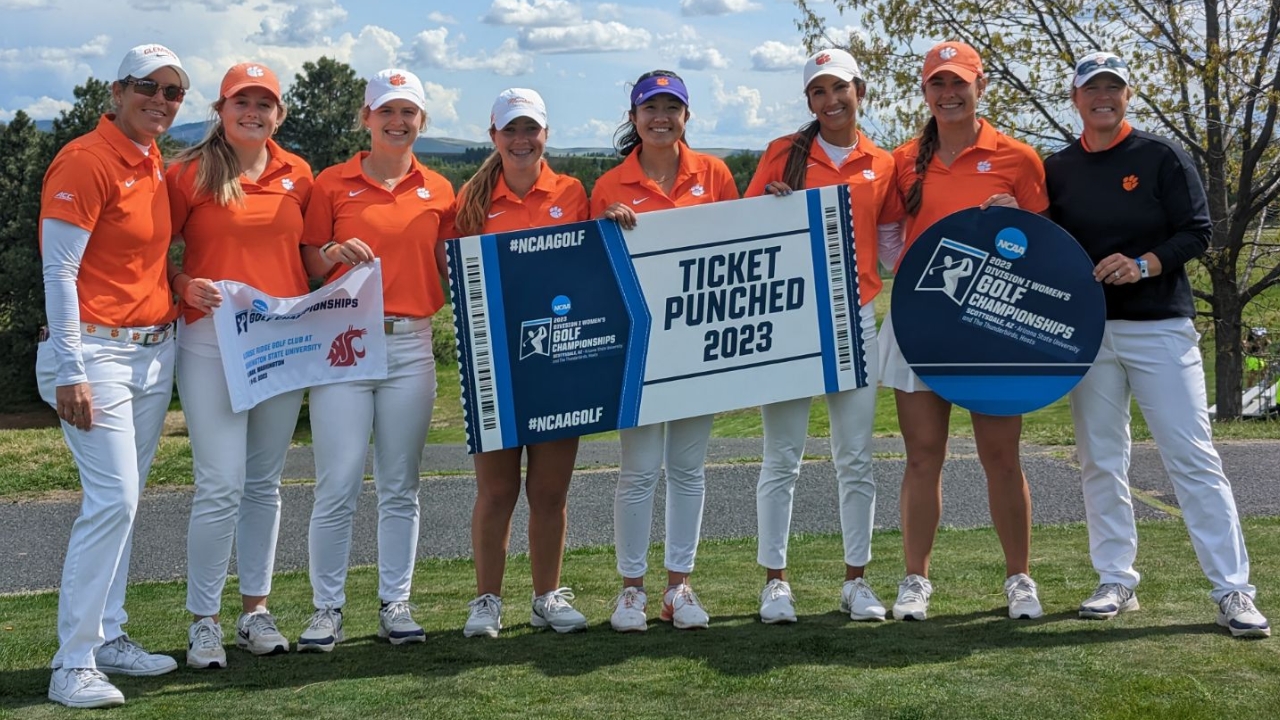 Clemson Sets Numerous School Records in Finishing 2nd at Pullman Regional
---
Clemson, SC—Savannah Grewal shot a school record nine-under-par 63 on Wednesday to lead Clemson to a record 270 team score and a second-place finish at the NCAA Pullman Regional in Pullman, Washington. With the second-place finish, Clemson now advances to the NCAA National Championship tournament at Grayhawk Golf Course in Scottsdale, Arizona, May 19-24.
Number-one ranked Stanford won the regional with a score of 50-under-par 814. The Tigers were second at 831 and Southern California was third at 838. Baylor was the fourth qualifier at 841 and Texas Tech earned the fifth and final spot in the national championship tournament with an 845 score. It is the second time Clemson has qualified for the national tournament, the first since 2017.
Clemson had an 18-under-par 270 score on Wednesday, the best in Clemson history on a total score and score vs. par basis. The 270 was the best among the 12 teams in the field on Wednesday, including three shots better than number-one ranked Stanford.
Clemson showed remarkable improvement over the three days on the par 72 Palouse Ridge course. The Tigers shot 285 in the first round and stood in seventh place, but just three strokes off the five-team cutline. The team improved to a 276 score in the second round and jumped to third place. Wednesday's 270 score moved Clemson ahead of Texas Tech and Southern California into the runner-up spot.
"We have been tracking in the right direction," said Head Coach Kelley Hester, who led the Tigers to its first ACC Championship three weeks ago. "We just kept getting better and better each day this week. It was a scoreable course this week and today the weather was very good. We did a good job judging the wind."
Grewal's 63 included two eagles, six birdies and just one bogey. It broke the school record of 64 that had been set by teammate Chloe Holder in September at the Schooner Classic. That score was achieved on a par 70 course. Holder broke the school record for score vs. par by two shots.
Grewal shot a 30 on the front nine, tied for the best nine-hole score in Clemson history. Her front nine included an eagle on the fifth hole when she hit a second-shot five-iron to 25 feet, then made the putt. The highlight of her 33 on the back nine was an eagle on the par 5 17th hole when she hit a second-shot four-iron to within 10 feet. She then made that putt to go to nine under for the round. Her drive on the final hole was off the fairway and she made par to finish at 63.
"Savannah shot six-under on the front nine and she was really playing well," said Hester. "She made a bogey on the 12th, but that was her only bogey of the round. She drove the ball well and putted well."
Grewal shot a one-over par 73 in the first round, then finished with rounds of 68 and 63 to finish with a 204 score, the best 54-hole score in an NCAA Tournament in school history by nine shots. She finished tied for sixth in the overall race. Rose Zhang, the number-one player in the nation, won the tournament with a 197 score, but Grewal beat her by two shots in the final round.
Three other Clemson golfers provided outstanding support with rounds of three under par 69. It marked just the second round in Clemson history out of 286 that Clemson had four counting scores in the 60s.
Melena Barrientos had a 69 in the final round to go with an opening round 67 and a second round 71. She was the only Clemson golfer to score under-par in each round of the tournament. She recorded a 10th place finish with a 207 score for the 54 holes.
Annabelle Pancake had her second straight 69 on Wednesday to finish with a 211 score, good enough for 17th place. This tournament marked the first time Clemson has had three of the top 17 players in an NCAA Tournament.
Freshman Isabella Rawl also had her second straight round of three-under-par 69. She finished with a an even-par 216 score after an opening round 78 and finished 32nd in the field of 60 golfers. "Isabella struggled the first day, but she gained confidence as she continued. She hits it very long and this course set up well for her. She took advantage of the wind on many par fours."
Chloe Holder had a 76 on Wednesday after counting scores of 72 and 70 in the first two rounds. She finished with a two-over-par 218 for 42nd place.
Hester is pleased with how the Tigers are playing heading into the national championship tournament. The last two tournaments Clemson has won the ACC Championship for the first time and finished in second place at the NCAA regional for the first time.
"This performance should give our team the belief that it can play with anyone."
Clemson results at 2023 Pullman Regional
Palouse Ridge Golf Course - Pullman, Washington, Par 72, Yards: 6,405
Team Finishes:
1. Stanford 814, 2. Clemson 831, 3. Southern California 838, 4. Baylor 841, 5. Texas Tech 845, 6. Kentucky 848, 7. Sacramento State 855, 8. Houston, 857 9. North Carolina 865, 10. Cal Poly, 867, 11. UNLV 868, 12. Green Bay 918.
Clemson Individuals
6. Savannah Grewal 73-68-63/204; 10. Melena Barrientos 67-71-69/207; 17. Annabelle Pancake 73-69-69/211; 32. Isabella Rawl 78-69-69/216; 42. Chloe Holder 72-70-76/218.
School Records Set by Clemson Women's Golf Team
NCAA Pullman Regional, May 8-10, 2023
Team
•In final round, shot team record for 18 holes with 270 total. Broke previous record of 272 that was on a par 70 course.
•In final round Shot team record -18 for score vs. par. Previous record was -12 twice.
•Shot team record 831 54 hole score. Previous best was 846.
•Shot team record for score vs. par, -33. Previous record was -18
•Best NCAA Tournament regional finish, 2nd place
•In second round became first Clemson team to have all five ladies shoot under par in same round.
•In third round, had four players score in the 60s, first time that has been done in a postseason tournament in school history, and just the second time in any round in school history. Did it earlier this year in second round at Cougar Classic.
Individual
Savannah Grewal
•Set Clemson record for low score in a round with a 63
•Set Clemson record for low score vs. par with -9
•Set Clemson record for under-par holes in a tournament with 18 (16 birdies, 2 eagles)
•Set Clemson record for low NCAA Tournament round with 63, broke record of 67 that had been set by teammate Melana Barrientos in first round.
•Set Clemson record for 54 hole score vs. par with -12.
•Set Clemson record for 54 hole score in an NCAA Tournament with 204. Broke that record by 9 shots.
•Tied Clemson record for under-par holes in a round with 8 (6 birdies and 2 eagles)
•Tied Clemson record for eagles in a round and a tournament with 2
•Tied Clemson record for low 9-hole score with 30 on front nine.
Isabella Rawl
•Tied Clemson freshman record for round score in an NCAA Tournament, 69 (twice)
Never miss the latest news from Clemson Sports Talk!
Join our free email list