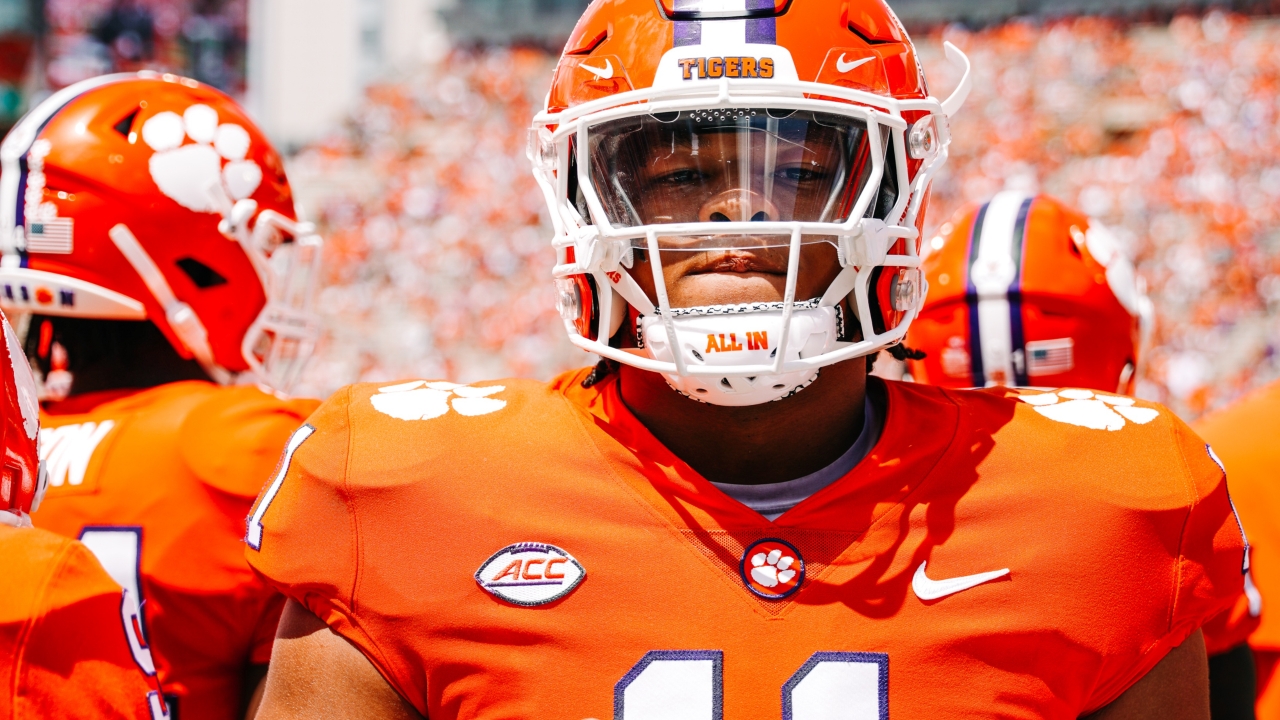 Photo by © Susan Lloyd/Clemson Sports Talk
Clemson Football
Philpott after calling Spring Games at Alabama, Florida, Clemson: Peter Woods 'stood out'
---

---
On NIL being a driving force behind the pressure caused by the ACC's Grant of Rights Deal:
"I think it's amplified it. The TV contracts are just so big, it's turned everything into what feels like more of a multi-billion dollar business. As much as we want to try to frame it as amateur athletics-- it's just not. I mean, it just grew out of that model. So it's been an awkward transition the last couple of years to get to a place where people can wrap their brains around Name, Image, and Likeness-- what it means and what it stands for, and how deserving these particular student-athletes are of it. I've heard all arguments, at the end of the day, those arguments really don't matter anymore. It's here, and it's here to stay."
On FSU being seen as a Top 3 team nationally:
"I really do like Jordan Travis. To me, he should garner plenty of preseason Player the Year votes within the ACC-- with Drake Maye of course. I'm a big fan of Jordan Travis. I think he gives you more of a known commodity at quarterback with what they want to do on offense with Mike Norville, than what I see at Clemson. The one thing I've said on all those Sirius XM shows you were talking about is the big difference this year at least is that Florida State has to go to Death Valley-- and it ain't 2013. So until they can go in there and kind of show you the ready to take out Clemson then I have my doubts. There are some friends of mine that cover college football that have mentioned that Keon Coleman could be a possibility to end up there (Coleman transferred to FSU just after this interview), the former Michigan State wide receiver-- if something like that would have happened. I think he's a potential game changer that could assist them in doing something like what I just suggested."
On Dabo Swinney hiring Garrett Riley:
"Well, he was the biggest hire in college football in terms of coordinators of the entire offseason. I don't want to say it was a coup because we've seen Dabo do things like this before-- whether it was Chad Morris or Brent Venables. I mean, he's made tough decisions. He's brought in coaches that worked out really, really well. I mean, even having Jeff Scott and Tony Elliott call plays when Chad Morris left to go to SMU- he hit a home run doing that when the entire free world thought that he wouldn't. But in this case, Garrett Riley was the hottest name in terms of offensive play callers that was out there last year."
On Clemson's defense in 2023:
"I was very fortunate this spring to call three spring games-- that Alabama's A Day, Florida's Orange and Blue Spring Game, and then Clemson's Orange and White. I was asked a couple of different ways on various shows, 'What did you see at Alabama and Clemson? Like, who stood out to you?' And I said, 'Well, I think Alabama is more loaded at wide receiver-- with some of their offensive weapons than what Clemson has right now, especially at wide receiver. I think they're about seven deep.' But I said, 'The one player that stood out to me with all three of those spring games more than anybody else was Peter Woods at Clemson, the freshman defensive linemen-- who had like seven tackles, a sack, and a blocked PAT in the Orange and White game. He's going to give Clemson's defense more of a play-making feel to it-- more of a sizzle-type vibe than what it had last year."
Never miss the latest news from Clemson Sports Talk!
Join our free email list
SPONSORED BY