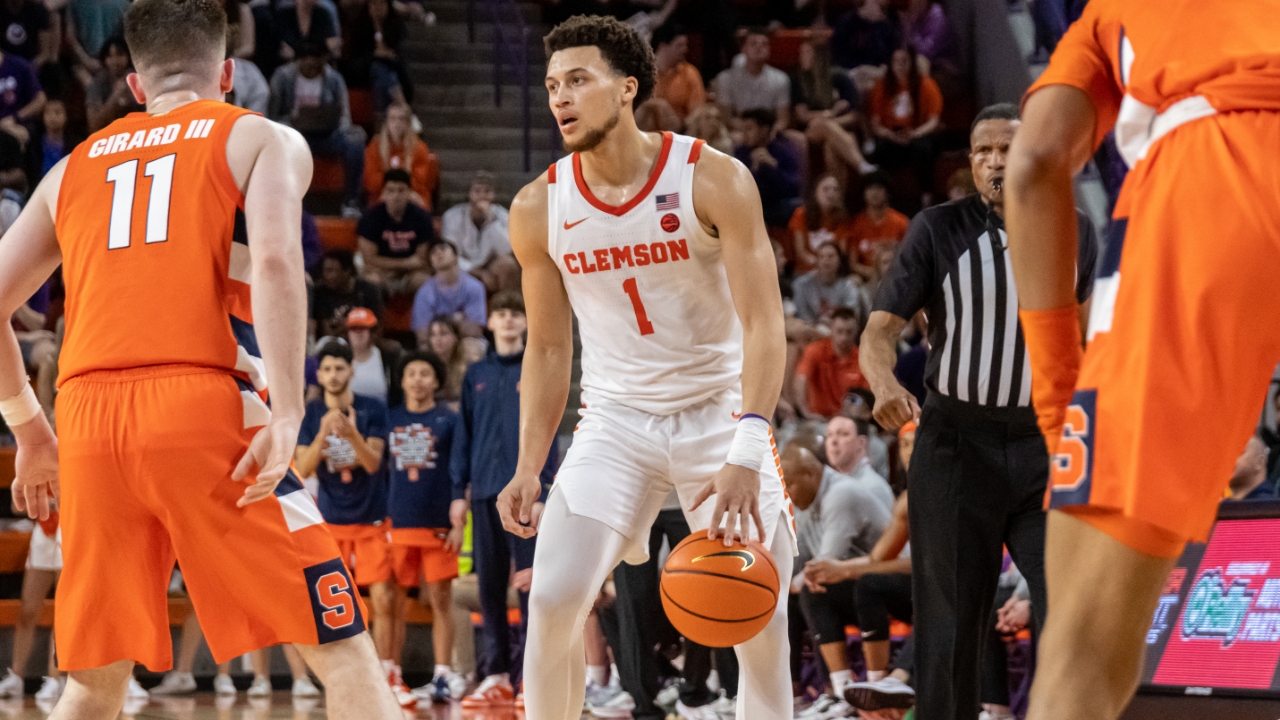 Clemson Basketball
Clemson basketball announces matchups with Alabama, TCU
---
Clemson Plays Alabama in Inaugural ACC/SEC Challenge
CLEMSON, S.C. — Clemson University men's basketball will travel to Alabama in the 2023 Inaugural ACC/SEC Challenge. The matchup is slated for Tuesday, Nov. 28 at 9:30 p.m. Network designation will be announced at a later date by ESPN.
Clemson is 8-4 all-time against Alabama, including a 3-0 mark on the road in the series. The Tigers last played the Crimson Tide on Dec. 12, 2020, in Atlanta as part of the Holiday Hoopsgiving event. Clemson prevailed 64-56.
Clemson returns an upper-class nucleus, including All-ACC Third Team performer PJ Hall (Spartanburg, S.C./Dorman), Chase Hunter (Atlanta, Ga./Westlake) and Alex Hemenway (Newburgh, Ind./Castle).
The Tigers signed four transfers this offseason and added one freshman, Asa Thomas (Lake Forest, Ill./Lake Forest) to its returning core players, which includes Ian Schieffelin (Loganville, Ga./Grayson), RJ Godfrey (Suwanee, Ga./North Gwinnett), Chauncey Wiggins (Grayson, Ga./Grayson), Dillon Hunter (Atlanta, Ga./Westlake) and Josh Beadle (Columbia, S.C./Cardinal Newman).
Alabama finished last season 31-6 overall, including 16-2 in league play. The Crimson Tide also finished 15-0 on their home floor en route to an NCAA Tournament appearance that ended in the Sweet 16 against San Diego State.
Last year Clemson wrapped up the final ACC/Big Ten Challenge with a 13-10 all-time mark in the series. The 13 wins are tied for the fourth-most among all 29 ACC and Big Ten programs that have taken part in the challenge over the years. It is tied for the most of any Big Ten team in the challenge.
---
Clemson to Face TCU in Hall of Fame Series Toronto
CLEMSON, S.C. — Clemson University men's basketball will participate in the 2023 Hall of Fame Series Toronto at Coca-Cola Coliseum on December 9. In conjunction with the Naismith Basketball Hall of Fame, Clemson will face TCU in the highly anticipated doubleheader. Purdue and Alabama will also match up in the showcase.
"We're excited about the opportunity to compete in an outstanding Hall of Fame event in Toronto," said Head Coach Brad Brownell. "I have great respect for Coach Dixon and the TCU program, and we're excited about competing against a high-level opponent. It should be a great day of college basketball!"
Clemson is 3-0 all-time against TCU. The Tigers and Horned Frogs last met on Nov. 24, 2019 in Las Vegas at the MGM Main Event at T-Mobile Arena. Clemson outscored TCU 24-8 in the last 7:19 of the game, including a 15-0 run to end regulation and force overtime. The Tigers prevailed 62-60.
Tickets for the event are scheduled to go on sale in July. On-sale date, game times, fan experience information, credentials and television broadcast details will be released at a later date.
Never miss the latest news from Clemson Sports Talk!
Join our free email list