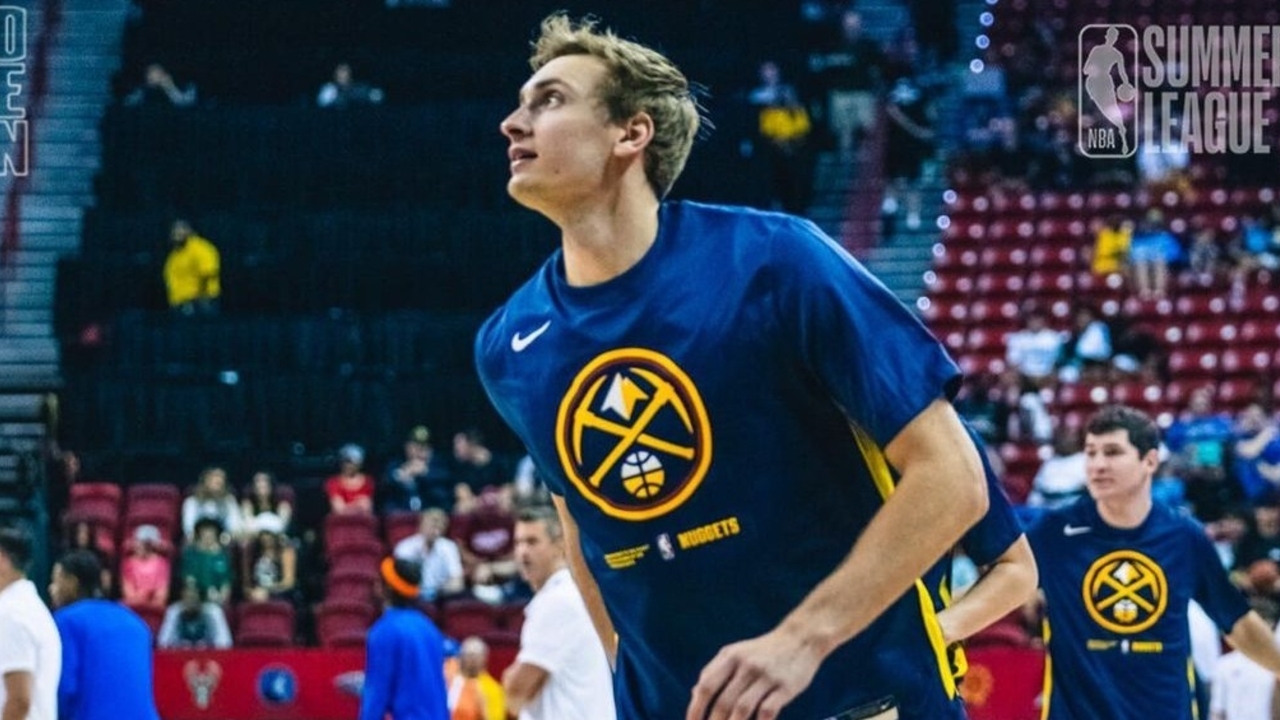 Photo by Denver Nuggets/Instagram
Clemson Basketball
Hunter Tyson makes case for Nuggets roster spot with hot shooting in Vegas
---
Former Clemson forward Hunter Tyson wrapped up summer league play on Saturday night with 17 points, six rebounds, two steals, one assist, and one block in the Denver Nuggets' 89-86 victory over the New York Knicks.
Tyson, the 37th overall selection in the 2023 NBA Draft, was largely responsible for halting a Knicks' rally from an 18-point deficit by scoring seven of the team's final eight points. After trailing most of the game, the Knicks led by one point with 1:02 left until Tyson nailed his third three-pointer of the contest to give the Nuggets an 84-83 lead.
After the Knicks regained the lead 84-86, Tyson was fouled on a three-point attempt, and he calmly made three free throws to make the score 87-86 with 21 seconds remaining. He would get fouled again after securing a defensive rebound and split a pair of free throws for his final point in Vegas.
During his time at Clemson, Tyson made clutch baskets, most notably, the game-clinching three-pointer with 10.6 seconds remaining to beat Virginia Tech 51-50 on Jan. 21 but none as a Nugget before Saturday.
"Obviously, I haven't seen it yet but just the way that he's been playing over these games, you can tell that he's a gamer like that," said Nuggets Summer League head coach John Beckett about Tyson's game-changing plays down the stretch. "[He] plays extremely hard, competitively as I've always said about him throughout this week. Am I surprised? No."
Tyson said he didn't know if he was a clutch player and he's just trying to do his best to help the team win games.
Before winning consecutive games to finish 2-3, the Nuggets were winless after three games, with losses to Milwaukee, Atlanta, and Utah.
On Friday, they blew out Miami by 31 points for their first win-- and Tyson led the way.
He scored a career and game-high 31 points (21 in the first half) after making 11 of 13 (85 percent) shot attempts including 7 of 9 (78 percent) from beyond the arc in the 112-81 victory. Additionally, he contributed four rebounds, two assists, and committed only one turnover on the night.
"We just played hard tonight and had great intensity and the shots were falling," Tyson said about his first win in a Nuggets uniform. "We played very unselfishly. So, we played well tonight."
Friday's performance followed his 19 points and game-high 12 rebounds in a 91-96 loss to Utah Jazz on Wednesday. It was his first start of three consecutive for the summer. As a starter, the second-round draft pick averaged 22.3 points and 7.3 rebounds per contest and overall, a team-leading 20.8 ppg in five games.
Not only has Tyson, the team's third pick, outscored rookie teammates Julian Strawther (18.2 ppg) and Jalen Pickett (12.4) but he is second in scoring among rookies behind Keyonte George (21.7) and 11th overall in the league.
After his debut (21 points) and Victor Wembanyama's underwhelming first game (9 points), a few enthusiastic NBA fans jokingly asked the question. Is Hunter Tyson better than Wembanyama?
Of course, that was after just one game, and Wembanyama went off for 27 points and 12 rebounds in game two, his final game. But it's not absurd, at least after five games, to ponder if Tyson was undervalued and deserved a first-round grade.
Tyson was asked if he thought he should've been drafted earlier.
"I don't try and worry about all that," he said. "I just try and play my game, play hard every time I step on the floor."
The Summer League is being held in Las Vegas where temperatures have been scorching daily, and games are played inside the Thomas & Mack Center and Cox Pavillion Arena on the UNLV campus. Throughout the tournament, Tyson was hot. He shot 54 percent from the field (33 of 61), 50 percent on three-pointers (18 of 36), and 87 percent from the free-throw line (20 of 23).
Denver failed to qualify for the tournament semifinals, which ends their summer season. So, Tyson will have to wait until the preseason for more opportunities to impress Nuggets' head coach Michael Malone and general manager Calvin Booth, hoping to secure a spot on the defending champs' bench.
"I'm going to just go out there and every time I get the opportunity [and] just try and make the most of it," stated Tyson, who also averaged six rebounds per game. "Play hard, compete, and try to impact winning from whatever role the team sees fit."
---
Are you a die-hard Clemson Tigers fan? Are you constantly searching for the latest news, updates, and analysis on your favorite team? Look no further than ClemsonSportsTalk.com! With our comprehensive coverage, exclusive interviews, and in-depth articles, we bring you all the inside information you need to stay on top of the game. And here's the best part: for a limited time, you can start your membership for just $1.00! That's right, gain access to our premium content, join our vibrant community of fellow fans. Don't miss out on this amazing offer—sign up today and become a true Clemson insider at ClemsonSportsTalk.com!
Never miss the latest news from Clemson Sports Talk!
Join our free email list