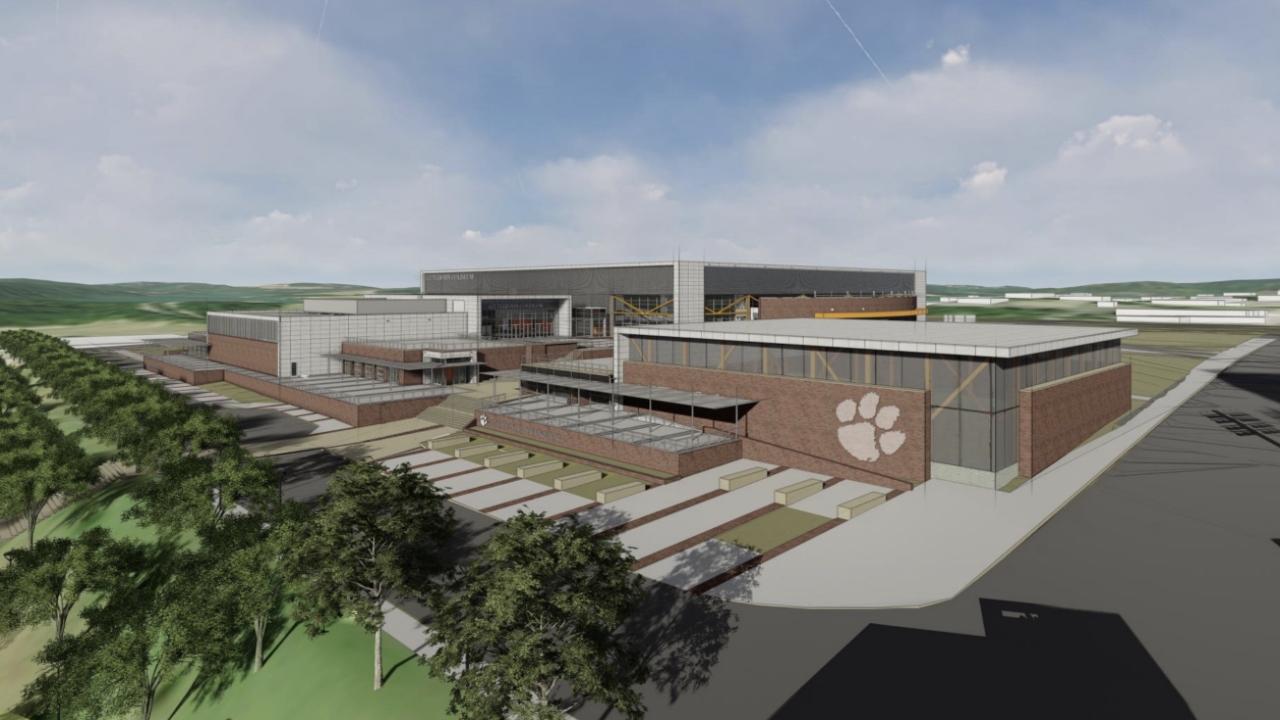 Clemson Basketball
Clemson Athletics Announces Expansion and Renovation of Basketball Operations Facilities
---
CLEMSON, S.C. – The Clemson University Board of Trustees and the Finance and Facilities Committee gave Phase I approval on a plan for comprehensive improvements to Swann Pavilion and Littlejohn Coliseum, benefiting both men's and women's basketball programs, with the recently added gymnastics program beginning competition in the spring of 2024. The project includes renovations of more than 51,000 square feet of existing team spaces and 30,000 square feet of new construction at a cost of $40 million.
"We are thankful to be able to begin the process of continued commitments to our basketball programs," said Director of Athletics Graham Neff. "Strong basketball programs are key to an elite intercollegiate athletic department, which greatly impacts the student experience. We are thankful to the Brown Family for their generous support, which will allow us to continue the progress of bringing our basketball facilities among the top in the country."
Construction would commence upon Phase II Board and State approval.
Anticipated facility improvements include further development of operations and technology in the women's basketball team spaces, practice gym, offices and recruiting areas. Additionally, the improvements include modernization and expansion to shared strength & conditioning, nutrition, and sports medicine spaces. Some of the newly constructed spaces include men's basketball team areas, offices, and practice gym.
Upon completion, each program will have its own designated practice gym, updated offices and team areas, as well as improved performance spaces. Externally, modified site circulation on the exterior along with a new expanded patio and plaza opportunity at the corner of the facility are included for the teams.
"This is a great step forward for our program," said Head Women's Basketball Coach Amanda Butler. "Clemson continues to invest in basketball, and we're excited for what these improvements mean for the demands of our program and winning at a high level. We're thankful to our donors and fans who have made this possible, and all the work that has gone into the process so far."
"What a great day for Clemson Basketball," said Head Men's Basketball Coach Brad Brownell. "In 2013, when we first took steps to renovate Littlejohn Coliseum, Joe and Bobbi Swann aided in the advancement of both programs with the construction of the Swann Pavilion. This new project, spearheaded by Jim and Candace Brown, will continue to give us some of the best facilities in the ACC and the country, while enabling us to consistently provide our student-athletes with a first-class experience. I want to thank the Browns for their considerable generosity and strong support of our program."
Littlejohn Coliseum last underwent major renovation beginning in May 2015. The $63.5 million renovation was completed prior to the 2016-17 season, which also added the Swann Pavilion and Burton Gallery. The existing building originally was constructed beginning in 1966 and opened for the first time on November 30, 1968.
Never miss the latest news from Clemson Sports Talk!
Join our free email list