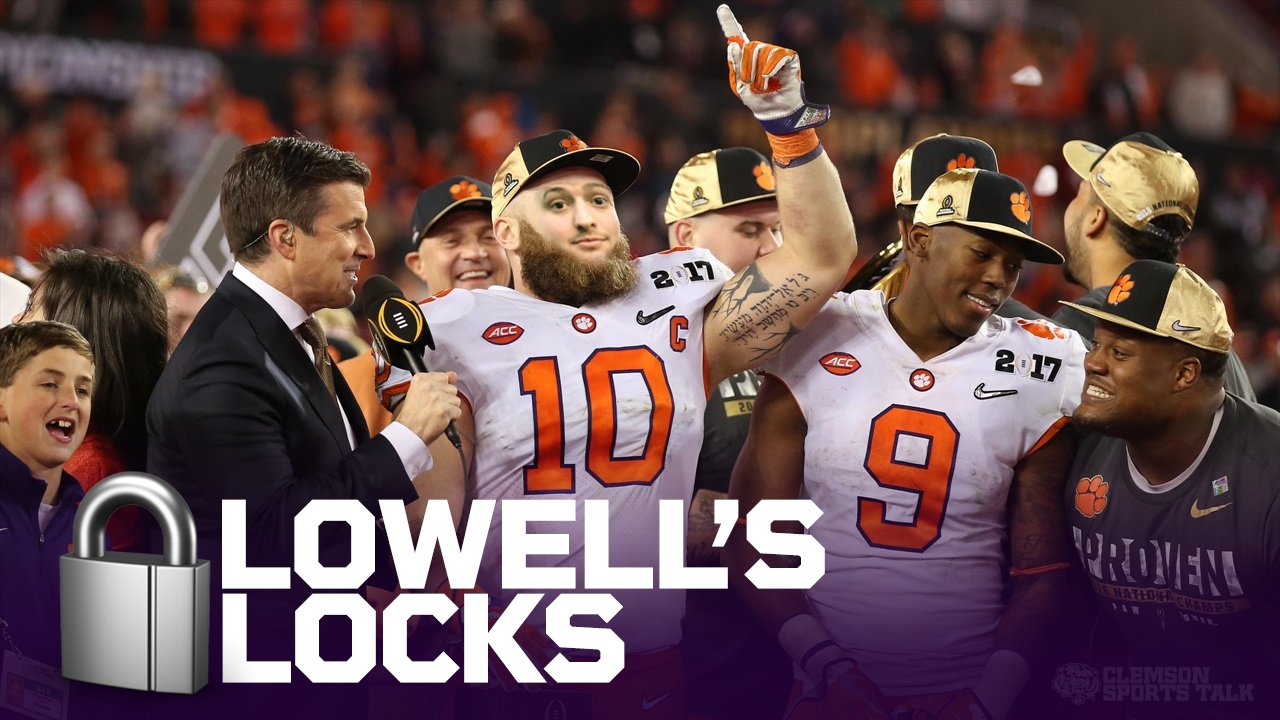 Clemson Football
Lowell's Locks: Week One
---
It's a bittersweet week. On the sweet side, football is back, and with it, Lowell's Locks. The locks were steady last year, finishing above .500 for the second consecutive year. We'll come back to that in a second.
I want to start with the bitter side. The professional wrestling world last week lost first a WWE hall of famer in Terry Funk, and then one of the most creative minds I've seen grace the ring in Windham Rotunda, otherwise known as Bray Wyatt. Wyatt reportedly passed of a heart attack in his sleep after having suffered complications from COVID-19. I can't speak much about Funk as much as he was before my time (aside from the absolutely BRUTAL barbed wire match he had with Sabu, where the ring ropes were replaced by real barbed wires, that some thought was even too extreme for Extreme Championship Wrestling) but Wyatt's dark, unique, charismatic characters and performances drew me in during my high school and college years and beyond. Just take a look at how awesome this entrance is.
And if you've never heard him speak, do yourself a favor and listen to this speech he gave on Smackdown after returning from a year-long hiatus. Even if you're a non-wrestling fan, you may tear up a little.
So, farewell to a legend in Bray Wyatt. But hello once again to football and Lowell's Locks. Now it's time to open up those minds and...
Thursday, August 31st
Florida at #14 Utah (-6.5):
This is a game that Florida somehow pulled off last season. The result was extra surprising, considering how solid Utah looked the rest of the season and how poor Florida did. Quarterback Cam Rising is back for his sixth season of college football, and he'll be playing behind an offensive line that, on paper, should be top ten, along with a rushing attack that they loved to lean on last season. That defense is no joke either and should harrass Graham Mertz for a good portion of this one. There's not much for the Gators to be excited about here. I like the Utes at home, as they do what they do best:
Lowell's Lock: Utah covers -6.5
Saturday, September 2nd
Colorado at #17 TCU (-20.5):
Speaking of charismatic characters, Deion Sanders seemingly has the whole college football world in his hands, as everyone has been captivated by his personality since he first became a college coach, and all eyes will be on his Buffs to kick off Saturday's slate.
We'll quickly find out if a team made up of almost all transfers can work. TCU brings back plenty of experienced pieces, including the original starting quarterback of last season, Chandler Morris. Expect a back-and-forth affair for at least a little bit, but TCU eventually turns back a challenge from the Buffs.
Lowell's Lock: Colorado covers +20.5
West Virginia at #7 Penn State (-20.5):
Penn State will finally get to see Drew Allar in action, and he should get plenty of opportunities to make plays. West Virginia is a good rushing team, but the Penn State defense should have plenty of answers for the Mountaineers on the ground. That will give Allar several chances to look like the five-star recruit he was, leading the Nittany Lions to an impressive victory.
Lowell's Lock: Penn State covers -20.5
South Carolina vs. #21 North Carolina (-2.5) in Charlotte:
Follow the buzzards...I mean the money on this one.
UNC went from a 1.5 to a 2.5-point favorite, and the O/U has risen to 64.5. North Carolina returns Drake Maye at quarterback, and they should still be able to put up points in bunches, but will they have a pulse defensively against a South Carolina offense that was on fire to end last season
So, what about the Gamecocks? Which team was real, the one who destroyed Tennessee and pulled off an upset of Clemson in Death Valley last season, or the one who gave up 556 yards of offense to Notre Dame in the Gator Bowl and was generally poor on both sides of the ball last season (#72 offense, #89 defense)?
Spencer Rattler is back for another season, and the numbers on offense should be better, but the defense still has huge questions. This reads like a shootout, and in a shootout, you take the more comfortable quarterback. That's Maye. Rattler's turnover bug (12 interceptions in 2022, 8th most in the country) bites him again as he tries to force the Gamecocks to keep up.
Lowell's Lock: North Carolina covers -2.5
Sunday, September 3rd
Florida State vs. LSU (-2.5) in Orlando:
Last year's game came down to the wire, and it doesn't figure tobe much different this season in Orlando. Both teams have NFL-caliber players on both sides of the ball, but I like Florida State's Jordan Travis to be the biggest playmaker on the field, and Florida State's defensive pressure, led by defensive end Jared Verse, causes a few Jayden Daniels mistakes. The Tigers are certainly talented defensively and will make some plays of their own, but a piecemeal secondary made up of almost entirely transfer portal players won't yet be gelled, and that's bad news against a quarterback the caliber of Travis. Add in a crowd that should be mostly pro-FSU, and that's all the Noles will need in a tight ball game to finally announce to the world:
Lowell's Lock: FSU covers +2.5
#9 Clemson (-13) at Duke:
These ain't your daddy's Duke Blue Devils. Duke won 9 games under first-year head coach Mike Elko and is bringing back most of that squad, including quarterback Riley Leonard. This is a sneakily dangerous game for the Tigers to start the year, and they should get a fight at the very minimum into halftime. That Clemson defense, though.
All eyes are going to be on the offense, and rightfully so with the hire of offensive coordinator and Broyles Award winner Garrett Riley from TCU, but it's going to be the defense that's going to dominate and carry the Tigers early on in the season, with a good defensive line, one of the top linebacker groups in the country, and a now veteran and battle-tested secondary. The defense sets the tone, and the offense lights up like fireflies in the second half.
Score Prediction: 41-17 Clemson
Lowell's Lock: Clemson covers -13
Until next week, folks. And don't be one of the people I have to yell at when the time comes.
Lowell's Locks

Weekly Results
Season Results
Week 1
Week 2
Week 3
Week 4
Week 5
Week 6
Week 7
Week 8
Week 9
Week 10
Week 11
Week 12
Week 13
Conference Championships
Never miss the latest news from Clemson Sports Talk!
Join our free email list