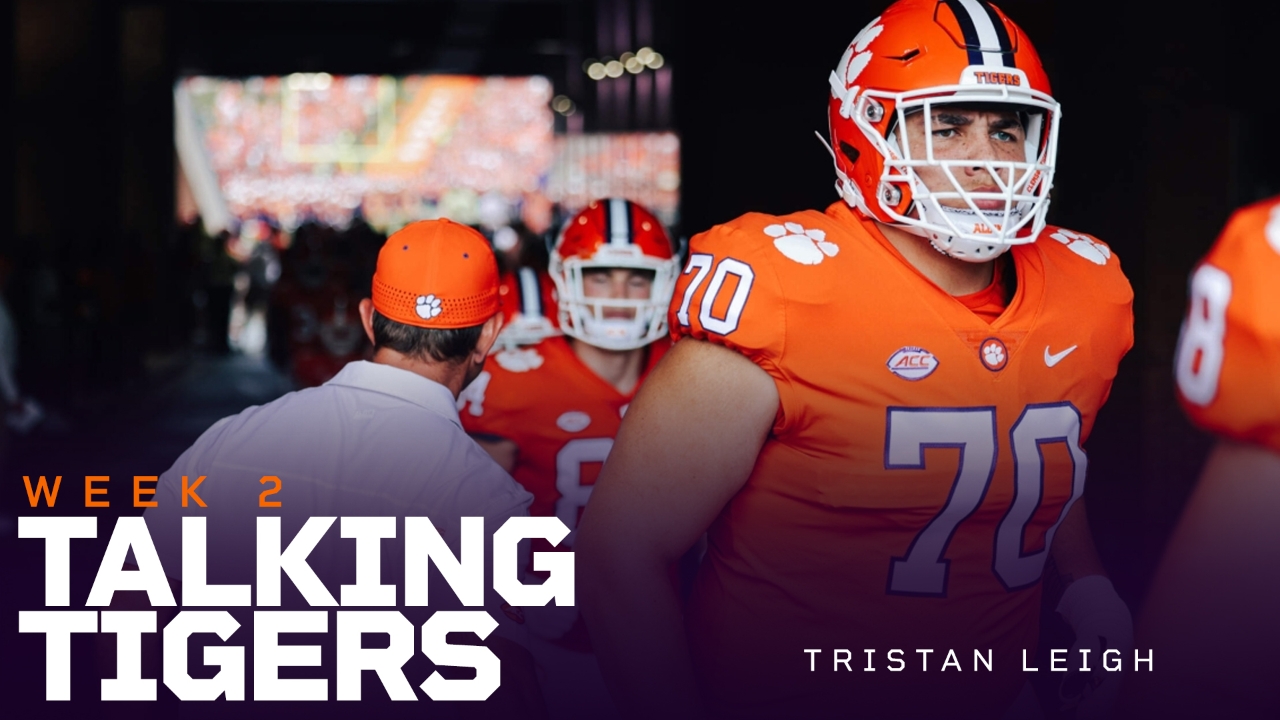 Clemson Football
Tristan Leigh: 'I felt like I let my guys down on that play'
---

---
On what has been the most important part of his transformation: "I say self-awareness. I think coming in here having a guy like Jordan McFadden, being the starting left tackle gave me the opportunity to learn, look at myself, and find out what I needed to do to get better."
On observing McFadden, a fifth-round pick (No. 156) by the Los Angeles Chargers in the 2023 NFL Draft, and understanding where he needed to improve: "When I see him, what comes to my mind first is consistency. You get the same thing from him every single day. So watching Jordan, learning from Jordan, [is] something that I tried [and] getting better at one thing every single day. That's what me and him used to talk about. So just trying to get there and build that consistency."
On what happened on the fourth quarter first and goal play where a Phil Mafah fumble was returned 55 yards to the Clemson 33: "It was a technical issue. I just had to be better with my footwork and hands and see the alignment where the guy was, and that one hurts. It hurt watching it with the whole team, and I felt like I let my guys down on that play. I'm going to continue to watch that play and learn from it as much as I can and do what I can to make sure it doesn't happen again."
On does it help to have a father, Stanley Leigh (Virginia 1990-94), who played college football: "Oh, absolutely. I don't have to explain to him the grind and the film study and what it takes. He knows what it takes because he's been there. He's played with some great players, great linemen. So he has some good perspective there. He definitely helps me a lot and we talk a lot."
On why he lives off campus with his family and why it's the right fit for him: "It's really just me. I like structure. I like being around my family. I know a lot of kids would probably say, 'I just can't wait to get out of here' but I've never felt that. Those are my best friends and I would not want nothing more than to go home and see them every day. So it's never really been a problem for me and they want to come to all the games. That can get expensive. So it really all just kind of worked out."
Never miss the latest news from Clemson Sports Talk!
Join our free email list