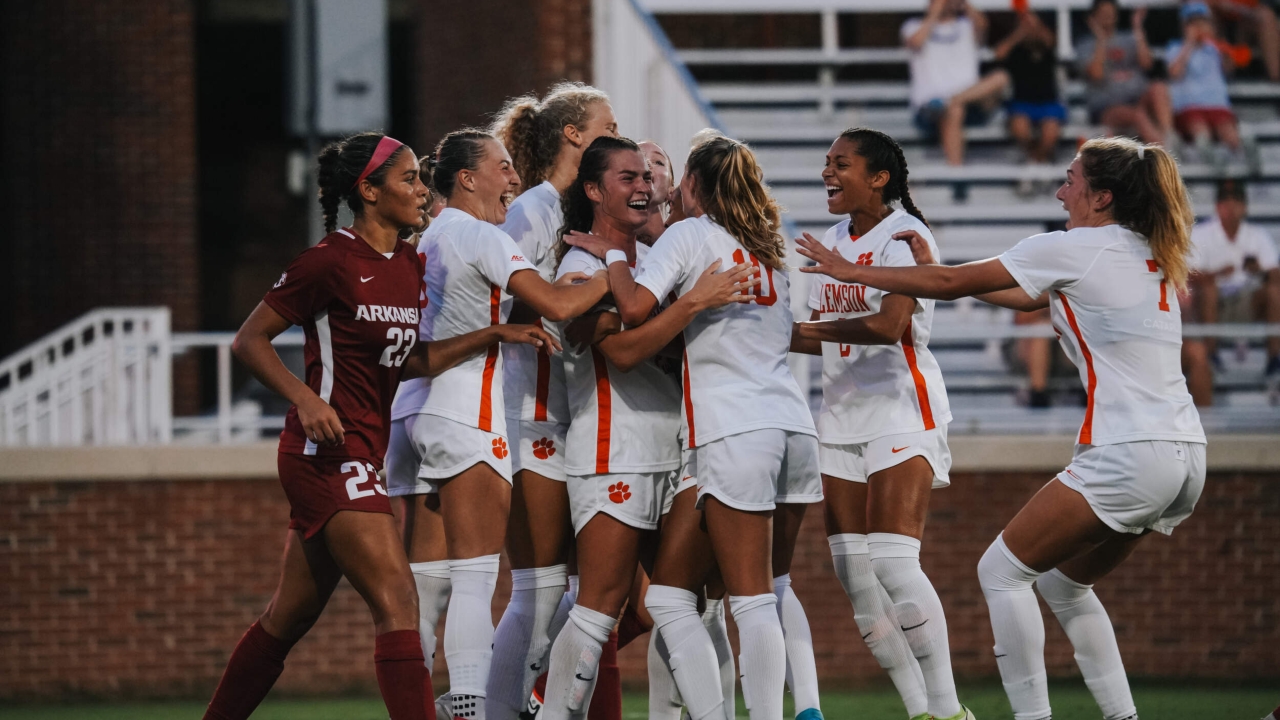 No. 9 Tigers Take Down No. 7 Razorbacks in 1-0 Victory at Riggs
---
CLEMSON, S.C. – The No. 9 Clemson Tigers shutout No. 7 Arkansas 1-0 at Historic Riggs Field as graduate Caroline Conti scored the lone goal and goalkeeper Halle Mackiewicz picked up her sixth clean sheet of the season.
"This is a game where you have to be 100% anticipating stuff that is going on, you can't be flat-footed and you can't wait, you have to expect it and I thought we did a really good job of that. I thought our kids in the backline played outstanding; Arkansas is a very unique team to play against, it's difficult when the ball keeps coming at you and and credit to our group, we never switched off," Head Coach Eddie Radwanski said. "We never switched off, we never got caught in any moments and that's 90 minutes of concentration, so that was a high-level performance out there."
Both the Tigers and the Razorbacks battled offensively and defensively in the first half as both teams struggled to find the back of the net. In the 35th minute of the half, Sami Meredith was able to turn the ball and pass it to freshman Tatum Short, who was able to find Conti in scoring position. Conti fires it off her right foot into the bottom right corner of the net as it slips just past the Arkansas keeper. The lone-goal of the night marked Conti's first of the season.
Goalkeeper Halle Mackiewicz, who leads the nation in shutouts, officially picked up her sixth clean sheet of the season and her 16th career solo-shutout. The senior recorded four saves against Arkansas to bring her total saves on the season to 14, with 98 total in her career.
"Halle's presence back there is the biggest factor, we know she has our back. She is aggressive, she is confident and she owns the box," Radwanski said.
Following the win over the Razorbacks, Mackiewicz now has the fourth most career solo-shutouts (16) as a Tiger as she passes Sandy MacIver (2016-2018) with 15.
This game marks Clemson's highest ranked home win since the Tigers took down Notre Dame, who was ranked No. 6, in 2022 at Riggs Field.
Up next, the Tigers are set to face-off against Georgia on Sunday as Clemson will look to secure a victory on the road. Kick-off is slated for 6 p.m. and the match will be streamed on the SEC Network.
For complete coverage of the Clemson women's soccer team, follow @ClemsonWSoccer on Twitter, Instagram and Facebook.
Never miss the latest news from Clemson Sports Talk!
Join our free email list