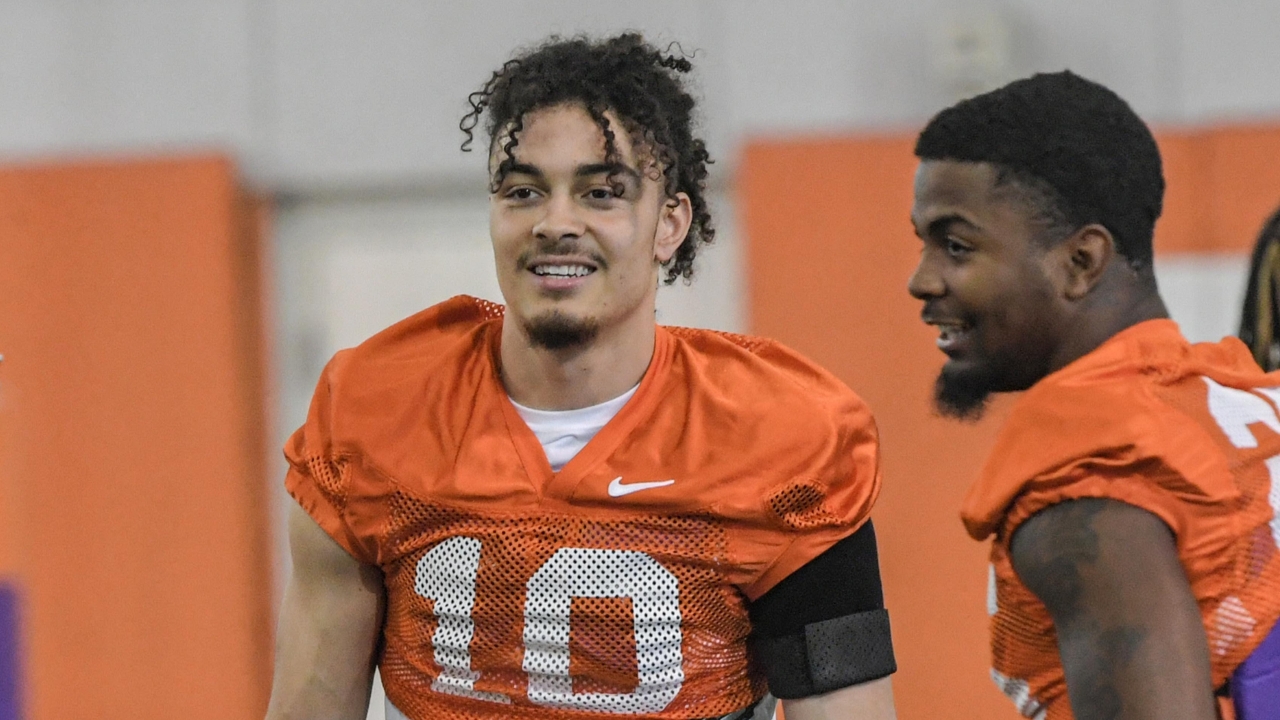 Photo by © Ken Ruinard / staff / USA TODAY NETWORK
Clemson Football
Improved confidence, comfort, health have Lukus poised for breakout season
---

---
In Clemson's resounding 66-17 victory over Charleston Southern, sophomore cornerback Jeadyn Lukus (6'2, 200), from nearby Mauldin, South Carolina, may have registered one tackle, one pass deflection, and no interceptions on the stat sheet, but his impact was undeniable. Early in the second half, Lukus delivered a bone-rattling hit that dislodged a pass from a Buccaneers receiver, leading to a game-changing interception by sophomore linebacker Wade Woodaz, who raced 35 yards to the end zone. The play occurred just 12 seconds after running back Phil Mafah's second touchdown, catapulting the Tigers to a commanding 38-17 lead.
In a game where the Tigers were down 7-14 after committing two turnovers that led to quick Buccaneers scores, the back-to-back touchdowns were pivotal to dashing the hopes of the in-state FCS school.
"It was great," said Lukus, reflecting on the hit, "The only time a cover-2 corner can trigger is on plays like bubbles and runs, but other than that, we're always playing coverage. So when you get those opportunities, it's fun."
For Lukus, the road to Saturday's impressive play was filled with a few hurdles. Last season, he and fellow freshman Toriano Pride were thrust into action when injuries sidelined cornerback Sheridan Jones against Louisiana Tech and No. 21 Wake Forest. They faced their share of freshman growing pains, with the Wake Forest game serving as a particularly harsh lesson. The Demon Deacons' physical, seasoned receivers exploited the young cornerbacks for a pair of touchdowns on consecutive drives to take an early 21-20 third-quarter lead over the Tigers.
"I remember those moments," said Lukus of his struggles against the Demon Deacons in the Tigers hard fought 51-45 double overtime win.
"In the offseason, I used that as fuel," he revealed."Especially at corner, when you get in, you've got to make your shot count. Everything is magnified when you're on an island. Every time you get beat, you have to move on to the next play and just forget about it. But you don't forget it completely. When you're looking at the tape the next day, you just say, 'I could have done this better, technique or use your hands better. As I would say, learn from it.'"
At the end of the season, Pride finished ahead of Lukus in games played (14 to 11), snaps (333 to 87), and had the only starts (2) between the pair. He was also projected as the third cornerback on the depth chart behind Nate Wiggins and Jones entering this spring with Lukus slated to undergo a second shoulder surgery, this time on his left shoulder, after having a procedure on his right shoulder the previous fall.
However, when the Tigers took the field for their first defensive possession on Labor Day night against Duke, it was Lukus who trotted out to start alongside Jones, much to the surprise of many including his parents. Lukus knew he would get his first career start but his parents were left in the dark. "They [Coaches] told me in one of the meetings I would start a day or a couple of days before," Lukus said. "I remember I was thinking, should I tell my parents or not? And I was like, 'Nah, I just want them to be surprised when they see me walk out there.' It was a great moment for me. I was very excited."
Clemson ultimately fell to the Blue Devils 7-28, but Lukus played a career-high 22 snaps and a significant role in holding Duke quarterback Riley Leonard, a 2024 NFL Draft prospect, to 175 passing yards and no touchdowns through the air.
The former five-star recruit from Mauldin High School, who made a highlight reel interception during the 2022 Under Armour All-Star game, is now in a better position to impact games moving forward, courtesy of his newfound confidence, increased comfort, and improved health this season."
"I took a big leap in confidence from my freshman year," Lukus noted. "I'm more comfortable with the playbook. And now that I've been put on the island, I feel more comfortable than I did last year."
His confidence and comfort were also evident as he executed the physical tackle to create the turnover on Saturday, indicating that his shoulders are in good health.
But are they?
"Yes. God willing. Knock on wood," said Lukus, who will wear a brace on the left shoulder the entire season. "I'm feeling great. I'm feeling healthy. So, I'm just thankful for that."
Never miss the latest news from Clemson Sports Talk!
Join our free email list