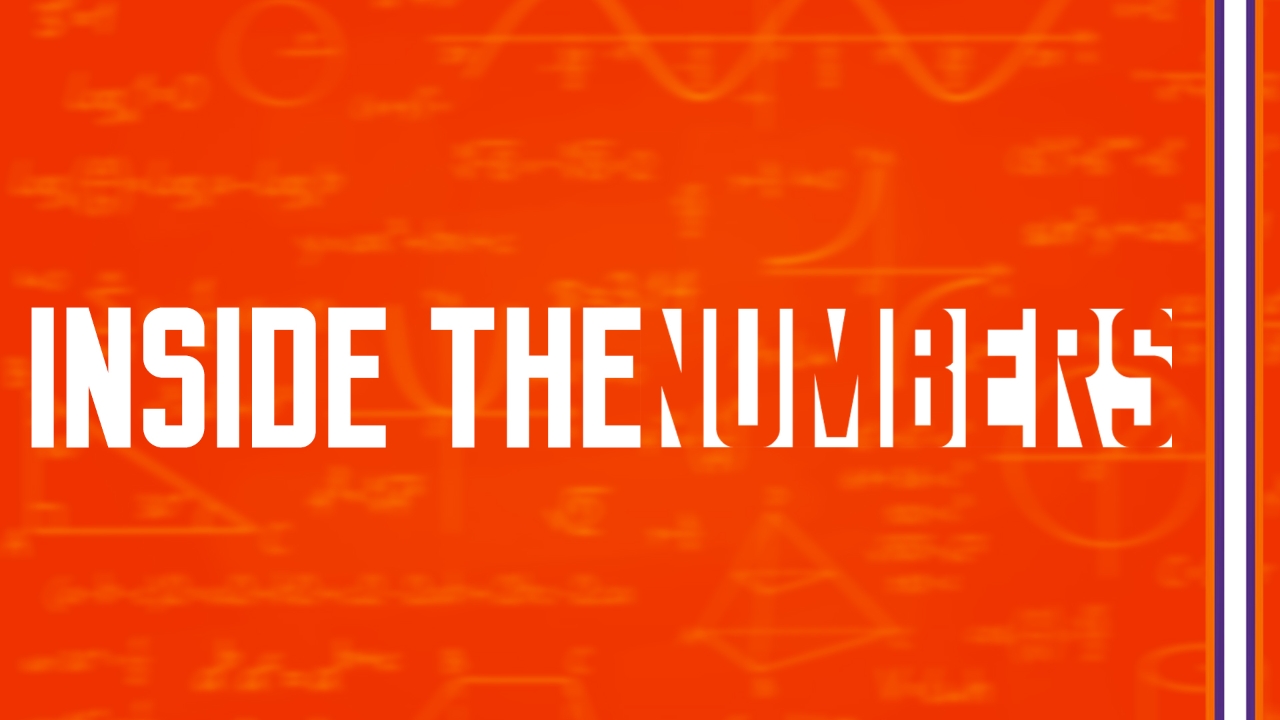 Clemson Football
Inside the Numbers: Clemson 48, Florida Atlantic 14
---

---
3 - Clemson finished +3 in the turnover margin to win the turnover margin for the first time this season and for the first time since a +3 performance in turnovers in the 2022 ACC Championship Game.
4 - Clemson recorded four takeaways, its most since the third game of last season, a four-takeaway effort against Louisiana Tech.
10 - Clemson recorded 10 tackles for loss and has now produced double-digit tackles for loss in consecutive games for the first time since November 2021 against UConn and Wake Forest.
16 - Clemson has recorded at least one takeaway in 16 consecutive home games, the nation's longest active streak according to Stats Perform. Ole Miss entered the day with a takeaway in 17 consecutive home games but did not record a takeaway in a home win against Georgia Tech on Saturday evening.
19 - Running back Phil Mafah recorded a 19-yard rushing touchdown in the second quarter. It was his 10th career rushing touchdown. Mafah has now rushed for a touchdown in consecutive games for the first time in his career.
38 - Clemson did not allow a sack, its first such game since last year's NC State game. Clemson has now won 38 consecutive games when not allowing a sack; Clemson's last loss in which it did not allow a sack came at Boston College in 2010.
40 - Clemson has now scored at least 40 points in consecutive games for the first time since last season's games against Louisiana Tech and Wake Forest.
45 - With 45 all-purpose yards in the contest, Shipley (3,300) passed Buddy Gore (3,273) for 12th on Clemson's all-time leaderboard for career all-purpose yards.
70 - Clemson has scored at least one rushing touchdown in a national-best 70 of its 72 games since the start of the 2018 season.
86 - Prior to Clemson surrendering a fourth-quarter touchdown, Clemson scored 86 consecutive points without surrendering a point to an opponent dating to the second quarter of last week's game against Charleston Southern. It was Clemson's longest such streak since scoring 91 consecutive points against Boston College and Wofford in 2019.
According to Stats Perform, the 86-point streak was one of three Clemson streaks of 85-plus points without allowing a point since 2000, joining the 91-point streak in 2019 and a 96-point streak in 2000 against Missouri and Wake Forest.
126 - Clemson did not convert the PAT attempt following Brown's touchdown, snapping a streak of 126 consecutive made PAT attempts for Clemson, dating to Clemson's last miss against Boston College in 2020.
1978 - Wiggins became the first Clemson player with a pick-six in consecutive seasons since Rex Varn against Maryland in 1977 and NC State in 1978. (Note: Dorian O'Daniel (2017) and Arlington Nunn (1990) had multiple pick-sixes in a single season, but Wiggins became the first since Varn with one in back-to-back years).
Here are some additional notes and numbers from the Tigers' win over Florida Atlantic:
Including an interception return for touchdown by Wade Woodaz a week earlier, Clemson has now recorded a pick-six in back-to-back games for the first time since doing so last season against South Carolina and North Carolina.
Quarterback Cade Klubnik completed 16-of-27 passes for 169 yards with three passing touchdowns and no interceptions. He also rushed six times for 35 yards with a touchdown on the ground.
Klubnik followed a four-touchdown passing performance a week ago by throwing for three touchdowns and rushing for another. He became the first Clemson quarterback to be responsible for four touchdowns in consecutive games since 2020, when Trevor Lawrence threw for three touchdowns and rushed for one against Miami (Fla.) before throwing for five touchdowns against Georgia Tech.
Clemson opened the scoring on a 46-yard interception return for touchdown by cornerback Nate Wiggins.
The interception was the second of Wiggins' career. It was also his second career pick-six, joining his 98-yard interception return in the 2022 ACC Championship Game.
Wide receiver Tyler Brown recorded his first career touchdown reception on a 30-yard pass from Klubnik in the first quarter.
Nickelback Khalil Barnes recorded his career interception, picking off quarterback Casey Thompson in the first quarter.
Barnes' first career interception came in his third career game. It represents the earliest in a career a Clemson player has recorded an interception since freshmen Jonathan Meeks and Rashard Hall each recorded an interception in the third game of the 2009 season against Boston College.
On the ensuing possession after Barnes' interception, Klubnik hit tight end Jake Briningstool for a seven-yard touchdown.
The touchdown reception was Briningstool's first of the season and the sixth of his career. It was his first since scoring at Florida State last October.
Clemson led, 20-0, after the first quarter. Clemson's 20 first-quarter points were its most in an opening frame since 2021 against South Carolina State (28) and its most against an FBS opponent in a first quarter since 2020 (31 vs. Pitt).
Defensive end T.J. Parker recorded his first career sack in the second quarter.
Klubnik recorded his third career rushing touchdown on a one-yard plunge in the second quarter.
Safety Jalyn Phillips recorded his first career sack in the second quarter.
Linebacker Wade Woodaz recorded a fourth-down interception in the third quarter, his second career interception and his second in as many games.
Woodaz became the first Clemson player with an interception in back-to-back games since cornerback Andrew Booth Jr. against Wake Forest and South Carolina in November 2021.
Woodaz became the first Clemson linebacker with an interception in consecutive games since Isaiah Simmons in the 2019 ACC Championship Game and 2019 Fiesta Bowl.
Brown recorded a career-long 44-yard punt return in the third quarter, Clemson's longest punt return since Will Taylor's 51-yard return against South Carolina State in 2021.
Brown's punt return set up a five-play, 26-yard scoring drive that he capped off himself with a two-yard touchdown pass from Klubnik.
Brown finished the game with three receptions for 49 yards with two touchdowns. He became the first Clemson freshman wide receiver with two receiving touchdowns in a single game since Justyn Ross against Notre Dame in the 2018 Cotton Bowl.
Running back Domonique Thomas scored his first NCAA touchdown on a two-yard touchdown run in the fourth quarter. Thomas had seven total touchdowns (six rushing) at NAIA Union College in Kentucky before walking on at Clemson.
Prior to the game, Thomas was featured on ACC Network for his story of perseverance, leaving Union College to pursue his dream at Clemson after his mother and grandparents were tragically killed in a tornado in his hometown of Ohatchee, Ala.
Linebacker Kobe McCloud recorded his first career forced fumble in the fourth quarter. It was recovered by defensive end Zaire Patterson, his first career fumble recovery.
Wide receiver Adam Randall recorded two receptions for a career-high 51 yards.
Captains for the contest were wide receiver Beaux Collins, quarterback Hunter Helms, defensive end Justin Mascoll, and defensive end Xavier Thomas.
...
Never miss the latest news from Clemson Sports Talk!
Join our free email list