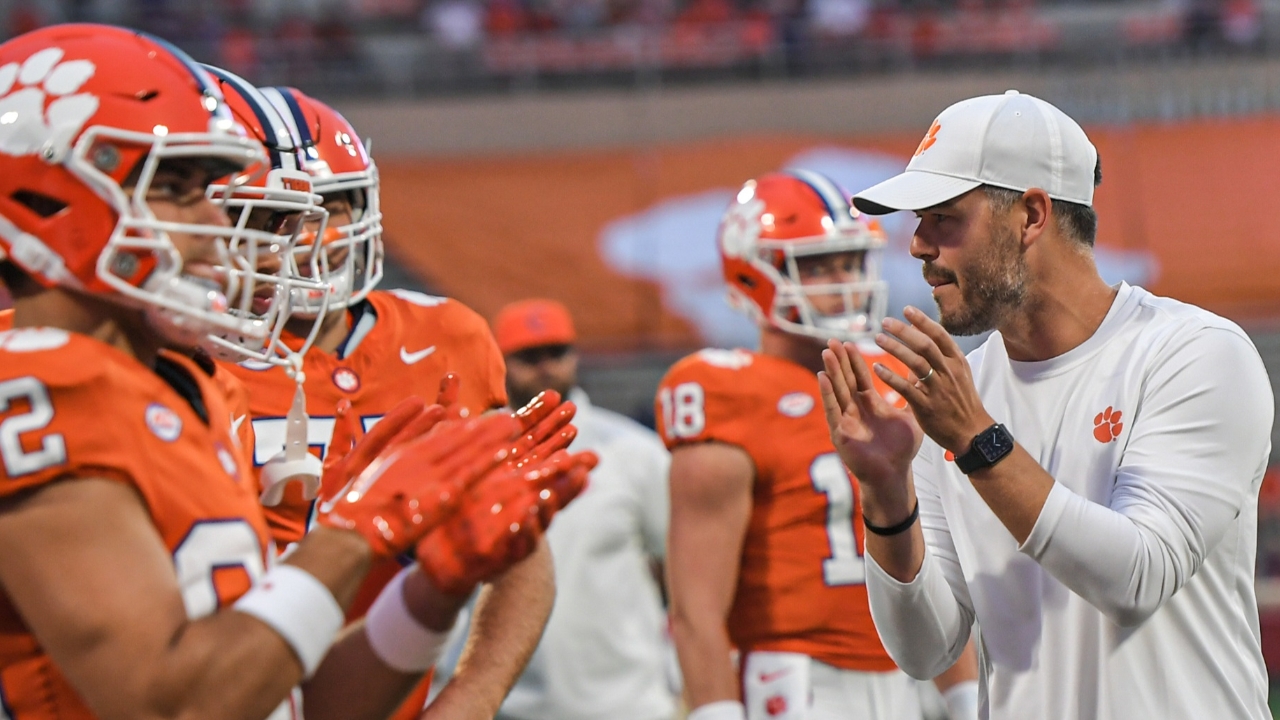 Photo by © Gannett-USA TODAY NETWORK
Riley previews No. 4 FSU: 'They're going to present a lot of challenges for us'
---

---
On the evaluation of the team after three games: I feel like you got a feel of our team in terms of going through some adversity, and getting behind the eight ball on some things. And so, I think what we found out is we have a team and guys that don't flinch. And that's what I told our guys the other day before our game that's a hell of a characteristic to know as a coach this early in the season. I think that's something we can always lean on as we move forward. I've seen a lot of different guys get involved here in the last couple of games, which has been positive. I've seen a quarterback that's maturing and growing and improving like I expected. We're starting to really jell upfront with just some chemistry and things of that nature. So, I feel like we know our team right now as a whole."
On sophomore quarterback Cade Klubnik working through mistakes: "You coach it, and it's just one of those deals from a flow of the game and just being in that moment, that he's going to have to draw on that experience now. So, I think that's the biggest thing is you watch all this stuff and things that you did in high school -- some of those things you can't do at this level. You can't get away with it. Those are just things from his experience now that he's going to draw from and he certainly has learned from just in a short amount of time. So, I think it's very indicative of just a guy that hasn't played just a whole lot yet at this level."
On what he thinks of the Florida State defense: "Very good. Obviously, [They] got a lot of talent up front, a lot of talent on the back end and linebacker corps. They just got an experienced group that is explosive in all areas. playing really well -- guys that have played a lot of ball together. But super impressed watching them on tape. I think they played really hard. They fly around at all levels. They challenge. They're gonna challenge you in the passing game as well. So, they're going to present a lot of challenges for us and they will be a great test."
On losing wide receiver Cole Turner for the season and what it means for the offense moving forward: "We got some other guys that are gonna have to move around a little bit. He's certainly a guy that we felt was going to produce for us. It's unfortunate. But we certainly got guys that would probably move around more and just kind of see who's hot and what personnel groupings are gonna give us the best chance to win. So those are all the fun pieces of the puzzle for us coaches to figure out."
On Troy Stellato: "He's made some plays. When it comes his way, he's going to catch it. He's got really strong natural hands. So, for him, it's probably been just a confidence thing of saying I can be healthy. He's a confident kid anyway. He's doing a really nice job for us. He keeps coming on. He's certainly going to help us this year -- there's no question he needs to."
On Misun "Tink" Kelley: "Tink is very natural. That's where he gives you something kind of like Tyler [Brown]. He's fearless also. Those two freshmen are fearless dudes and fearless competitors. He's a guy that is certainly close but those are two good ones that are gonna make a lot of plays here and in the future."
---
Are you a die-hard Clemson Tigers fan? Are you constantly searching for the latest news, updates, and analysis on your favorite team? Look no further than ClemsonSportsTalk.com! With our comprehensive coverage, exclusive interviews, and in-depth articles, we bring you all the inside information you need to stay on top of the game. And here's the best part: for a limited time, you can start your membership for just $1.00! That's right, gain access to our premium content, join our vibrant community of fellow fans. Don't miss out on this amazing offer—sign up today and become a true Clemson insider at ClemsonSportsTalk.com!
JUST ARRIVED! : Clemson Tigers Nike Unisex Zoom Pegasus 40 Shoe
Never miss the latest news from Clemson Sports Talk!
Join our free email list
PRESENTED BY