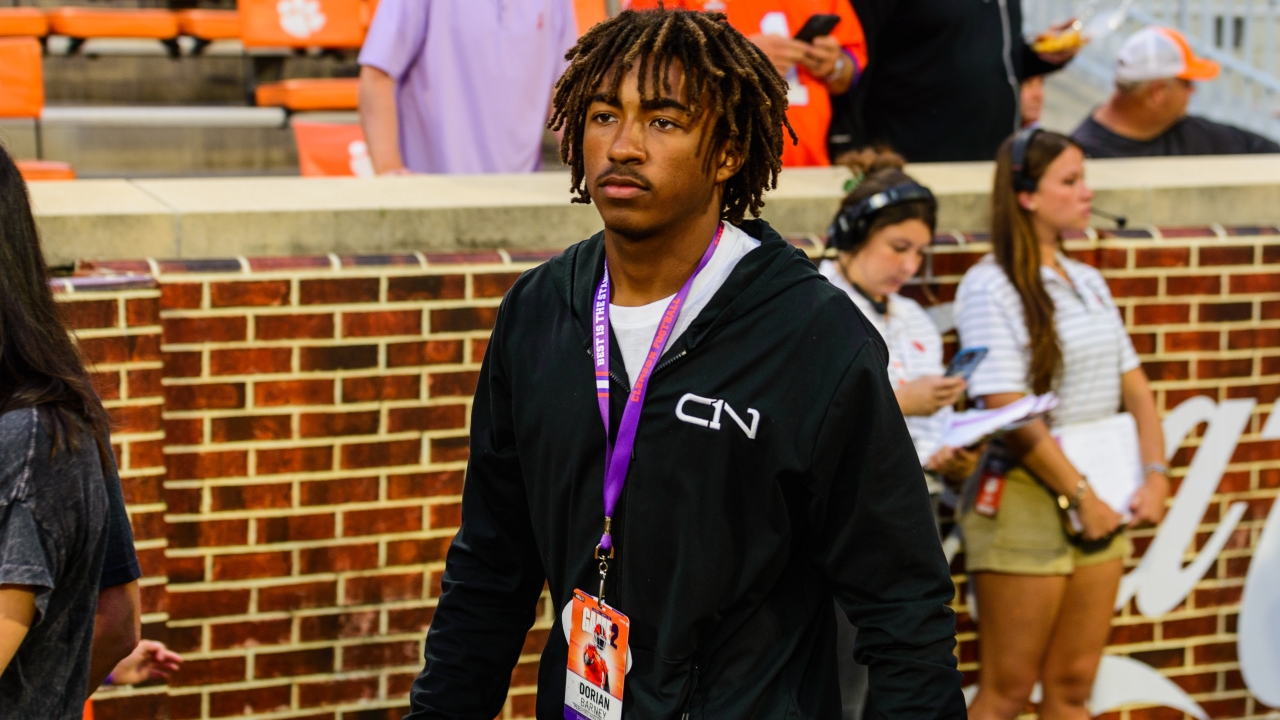 Photo by David Grooms
Four-star 2026 cornerback interested in Clemson, confident in team's chances against FSU
---
No. 34 overall 2026 prospect (247Sports) Dorian Barney visited Clemson last week and already holds the program in high regard.
Barney plays high school football in Georgia and has caught the eye of coaches nationwide due to his speed, knack for highlight-reel plays, and length at the cornerback position.
After transferring to Peachtree Ridge High School (Ga.) in April, Clemson cornerbacks coach Mike Reed started developing a relationship with Barney, a prospect who already has Clemson ties.
The four-star is surrounded by former football players. He is coached by former Clemson star and first-round NFL Draft pick Tye Hill in high school.
"He's always talking about Clemson," Barney said of Hill. "I've been liking them since DeShaun Watson went there. I always looked up to him."
Barney plays both ways at Peachtree Ridge and is also coached by former Atlanta Falcons wide receiver Roddy White. His father played quarterback at North Carolina Tech and in an arena football league.
Barney enjoyed his first Clemson home game on Saturday when the team took on FAU.
"My impression was good," Barney said. "I feel like I can't wait to play in college. I want to play, be in somebody's shoes on that field."
He noted that watching Clemson cornerback Nate Wiggins' first-quarter pick-six was his favorite moment of the game.
"I just pictured me right there," Barney said. "I remember that exact play when he broke on a hitch, and he got the pick six."
The four-star is confident in Clemson this season.
"I think Clemson's got them (Florida State) this week," Barney said.
"The boys were fired up about the game," Barney said after his weekend visit. "It was midnight when we were in the locker room. Dabo said it's a new week, and we have a new opponent. We're worried about the new week. I feel like the team really caught on to that."
Barney already knows some Clemson freshmen, including Avieon Terrell‍, Shelton Lewis‍ and Zach Owens‍. He spoke with Terrell at the spring game, who told Barney why Clemson was the right fit for him.
Barney will be a prospect to keep an eye on in the future. He thinks highly of the Clemson program, has relationships in and around Clemson and is on the staff's radar as a talented underclassman.
Never miss the latest news from Clemson Sports Talk!
Join our free email list