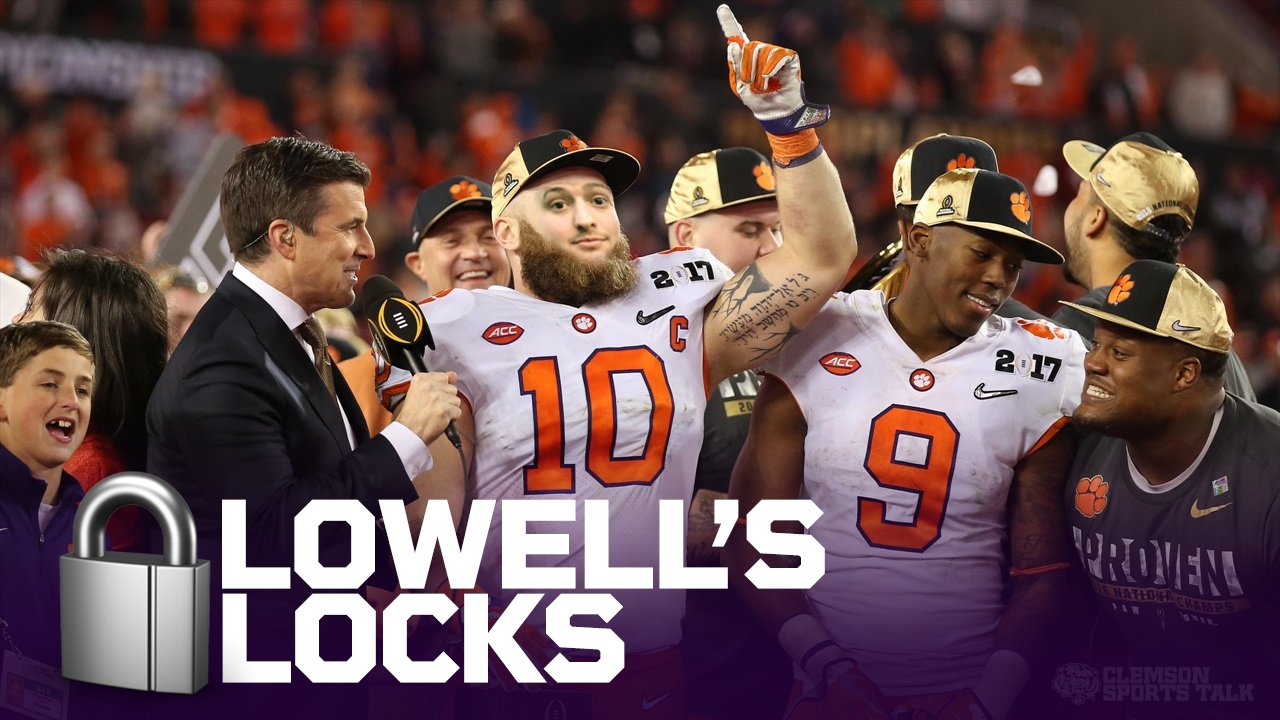 Lowell's Locks: Week Four
---
Back-to-back 4-2 weeks have me feeling pretty good through three weeks, as my record currently sits at 13-5 for the season. For those keeping track at home, that's a 72% winning percentage, which would rank among the top ten active college coaches. I'll keep my phone nearby for the call from Alabama.
Kansas State let me down in what I thought was the easiest lock of the week, and Minnesota couldn't keep it tight with North Carolina like I expected. Everything played out about how I expected, with the big win for me being Florida dominating Tennessee at home. We have a heck of a slate this weekend. Let's shoot for perfection.
Saturday, September 23rd:
#19 Colorado at #10 Oregon (-20.5):
I love what Coach Prime is doing with Colorado. The disrespect card has been played masterfully, and to combine that with the talents of Shadeur Sanders at quarterback, and Travis Hunter at wide receiver/cornerback/kicker/punter/offensive and defensive line/popcorn seller has been incredible to watch. This is, without a doubt, a fun team. Unfortunately, with Oregon and USC on the schedule the next two weeks, some of that hype is about to die down (you're welcome for the motivation, coach). As fun as the Buffs are, Bo Nix and this Ducks offense look nearly unstoppable. That's bad news for Colorado, as they rank in the bottom 100 in every statistical category on defense. This is fun for a half, but the Buffs ultimately get rocked in Eugene.
Lowell's Lock: Oregon covers -20.5
#22 UCLA at #11 Utah (-6):
UCLA has found something special in freshman quarterback Dante Moore. While they haven't played any big names yet, the Bruins have handled Coastal Carolina and San Diego State with relative ease, and Moore has passed for 617 yards with seven touchdowns to just one interception. The ground attack as a whole has been pretty great, as the Bruins have two backs over 230 yards and one over 120 yards in three games. All in all, UCLA is the third-ranked rushing attack in the nation at over 270 yards per game. Utah has just been doing what they do, grinding away on teams and controlling the lines of scrimmage and the clock; the Utes tend to have the ball for nearly 35 minutes per game. Word on the street is that their star quarterback, Cam Rising, will not make his season debut as expected. This one is a near toss-up, but I like the Utes at home.
Lowell's Lock: Utah covers -6
#15 Ole Miss at #13 Alabama (-6.5):
Remember that whole thing I said about not betting against Nick Saban teams? Yeah, throw that out the window. This version of Alabama is simply not very good. The offensive line can't keep anyone upright, no matter who is in at quarterback, giving up four sacks a game (126th), the run game ranks just 58th in the country, and the defense doesn't do anyone thing particularly well. Ole Miss lives in the backfield on defense, ranking within the top 25 for both sacks and tackles for loss. The offense is explosive, averaging over 52 points and 526 yards per game. This feels like stealing money.
Lowell's Lock: Ole Miss covers +6.5
#6 Ohio State (-3) at #9 Notre Dame:
Remember this game last year? When Notre Dame ground the game practically to a halt and kept it close before Ohio State managed to pull away? Notre Dame has the offensive line to do that same exact thing again, except now they also have Sam Hartman at quarterback. The Buckeyes finally looked like they woke up last weekend in crushing Western Kentucky, and maybe that's the spark this offense needed. However, the Irish defense is not Western Kentucky. Notre Dame boasts the fourth-best passing defense in the nation, and while the competition isn't great, there's talent all over that defense. Ohio State's defense is rock solid and should do a good enough job, turning this into another grind fest. Give me the home team to cover in a low-scoring battle.
Lowell's Lock: Notre Dame covers +3
Mississippi State at South Carolina (-6):
As bad as South Carolina has looked at times this season, Mississippi State has looked worse. They rank 96th in total offense and 102nd in total defense and got flat-out embarrassed by LSU last weekend. South Carolina isn't exactly setting the world on fire, but they have cleaned up some of the issues they faced against North Carolina and played Georgia tight last time out. South Carolina needs this win for confidence in the rest of the season, and I see them getting it at home.
Lowell's Lock: South Carolina covers -6
#4 FSU (-2.5) at Clemson:
This is arguably the biggest home game for Clemson since #3 Louisville and Lamar Jackson rolled into town in 2016. Coincidentally, the Cardinals were a two-point favorite in that one as well, and it's also the last time Clemson was a home underdog. Clemson won a barnburner in that one, 42-36. The hype has fizzled down a little bit in this one after Clemson took that stunning road loss at Duke to start the year, and Florida State survived a scare at Boston College last weekend. While there is a fluke factor to that Boston College game (looking ahead?), Boston College did show that this Seminoles defense can be pushed around a little bit. The real challenge for the Tigers will be slowing down the passing attack with Keon Coleman and Johnny Wilson at wide receiver. If Clemson can stop a subpar Seminoles run game without committing extra bodies to the box, they'll be in great shape to handle the pass. If not, this could turn into a shootout, and I'm not sure that's where Clemson wants to be. The final factor in this game is the kicking game, where Clemson has struggled to the point that they brought a former kicker out of retirement to kick in this one. Expect Clemson to take it to Florida State and have a chance to win it at the end, but have a game-tying field goal attempt sail wide.
Score Prediction: 31-28 Florida State
Lowell's Lock: Florida State covers -2.5
Until next week, folks.
Lowell's Locks

Weekly Results
Season Results
Week 1
5-1
5-1
Week 2
4-2
9-3
Week 3
4-2
13-5
Week 4
Week 5
Week 6
Week 7
Week 8
Week 9
Week 10
Week 11
Week 12
Week 13
Conference Championships
Never miss the latest news from Clemson Sports Talk!
Join our free email list