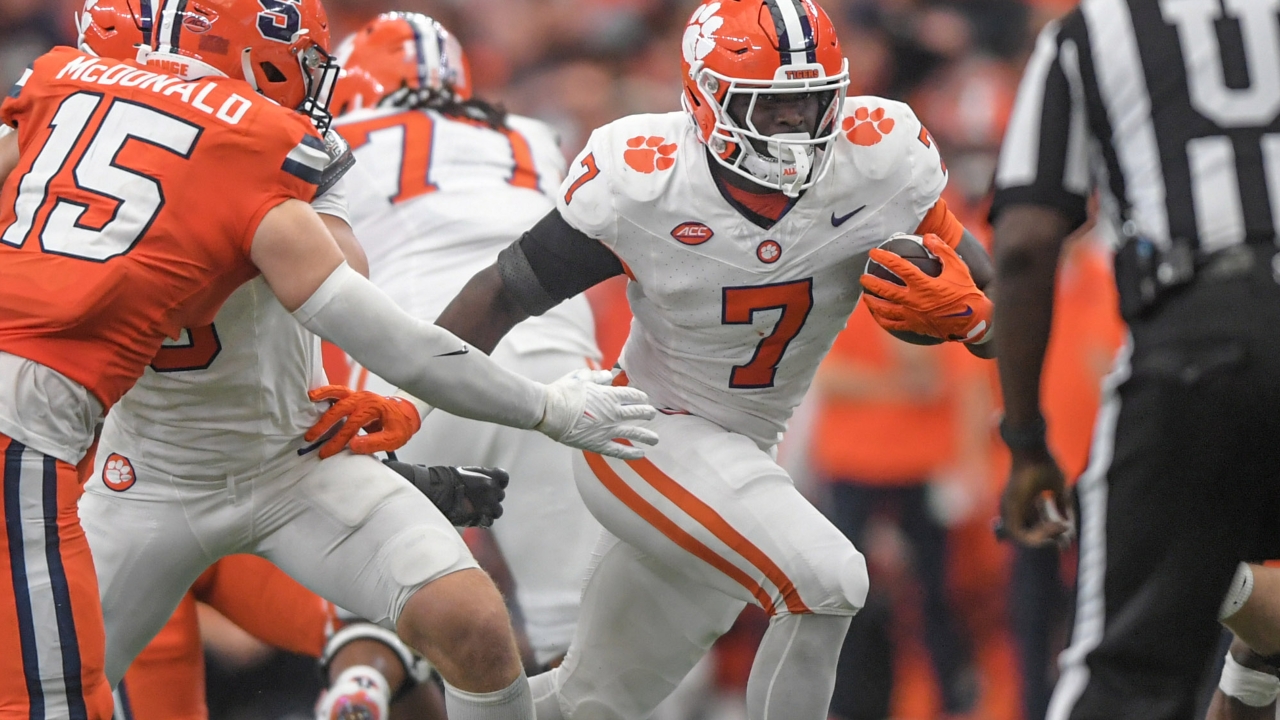 Photo by Ken Ruinard-USA TODAY Sports
Clemson Football
Tigers Upend Orange, 31-14
---
SYRACUSE, N.Y. – A diving interception by Jeremiah Trotter Jr. with 6:45 to play combined with Phil Mafah's 32-yard touchdown run on the ensuing play helped secure Clemson's 31-14 win over previously unbeaten Syracuse at the JMA Wireless Dome on Saturday. Clemson (3-2, 1-2 ACC) won its sixth in a row in the series and improved to 10-2 all-time against the Orange (4-1, 0-1 ACC).
True freshman wide receiver Tyler Brown turned in a magnificent eight-catch, 151-yard receiving effort, with seven of the receptions going for first downs. Sophomore quarterback Cade Klubnik finished 23-of-37 for 263 yards and a pair of touchdown passes to lead Clemson to 389 yards of offense on the day.
Defensively, Clemson recorded a season-high five sacks and held Syracuse's offense, which entered the week in the Top 10 nationally in points per game and yards per game, to 14 points and 286 yards of offense. On its first sack of the game, Clemson became the first program in the country to record 500 sacks since 2012.
The Tigers jumped out to an early 14-0 lead in the first ten minutes on the back of a pair of turnovers and led throughout the contest. The victory was Head Coach Dabo Swinney's 100th ACC regular season win all-time and his 164th win overall, pulling him within one win of the all-time school record of 165, held by Frank Howard.
Clemson recorded a takeaway on the game's opening possession when defensive end Justin Mascoll planted Syracuse quarterback Garrett Shrader, forcing a fumble that was recovered by defensive tackle Payton Page. Mascoll was initially called for targeting on the play before an overturned call upon video review gave the Tigers the ball.
The Clemson offense took over on its own 45 and drove 55 yards on eight plays, as Klubnik found a streaking Troy Stellato on 3rd-and-7 for a 14-yard touchdown, the first of Stellato's career. Klubnik evaded the blitz and rolled out to his right, hitting Stellato in stride near the sideline.
With 6:35 to play in the first quarter, Xavier Thomas scooped up an errant toss and returned it 20 yards to the Syracuse three-yard line. Two plays later, running back Will Shipley rushed up the middle from two yards out for his 30th career touchdown, propelling Clemson to a 14-0 lead.
Syracuse struck back on the ensuing possession through the air, hitting on gains of 37 yards, 12 yards, and finishing with a 28-yard touchdown pass from Shrader to Dan Villari.
Two drives later, Clemson again threatened to score, mounting a 14-play drive including three third-and-long conversions to get inside the 10-yard line. However, Syracuse was able to hold on 4th-and-2 from the five, sacking Klubnik to end the threat.
The defense held the Orange to a 57-yard field goal attempt on the next drive, which fell short. Facing a third-and-10, Klubnik scrambled, picking up 14 yards to the Syracuse 47-yard line. On the next play, he found a wide-open Beaux Collins with a deep ball on the numbers for a 47-yard score to put the Tigers ahead, 21-7, with 2:23 to play in the half. For Collins, it was his 10th career score and his fourth of 40 yards or more.
Clemson had the chance to tack on three more at the end of the first half, but Jonathan Weitz's 42-yard attempt sailed just wide left. Clemson piled up 237 yards of offense in the first half, with 180 coming from Klubnik's arm, as he completed 16-of-25 attempts and helped the Tigers to third down conversions on six of nine attempts. In seven drives defensively, Clemson forced Syracuse into three three-and-outs and recovered two fumbles in the half.
Weitz would get another chance coming out of half, hitting a career-long 38-yarder to cap a scoring drive that included a 47-yard connection from Klubnik to Brown.
Early in the fourth quarter, Syracuse forced a Jake Briningstool fumble and returned it to the Clemson 42-yard line. A 35-yard completion brought them inside the 10-yard line, and two plays later, Shrader hit LeQuint Allen for a six-yard score to pull the score to 24-14.
With the Orange again driving to make a comeback, Trotter dove in front of a Shrader pass for an interception on the 32-yard line with 6:45 to play. Mafah took the next handoff and burst down the left side nearly untouched for the touchdown to set the final margin.
Clemson has one more contest in advance of a midseason open date. The Tigers return home next week for Homecoming against the Wake Forest Demon Deacons on Saturday, Oct. 7. Kickoff at Memorial Stadium is slated for 3:30 p.m. on ABC.
Never miss the latest news from Clemson Sports Talk!
Join our free email list