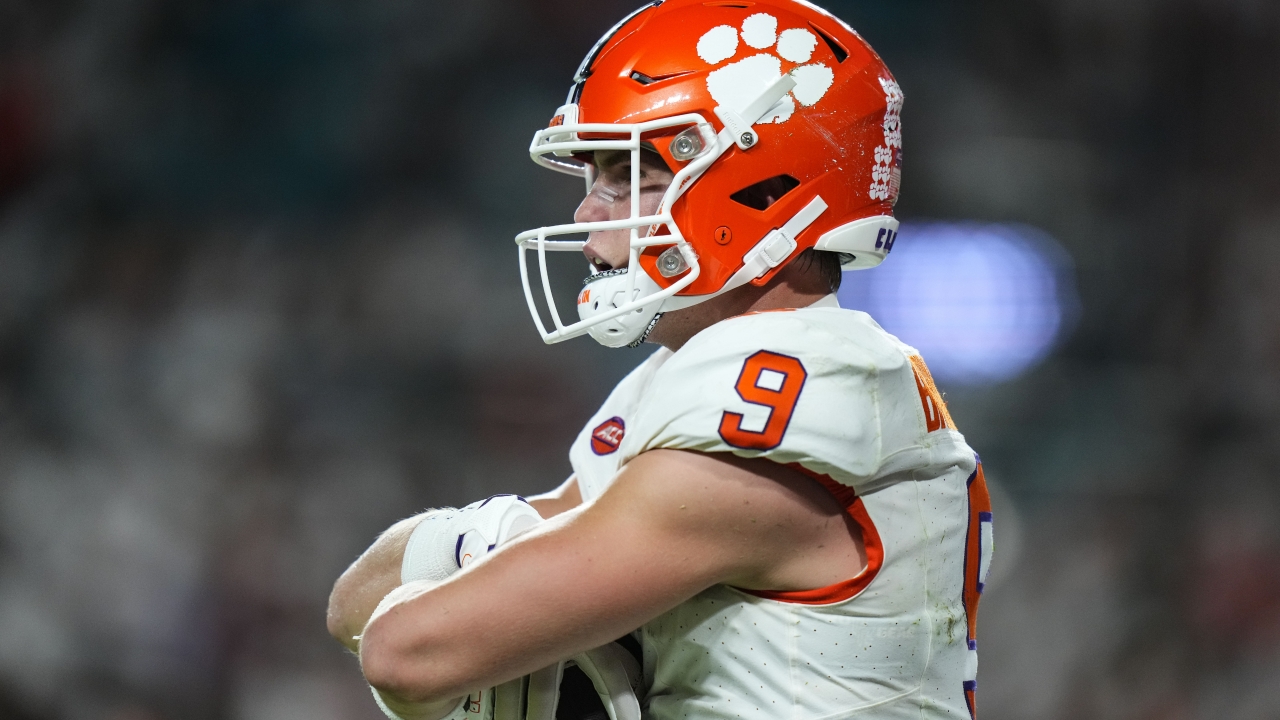 Photo by Rich Storry-USA TODAY Sports
Clemson Football
Clemson's Jake Briningstool: A 'Matchup Problem' Emerges in Miami
---

---
In the midst of Clemson's heart-wrenching 28-20 double-overtime loss to the Miami Hurricanes at Hard Rock Stadium, tight end Jake Briningstool had a career night with five catches for 126 yards and both of the Tigers' touchdowns. On Wednesday, the 6'6, 230-pound junior from Brentwood, TN, was also named the John Mackey Tight End of the Week.
In July, Clemson offensive coordinator Garrett Riley said Briningstool would need to be a "difference maker" and a "matchup problem" and he proved to be exactly that against the Hurricanes.
Entering the night, Briningstool had 18 receptions- third on the team, 125 yards, and one touchdown on the season for an offense that struggled to create explosive plays and get him more opportunities. So, was there a concerted effort to get him the ball heading into the matchup with Miami?
"It kind of just happened to be that this game is the game that it happened," said Briningstool, who also had a 50-yard reception in the third quarter. "All season long, we've been trying to do it, but this game was really where I got a lot of opportunities to catch balls down the field. And that's something that I personally wanted more of—to be more involved in downfield passing and be more of a vertical threat. I think we'll be able to keep it going forward."
Riley challenges tight ends to "be big and play big," and Briningstool answered the call. With Miami's defense predominantly employing man coverage to stifle Clemson's running game, he found himself in one-on-one matchups. The big guy made two leaping touchdown grabs, a 32-yard catch over 6'2 linebacker K.J. Cloyd and a 19-yard Randy Moss-type snatch over 6'5 safety James Williams.
Briningstool explained his approach to playing "big," saying, "We have a sign that hangs up in the tight end room called "Be big, play big." So that's kind of our motto when we take the field every game. So, it felt good to get some opportunities to use my size, and it worked out." He further elucidated what this motto meant to him, "For me personally, it just means using my length. Use what God blessed me with and use it as a matchup problem. Even in the run game, just using my length, my arms, and playing with my hands. I think using my strengths to be my strengths—that's what it means most to me."
When Briningstool initially arrived on campus, he was tall and skilled; those were his strengths, but physically, weighing 215 pounds, he needed to add muscle to his frame. Over three years, he managed to gain about 20 pounds while honing his skills and becoming a more proficient blocker. During the Miami game, he made a few key blocks a testament to his growth and diligence to improve in that area.
"Ever since I got to Clemson, I've really just been focused on becoming a complete tight end— being able to play every down and having them use me wherever they need me the most."
"Ever since I got to Clemson, I've really just been focused on becoming a complete tight end— being able to play every down and having them use me wherever they need me the most," Briningstool said. "Some of those opportunities come in the run game, and I think just focusing on my technique and getting those blocks done, I've gotten a lot better, and I have a lot more confidence in my run blocking now."
Despite his outstanding performance, where he also broke the record for yards, 122, in a single game by a tight end, which was previously held by Jordan Leggett, Briningstool's primary focus remains on the team's success. When asked about his big night, he stated, "It was a tough one. I'm a team-first guy. So I'd rather take a 'W' over any individual stats."
As Clemson (4-3, 2-3) prepares to face N.C. State (4-3, 1-2) in Raleigh, NC, Briningstool's performance in the Miami game may be the catalyst the offense needs to overcome their recent struggles and secure a victory. Despite some tough losses and challenges, Briningstool remains confident in the team's camaraderie and determination to persevere.
"We've had some tough bounces and tough breaks. But I think collectively as an offense, we all still trust each other. We're all still here for each other. We're all in this together. So we just got to get it fixed and go back to work and get a win."
The Tigers and Wolfpack can be watched on The CW at 2:00 PM Saturday.
Never miss the latest news from Clemson Sports Talk!
Join our free email list
SPONSORED BY