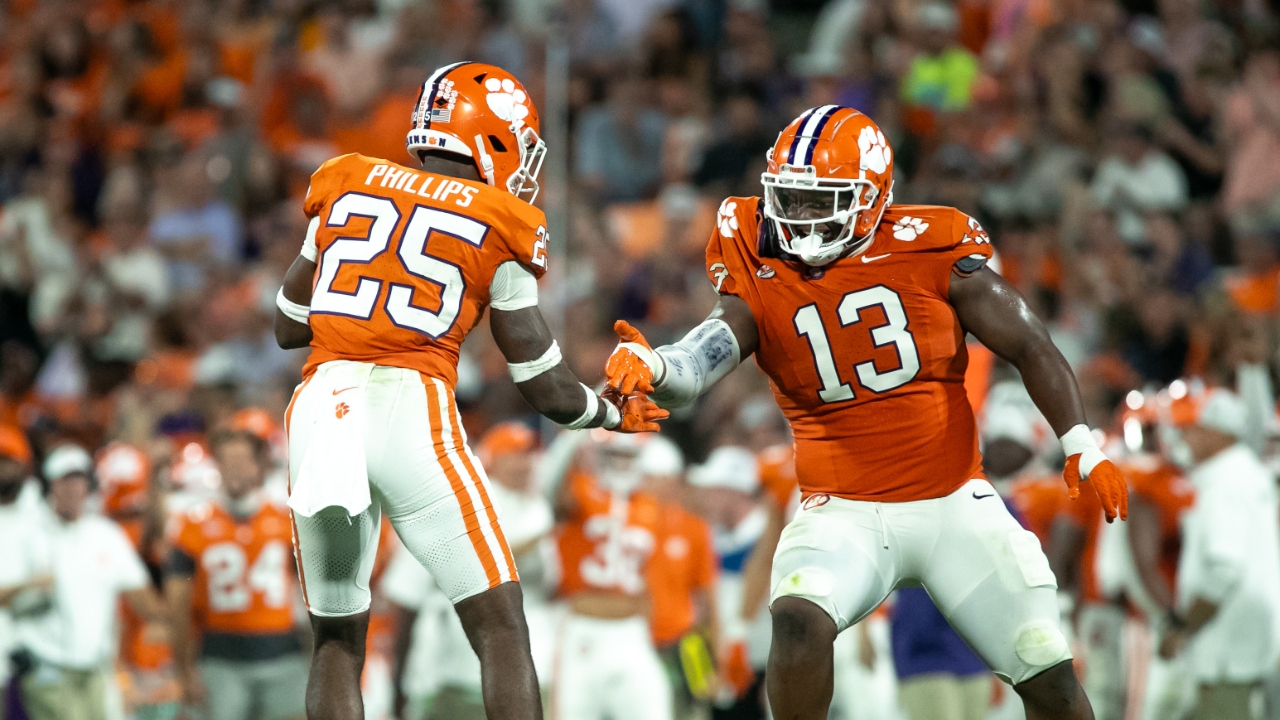 Photo by © Susan Lloyd/Clemson Sports Talk
Clemson Football
Clemson's Tyler Davis Stays Resolute Despite Tough Season
---

---
In the world of college football, one thing is certain - adversity can strike at any moment. For Clemson, that adversity came in the form of a double-overtime loss to the Miami Hurricanes, pushing their season record to 4-3 and essentially eliminating them from contention for the ACC Championship Game.
It's not the script they had envisioned, especially after a senior defensive tackle, Tyler Davis, set high goals for the team earlier this year. But as Davis shared this week, the Tigers are still determined to finish the season strong, regardless of the hurdles they've faced.
At the start of the 2023 season, Davis, a senior leader who stunned a lot of fans by returning for his final year, made it clear that the goal for the Tigers was nothing short of a national championship. He stated, "We come here to graduate and win a championship and to leave better prepared as a man." That championship dream seemed well within reach for the Tigers in the preseason, but the reality they face now is vastly different.
After the Miami game, where Clemson fell short in an intense double-overtime battle, the Tigers' find themselves in a fight to secure a spot in a bowl game-- let alone trying to reach 10+ wins for a 13th consecutive season under head coach Dabo Swinney. But amidst the adversity, Tyler Davis maintains an unwavering spirit.
"We are going to finish," Davis declared. "The goal is to finish. That's what we set out to do. We are going to finish no matter what the result is. No matter if things go our way or don't go our way. We are going to finish out the season the right way. Finish strong."
Clemson might not be contending for a national title as they had hoped, but for Davis, the focus now shifts to what they can learn from a challenging season. "When things don't go your way, how are you going to respond? My mindset is, I'm going to respond the right way. Finish with no regrets."
The lessons learned during this trying season, Davis believes, will be invaluable for both him and his teammates.
"This year is definitely a reason we came back. It taught us some great lessons. I feel like this year we're definitely growing. I'm appreciative that I still came back. I'm growing as a leader and as a man."
Swinney's program is renowned for its resilience and strong foundation, and Davis is confident that they will emerge from this season stronger than ever.
"We are still closing it, and we are going to respond back the right way. We are going to take it one game at a time," Davis noted. "What this program is built on and the foundation, I think we are going to come out stronger than we came into it."
On a personal note, Davis recently achieved a significant milestone by breaking the career record for starts by a defensive tackle at Clemson. It's a record he holds with pride, stating, "It means a lot. I feel kind of old. It definitely means a lot to know that I came here and had the most starts. I am definitely grateful for it."
Despite the challenging season, Davis remains resolute in his commitment to finishing strong. The 2023 season may have taken an unexpected turn, but led by Davis, it sounds like the Tigers plan to give their all in each and every game remaining in this season.
Never miss the latest news from Clemson Sports Talk!
Join our free email list