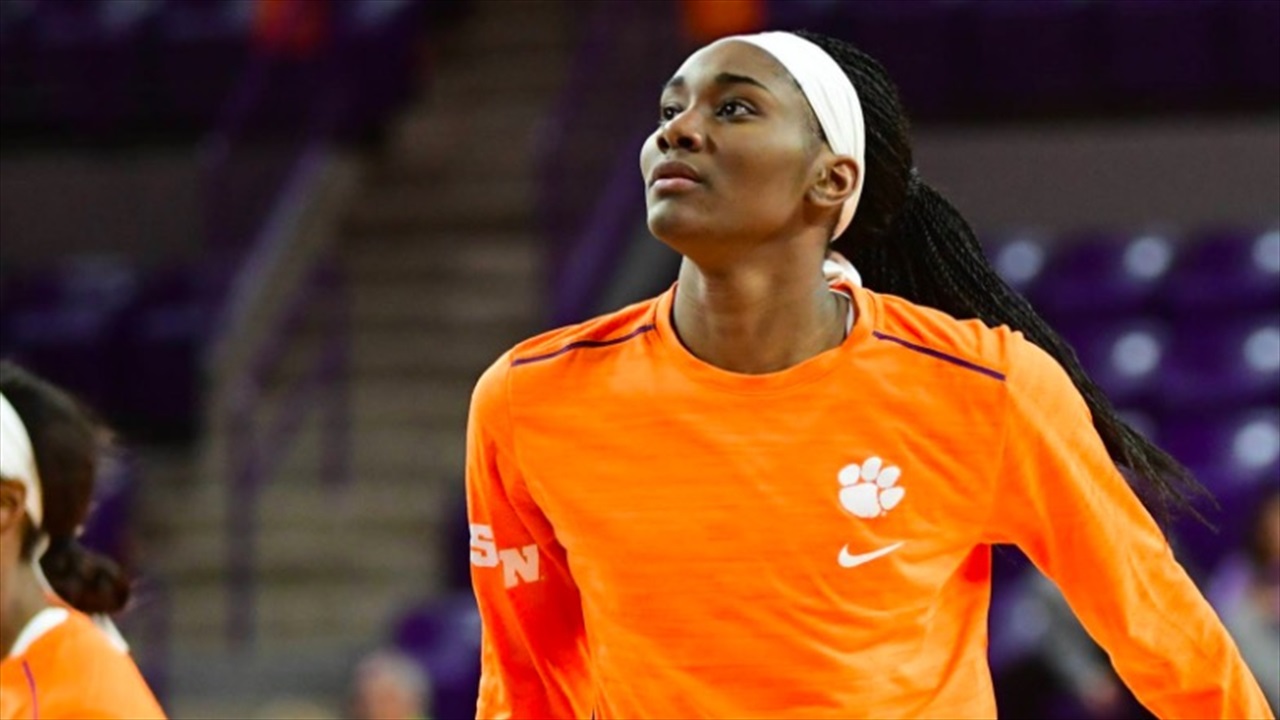 Clemson Women's Basketball
Tigers Host No. 19/18 Duke in #Play4Kay Game Sunday at Littlejohn
---
Game Information vs. Duke:
Who: No. 19/18 Duke Blue Devils (19-6, 8-4 ACC) at Clemson Tigers (11-14, 1-11 ACC)
When: Sunday, Feb. 11 at 2 p.m.
Where: Littlejohn Coliseum, Clemson, S.C.
Watch: ACC Network Extra (Pete Yanity & Jim Davis)
Listen: Clemson Tigers Network/ClemsonTigers.com (William Qualkinbush & Kelly Gramlich)
Live Stats: ClemsonTigers.com
Follow: Twitter & Instagram: @ClemsonWBB
#Play4Kay Details:
Sunday's game is Clemson women's basketball's annual #Play4Kay game, named in honor of legendary coach Kay Yow, to raise awareness and donations for the fight against women's cancers.
The first 700 fans in attendance will receive a free pink t-shirt.
Donations will be accepted online and at the game: https://pledgeit.org/clemson-play4kay.
Clemson Team Notes:
The Tigers (11-14, 1-11 ACC) are coming off of a 65-46 loss to No. 4/4 Louisville on the road at the KFC Yum! Center. Clemson held the Cards to 65 points, 14.4 points below their season average of 79.4 points per game. It was only the fourth time this season Louisville has been held to 65 points or less. Sophomore Kobi Thornton led the Tigers with 13 points, while junior Aliyah Collier added nine rebounds and 10 points.
As a team, the Tigers rank second in the ACC in blocked shots (127) and blocked shots per game (5.1). The total blocked shots figure ranks 19th in the nation, while the per-game figure is 28th nationally.
Clemson leads the ACC in three-point field goal percentage defense, holding its opponents to just 28.6% from behind the arc on the season. The Tigers are fifth in the conference in scoring defense (59.3), and are only 3.4 points behind first-place NC State (55.9) in that category.
The Tigers are also in the top-half of the conference in four other defensive categories, as they are sixth in field goal percentage defense (37.8%) and steals per game (8.4) and seventh in steals (211) and turnovers forced per game (16.92).
Clemson finished nonconference play with a 10-3 record in 2017-18. In the past two seasons, the Tigers have a 21-5 (.808) record in nonconference play (11-2 in 2016-17 and 10-3 in 2017-18). It is the best two-year nonconference record for the program since the 1997-98 and 1998-99 seasons, when Clemson was 23-4 (.852) in two seasons.
Clemson Player Notes:
Thornton leads the Tigers in scoring overall and in ACC play. The 2017 ACC All-Freshman Team selection is averaging 10.6 points per game on the season, and 12.8 points per game through 12 conference games.
Thornton has scored in double figures in eight consecutive games, and in nine of the Tigers' 12 ACC games. She picked up her first two double-doubles of the season against Boston College on Jan. 18 (16 points, 10 rebounds) and at No. 5/2 Notre Dame on Jan. 21 (16 points, 10 rebounds).
Thornton also leads the team in rebounding on the season (6.7 per game) and in ACC play (6.0 per game).
Junior Danielle Edwards ranks second in scoring for the Tigers, averaging 9.5 points per game. She also leads the team in steals (66, 2.6 per game) and assists (59, 2.4 per game.)
Edwards' 66 steals and 2.6 steals per game rank third among all ACC players, and the 66 steals also put her at 21st in the nation in that category. On Nov. 13, 2017, Edwards posted nine steals in the Tigers' 56-48 win over South Carolina State, tying the Clemson record for steals in a single game. Four different players have recorded nine steals in a game previously for the Tigers, however, it had not been done in 30 years, when Ramona O'Neil picked up nine steals against Virginia on Feb. 14, 1987.
The Tigers have two players in the top six in the ACC in blocked shots. Freshman Tylar Bennett ranks fifth with 42 blocked shots and a 1.7 per game average, while Thornton ranks sixth with 39 blocked shots and 1.6 blocked shots per game.
Series Information:
Duke leads the all-time series against the Tigers with a 40-32 record.
Last season, the then-No. 15/15 Blue Devils defeated the Tigers 65-37 at Cameron Indoor Stadium on Feb. 2, 2017.
Never miss the latest news from Clemson Sports Talk!
Join our free email list