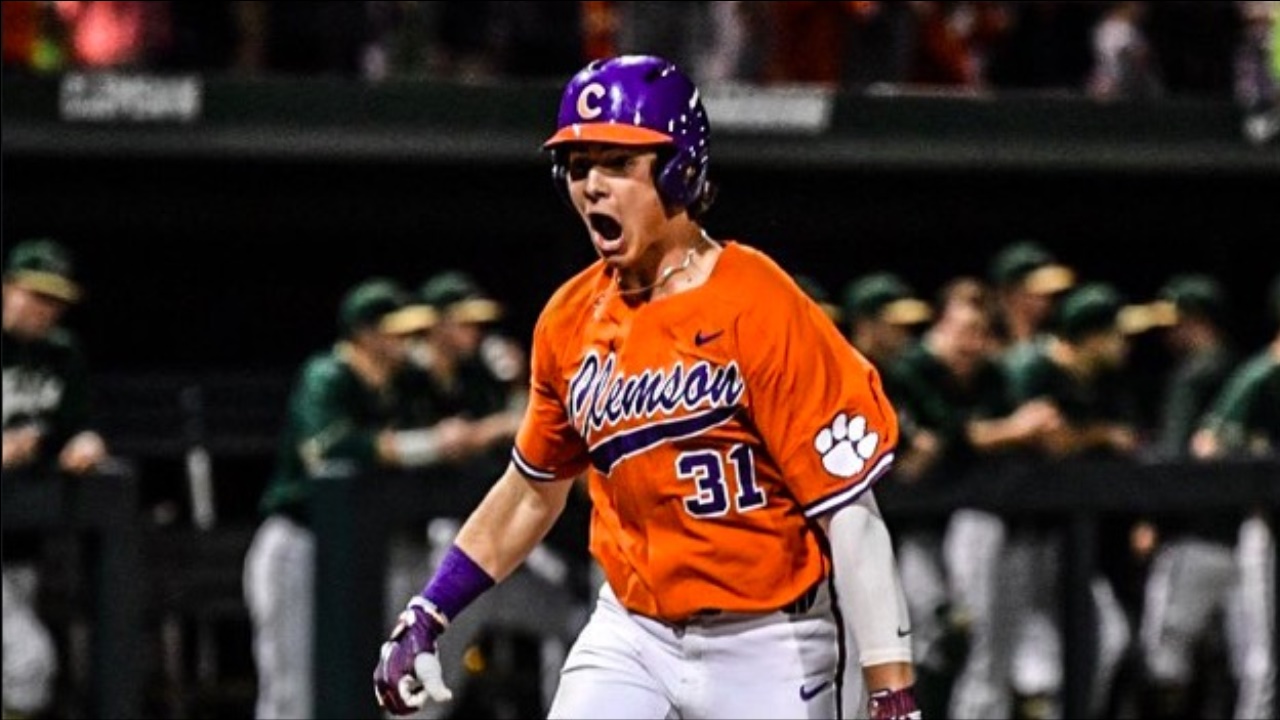 Clemson Baseball
Clemson rallies past William & Mary in a 10-inning 5-4 victory on Opening Day
---
CLEMSON -- There were Opening Day fireworks in front of 6,000-plus at Doug Kingsmore Stadium as a ninth-inning rally fueled the Tigers to a 5-4 win in extra innings.
It was Clemson's first Opening Day win since 2013 when the Tigers defeated William & Mary 2-0.
"I know that we've struggled a little bit on Opening Day around here for the last few years, but our guys never wavered," head coach Monte Lee said. "We remained calm in the dugout even when we were down by a few runs. Our guys continued to compete and pull for each other and put together really good at-bats there at the end, along with pitching and defense, and found a way to get a win here in game one."
Chris Williams stepped to the plate in the bottom of the tenth with the bases loaded after William & Mary intentionally walked Seth Beer. The Tribe had to pick their poison but chose incorrectly. Lee approached Williams before Beer's at-bat, saying the Tribe would walk Beer to get to him, but Williams laughed it off.
"We remained calm in the dugout even when we were down by a few runs. Our guys continued to compete and pull for each other and put together really good at-bats there at the end, along with pitching and defense, and found a way to get a win here in game one."
Williams' action was limited at the end of last season due to a shoulder injury and decided not to turn pro over the summer. The first-baseman singled on a 2-2 count to left field to send Clemson fans home happy on Opening Day for the first time in a long time.
"It's something that every kid always dreams of, you know?" Williams said after his winning hit. "Extra innings. Bases loaded. And you're up there trying to get the winning run in. It was a dream come true."
Head coach Monte Lee said in 2017 his team "ate pressure like candy." The narrative continued on Opening Day as the Tigers opened up a bag of Skittles when they faced a three-run deficit with two outs in the ninth inning.
Down 4-1 in the bottom of the ninth, a Chris Williams double with two outs put runners on second and third for the Tigers. Robert Jolly stepped in and was down to Clemson's final strike, but a 2-RBI single scored both runners and put the tying run on first.
"That's why we put Robert in there," Lee said. "He gives us quality, competitive at-bats and he kept us in the ballgame. He gave us a chance and found a way to get on base. That's why we were able to win that ball game."
Sam Hall came into pinch-run for the Tigers and stole second to put the tying run in scoring position with two outs. After Grayson Byrd and Kyle Wilkie were both walked, the bases were loaded.
Wade Strain threw a wild pitch in relief and just like that; the game was tied at four and Clemson rode the momentum through extra innings
In his first career start for the Tigers, Jacob Hennessy started off solid throwing 31 pitches and four strikeouts through three innings. The only problem was Bodie Sheehan was having a similar outing. He threw 31 pitches and had four strikeouts through the first three innings as well.
Sheehan would continue to deal all afternoon, lasting seven innings. He threw four strikeouts and only gave up three hits to Clemson's lineup on 83 pitches.
"Their lefty, Sheehan, was awfully tough on us," Lee said. "We could not seem to find a way to get anything going... You got to give him credit, too. He's really good and would pitch on anybody's staff."
Hennessey could only go so far before the damage was done.
The left-hander started the top of the fourth giving up two singles with one out. A Wild pitch moved Tribe runners into scoring position, and it was time for Hennessy to get out of trouble.
He got out of the jam with a strikeout on a pitch that looked like it was a changeup, then a ground out to end the Tribe's threat. Monte Lee has said Hennessy's development of a changeup was the reason he's a starter this season. It showed there.
But the very next inning, Hennessy couldn't keep the Tribe off the board. He gave up a leadoff single; then a Zach Pearson double put runners on second and third with one out, again.
Monte Lee met with Hennessy on the mound, but two pitches later, the Tribe struck first with Hall's three-run blast.
Hennessy exited his first career start throwing 4.2 innings. He gave up six hits, three runs, but threw six strikeouts on 60 pitches.
"The story of the game for me - for us - was we were in that position because Sheehan was doing such a good job against us," Lee said. "Even if Hennessy was at his best, we were still having trouble with Sheehan. Our bullpen was going to have to win that game for us and hold them to give our offense a chance late in the game."
Even with Clemson's struggles from the plate for more than eight innings, the Tigers were able to turn it on when they needed it most. In innings 1-8, four of 27 batters reached base
In innings 9-10, nine of 12 Clemson batters reached base, all in clutch situations.
"I think it's just something that is part of our culture. Coming back late in the games is nothing new to us."
Winning in this type of fashion was nothing new to Lee and his baseball program. In one-run games in 2017, Clemson was 9-4. A 1-0 start in that category is just business as usual.
Throughout the game, we were very calm, and no one was panicking. We all knew all it took was one guy to get on base."
Lee and Williams were on the same page, saying the demeanor of Clemson's team tonight was important and impressive. The head coach was happy to finally get the Opening Day victory that has eluded this team in the past five years.
It's early, but a win like this is something Clemson can build on for the rest of the series and the next couple of weeks.
"I thought that our demeanor in the dugout was outstanding tonight," Lee added. "Our guys never wavered… They could sense it. Our guys could sense it. When we found a way to get the tying run on base, our guys could sense we were going to find a way to get it done. I'm very proud of them tonight."
The Tigers face William & Mary in game two of the weekend series Saturday afternoon at 2:00 PM. The game can be seen on ACC Network Extra brought to you by ESPN.
Never miss the latest news from Clemson Sports Talk!
Join our free email list