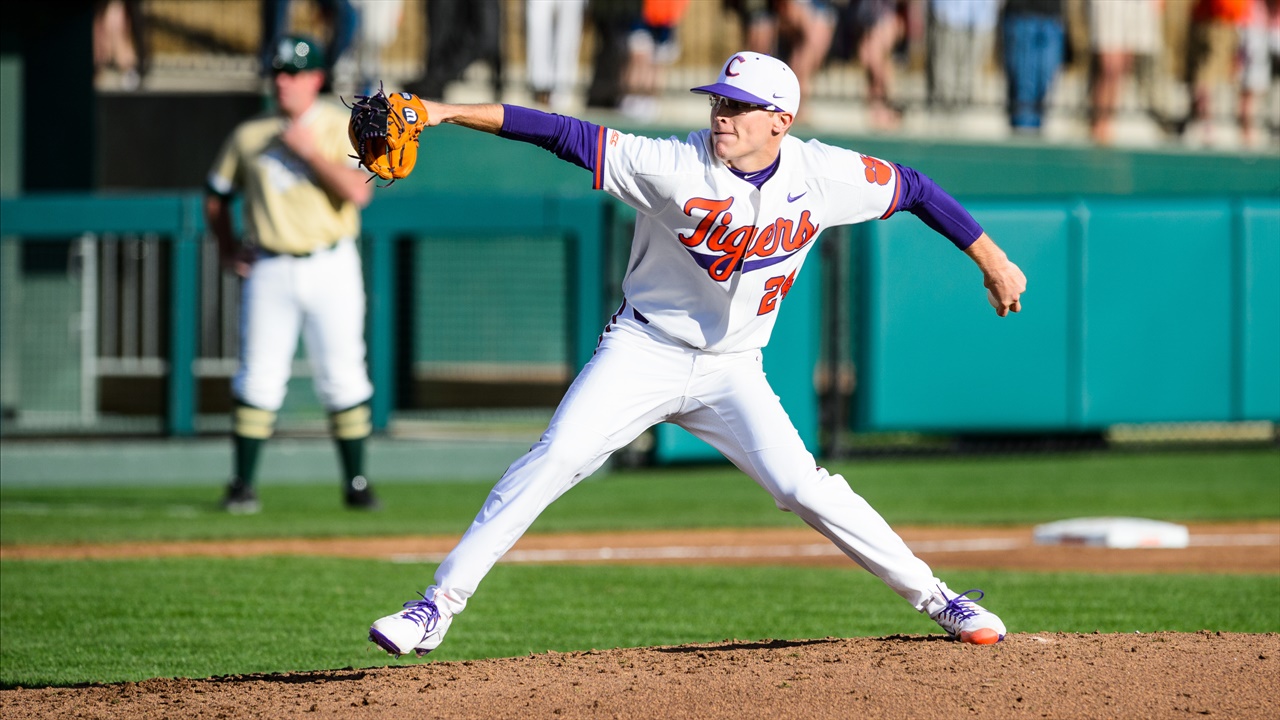 Photo by © David Grooms/Clemson Sports Talk
Clemson Baseball
Clemson secures first opening-weekend sweep since 2009
---
CLEMSON -- Riley Gilliam smiled wide and made a motion like he was sweeping a broom once he struck out William & Mary's final batter.
Clemson baseball secured a season-opening sweep on Sunday afternoon, the first sweep to start a season since 2009 as the Tigers defeated William & Mary 2-1 in game three.
This is the first time in program history Clemson won its first three games by one run.
Jake Higginbotham secured the win for the Tigers in his first outing in over 600 days due to injury and man, did he deliver. Head coach Monte Lee said his performance was everything Clemson could have asked for in his first start of the season.
"The story of the game today was Jake Higginbotham," Lee said. "He did an unbelievable job. It's been a long time coming for Jake. He pitched a lot for us as a true freshman, then had an injury and missed last year. I don't know if we could have asked for a better start."
"The story of the game today was Jake Higginbotham. He did an unbelievable job. It's been a long time coming for Jake."
Higginbotham started the game securing 16 consecutive outs, which was all Clemson needed to build a comfortable 2-0 lead. The two hits he gave up were back-to-back hits bringing the Tribe to within one. He exited the game striking out three batters and only giving up two hits on 77 pitches, 50 of them being strikes.
Travis Marr and Riley Gilliam came on in relief and didn't give up a hit until there were two outs in the ninth. Gilliam struck out the very next batter to kill any hopes for a Tribe comeback.
In just three games, Lee has been impressed with the way his pitching staff has played. The Tigers have only walked two batters and struck out 36 in a momentum-building weekend.
"It's been interesting on my end because we hit so well in the fall, but it's been kind of a 180. Since we came back in the spring, our pitching staff keeps getting better and better," Lee said. "I told you guys going into the season that if we keep throwing the ball, we are throwing it, I feel pretty good about where we are at."
Lee added that he's frustrated in Clemson's offensive performance this weekend when expectations for an explosive offense have been so high. The Tigers scored two runs on six hits and left ten runners on base in game three.
Clemson Sports Talk
As Clemson moves forward, Lee is going to continue to try and find the right combinations on offense to get the bats going. Next weekend's series against Dallas Baptist is one where Clemson's offense needs to be ready to play.
"We got to find a way to swing the bats," Lee said. "Part of the blame is me for maybe putting a little bit of pressure on them talking about it too much. We just got to free it up and swing it a little more."
The Tigers look to continue their impressive start with their first mid-week game against Furman at 4:00 PM but will take some time to enjoy the sweep
"Any time you can get a sweep on opening weekend, pitch, and defend the way we did this weekend, you got to feel pretty good about it," Lee said. "Hopefully, we can carry some momentum into our first mid-week game."
Never miss the latest news from Clemson Sports Talk!
Join our free email list