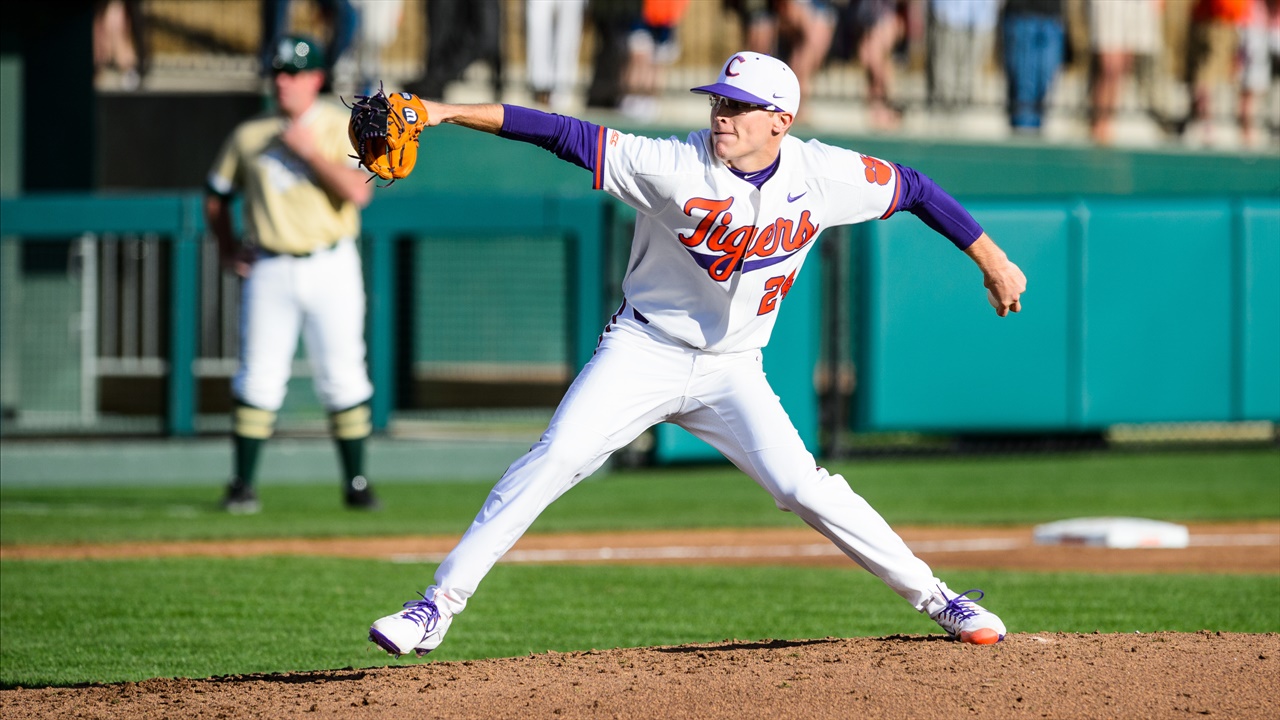 Photo by © David Grooms/Clemson Sports Talk
Clemson Baseball
Clemson Baseball - Inside The Numbers - Dallas Baptist Series
---
Off to a 4-0 start and with in-state rival South Carolina looming ahead next week, there may be a tendancy for some to overlook the team on this weekends agenda. I wouldn't if I were you and I can assure you that Monte Lee isn't.
Dallas Baptist has carved out a recent history that would make some blue bloods of college baseball envious
Perhaps not as well known as traditional college baseball powers, Dallas Baptist has carved out a recent history that would make some blue bloods of college baseball envious as they've made 6 trips to Regionals (1 Super Regional) in the last 7 years and have also won 40 or more games in those 6 years with Regional trips.
Lest you think DBU is racking up wins over lesser teams, know that this is a team that finished the 2015 regular season with the #1 RPI in the nation.
The Patriots can play and they typically play with power, finishing 2017 3rd in the nation in home runs.
This brings us to Clemson pitching, which has been solid, especially the bullpen over the first 4 games. However, I'm intrigued by what we'll see from the starters in start #2 of the season and if the starter's will go deeper into the games this weekend or are still on a 60-70 pitch limit.
As the chart below shows, they did fine for the the first time through the lineup, but struggled the 2nd time through.
One pitcher who hasn't had trouble any time through the lineup (in full disclosure, the second time through has been limited) is Ryan Miller.
NOTE: This only measures batting average, not on base or slugging percentage.
Pitching
Leading Off
How important is getting the lead off batter on? The chart below gives you an idea and while the Tigers average a run an inning when the lead off batter reaches, the real eye opener is the opponents numbers: Only 21.6% of opponent lead off batters reach base and when the lead off batter is out the opponent almost never scores.
The sample size is tiny, but a disparity will remain between innings where the lead off batter reaches and when he is out and we'll track this through the season.
Batting
Quality At Bats
Coach Lee measures his hitters by more than batting average and one way to capture that is to look at quality at bats. The sacrifice flies, walks and hit by pitches that Seth Beer gets every game doesn't factor into his batting average or slugging percentage, but you can bet they effect the game.
This metric is calculated different ways by different teams and at times can be subjective depending on who is measuring the at bat. I don't know the formula that Clemson uses, but am using a common one and my observations. For these reasons, this should be used as a guideline and not considered a perfect measure.
The goal was to capture as much data as possible to better understand decisions made by the coaching staff.
Defense
I'd be remiss if I didn't at least mention the defense and 0 fielding errors (one throwing) over the 4 games. Yes, it has taken some fancy glove work by Chris Williams at first, but that's generally part of the college game and one reason I was worried about the loss of Andrew Cox.
Actual vs. Expected Record
Early in the season a big win can do a lot for the expected record as evidenced by the Tigers 12-4 bashing of Furman on Tuesday. That 8 run win, combined with the small sample size of 4 games improved the Tigers expected wins by 7 games.
| | | | |
| --- | --- | --- | --- |
| Actual Record | Expected Record | "Luck" | Expected Season Record |
| 4-0 | 3-1 | +1 | 41-15 |
It's tough to make it to Omaha living and dying on one run games, especially 3 in a row. On the other hand, I'll take 3 one run wins this weekend.
Upcoming Schedule
| | | | |
| --- | --- | --- | --- |
| Date | Opponent | Location | Current Record |
| 2/23-2/25 | Dallas Baptist | Clemson | 3-0 |
| 2/27 | Winthrop | Clemson | 0-5 |
| 3/2-3/4 | South Carolina | Cola./Gville/Clemson | 4-1 |
| 3/6 | Wofford | Clemson | 1-3 |
| 3/7 | Michigan State | Greenville | 0-4 |
Four games into a 56 game schedule (about 7%) means I'm reluctant to draw any conclusions, but by the time the first weekend of March is complete opinions are likely to be in the development stage and ACC play will be much closer.
Never miss the latest news from Clemson Sports Talk!
Join our free email list