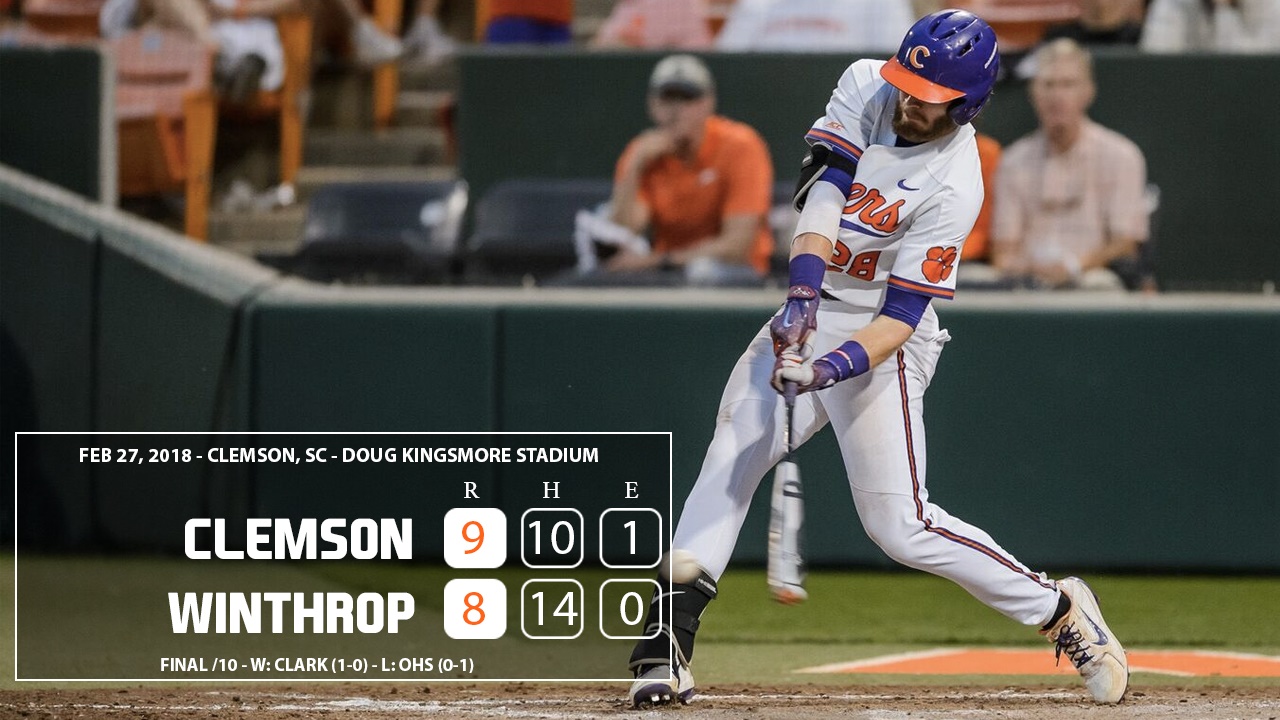 Clemson Baseball
Good Fortune: Kyle Wilkie, Patrick Cromwell predict walk-off win over Winthrop
---
CLEMSON -- No. 10 Clemson found itself trailing mid-week opponent Winthrop 8-4 heading into the bottom of the sixth inning.
The Eagles had rattled off eight consecutive runs to take a commanding lead. On the field, Clemson looked unfocused and on its way to its first loss of the season.
In the dugout, the Tigers remained their natural selves.
Cool and composed while trailing, Clemson roared its way back and tied the game in the bottom of the ninth inning thanks to a Patrick Cromwell home run that was blasted over Clemson's Cajun Cafe. Kyle Wilkie ended things in the bottom of the tenth with a walk-off single to give Clemson the 9-8 win.
It was nothing new to Monte Lee, who sees this type of composure from his team every day.
"Even when we're down, our guys are cool and collected, smiling and laughing. They're just a loose group," Lee said. "There's not a lot of fire in the dugout. It's a pretty professional - tactical - group, I would say. They are consistent, that's what I like about them."
"Even when we're down, our guys are cool and collected, smiling and laughing. They're just a loose group."
So, was there ever a doubt Clemson would win? To the people in the stands, probably so.
They had just watched Chris Williams and Drew Wharton continue their hot starts with a home run each to give Clemson a 4-run cushion in the first inning only for Winthrop to erase it.
They watched the Eagles score in three consecutive innings to build a 7-4 lead heading to the bottom of the fourth. At one point, Winthrop was shelling Clemson's pitching staff, had 12 hits to Clemson's two, and was doing everything it wanted in what looked like was going to be a blowout.
But to Cromwell, there wasn't a doubt his team would make a comeback. So it was time for him to have a little fun while his team was trailing.
In the bottom of the fourth, the third baseman approached Kyle Wilkie. The catcher was having an average game so far, reaching on a fielder's choice, but Cromwell told Wilkie he would be Clemson's saving grace.
"I also predicted Kyle's walk-off in the fourth inning," Cromwell admitted with a smile at the last second of the postgame press conference.
Most may have just laughed it off, but Wilkie had to one-up his teammate. He recalled a moment before the game began where he approached Clemson Baseball Stats and Information Director, Brian Hennessy.
"Before the game, I was like, 'hey Brian; I'll see you at the press conference later," Wilkie added.
Wilkie did his best to make sure he got there. His two hits came at two critical moments for Clemson. His single to right center field with two outs capped off a three-run sixth inning for the Tigers to give them all the momentum, down 8-7. The other was the eventual game-winner.
But for Cromwell's prediction to come true, the senior had to take matters into his own hands with the game on the line in the bottom of the ninth.
After Seth Beer hit a flyout on the first pitch of the inning, Cromwell stepped into the batter's box knowing he had to wait for his pitch. On a 2-1 count, Cromwell sent the fourth pitch of the at-bat flying over the right-field wall.
Much like his prediction for Wilkie to end the game, there was never a doubt.
"I don't hit many that are no-doubters, they are usually the first row," Cromwell said. "But I had a pretty good feeling that one was out as soon as I hit it."
"I don't hit many that are no-doubters, they are usually the first row. But I had a pretty good feeling that one was out as soon as I hit it."
Once Clemson tied the game in the ninth, you had a feeling the squad that lives for moments with that type of pressure was going to win the game.
From there, the Tigers would set Wilkie up perfectly in the bottom of the tenth after Byrd's perfectly executed fake-bunt single advanced Wharton to third with no outs. Wilkie swung at the first pitch of his at-bat, ended the game, and walked right to the postgame press conference to greet Hennessy and the rest of the media.
The players on Clemson's team are as clutch as they are having fun. Tonight was just the latest example.
The Tigers are now 5-0 in one-run games this season in only their first eight games. Clemson is 8-0 for only the third time since 2000.
In those other two seasons, 2002 and 2010, Clemson reached the Final Four of the College World Series.
Lee knows a comeback win like the one his team achieved tonight will help his team going forward, especially heading into the biggest rivalry in college baseball this weekend.
"We told our guys even when we were down by a few runs, 'this is what it's like here. You better get used to it,'" Lee said. "Our guys just seem to believe. Even when we are down by runs, we are going to find a way to get it done."
Clemson is going to catch a few good breaks as well as some bad breaks here and there throughout its long baseball season.
But it sure doesn't hurt to have two fun-loving fortune-tellers like Cromwell and Wilkie spread a little good fortune when their team needs it the most.
Never miss the latest news from Clemson Sports Talk!
Join our free email list