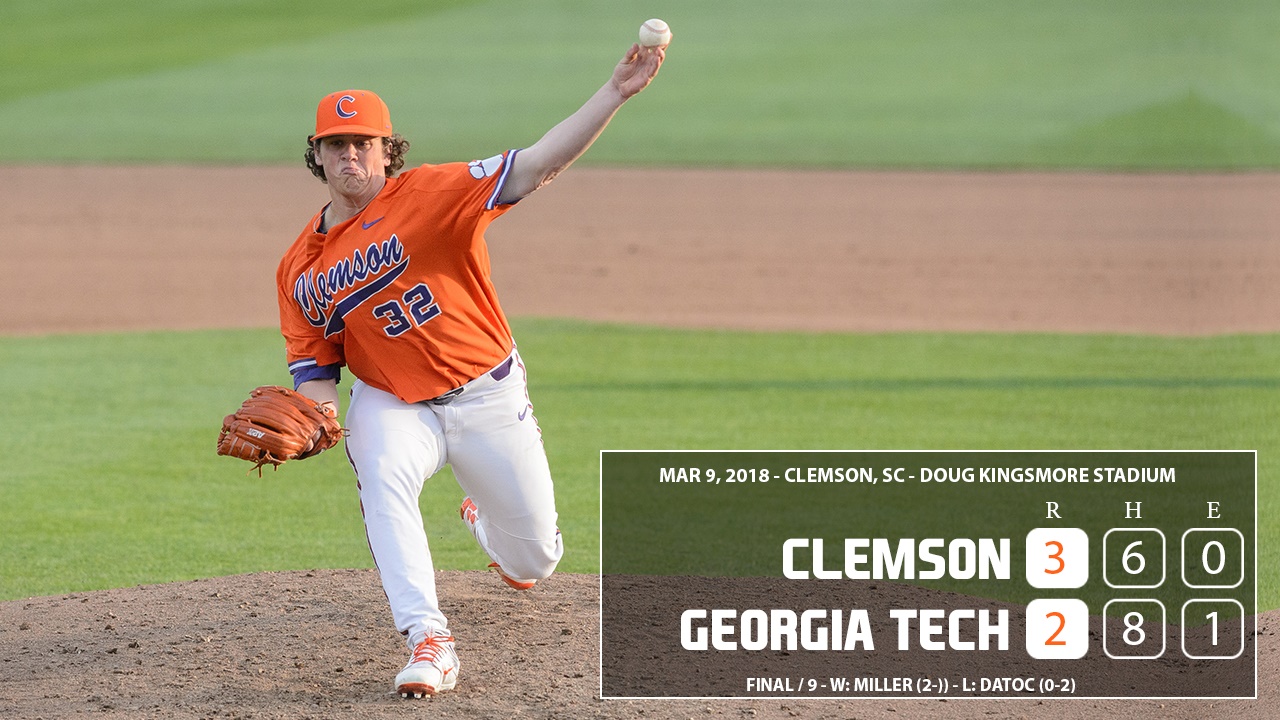 Photo by © David Grooms/Clemson Sports Talk
Clemson Baseball
Hennessy shines in game one win over Georgia Tech
---
CLEMSON -- No. 6 Clemson had to win in come-from-behind fashion in both mid-week games this week against Wofford and Michigan State to keep its winning streak alive.
Today, the Tigers had to hang on as a pesky Georgia Tech team gave them everything they could handle in their first ACC contest. But with the game tied at two in the 8th inning and senior Patrick Cromwell stepping up to the plate, it was the same old story.
Cromwell's base-hit up the middle scored the winning run in the bottom of the eighth inning to give No. 6 Clemson a 3-2 win over the Yellow Jackets.
The Yellow Jackets had a runner on second in the top of the 9th with one out after a sacrifice bunt, but Ryan Miller was stone cold. He struck out the next batter and the game ended with a line-out right to Grayson Byrd.
The Tigers are now 7-1 in one-run games through 14 games. Clutch.
The story of the afternoon was Jacob Hennessy's outing on a chilly Friday afternoon in front of a home crowd. The sophomore continued to impress as a Friday starter for Monte Lee. He threw seven strikeouts in seven innings, had no walks, allowed two runs and six hits on 93 pitches.
Miller came in right after Hennessy, only allowing two hits and was solid to preserve the win for Clemson in the final inning. After throwing eight arms on Wednesday against Michigan State, Clemson needed a strong outing to set them up for the rest of the series, and that's just what it got.
"You got to give Jacob Hennessy and Ryan Miller a tremendous amount of credit," Lee said. "Jacob has been so good for us being able to pound the strike zone; we felt like we needed to be able to get through this game with two guys... It sets us up pretty nice for tomorrow."
Hennessy was on from the very beginning of the game, shutting down six consecutive Georgia Tech Batters at one point. Any time you can throw a 10-pitch inning, your confidence is going to grow.
This was Hennessy's fourth start for Clemson and the deepest he has gone in a game so far this season. He now has 23 strikeouts, has only given up four walks, and has a 1.96 ERA.
"I think every outing I have gotten a little more comfortable," Hennessy said. "I kind of hope to keep carrying that on. My goal is to go nine innings every time."
It vital for Clemson to only throw two pitchers this afternoon, but an even bigger factor was Clemson getting to Georgia Tech's bullpen early. After five innings, Georgia Tech's Xzavion Curry had an identical line with Hennessy except he had thrown 104 pitches while Clemson's staff threw 115 all game long.
The Yellow Jackets brought in their best reliever, Jared Datoc, to try and end Clemson's unblemished record at home. Cromwell's hit in the eighth inning turned out to burn Datoc for the weekend, which Lee mentioned was important as Clemson prepares to play its fifth game in five days.
"We were able to get after the bullpen early. We were able to get Curry out after five," Lee said. "We put together some pretty good at-bats, fought some pitches off, and drove the pitch count up… We were able to get their better reliever in Datoc in the game and probably burn him for the weekend. Even when you don't score a bunch of runs, you can fight pitches off and get into the bullpen; it pays dividends for you. Hopefully, it will tomorrow."
Clemson had only two hits through three innings, but the two blasts of home runs from Seth Beer and Bryce Teodosio put Clemson on top early 2-0. Beer's home run traveled 412 feet while Teodosio's was smacked over left-center.
The home run from Teodosio, his second of the year, will be good for his confidence going forward. He was 0-for-his-last-18 before that.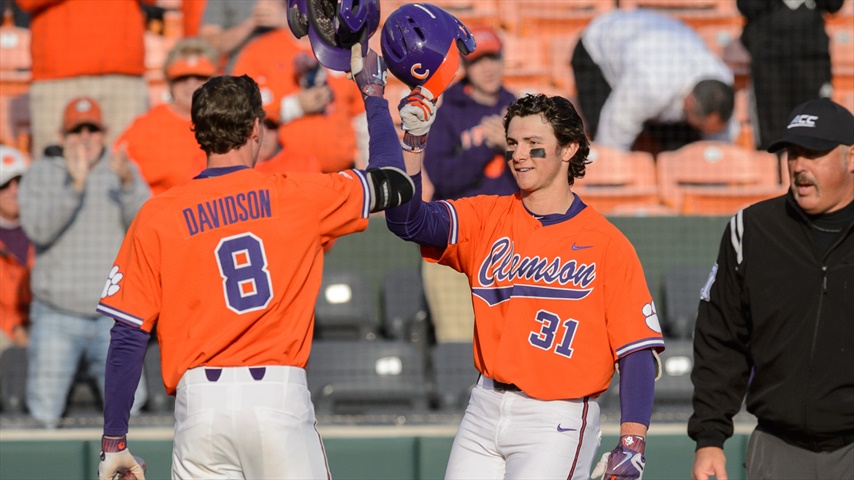 © David Grooms/Clemson Sports Talk
"He was really fired up after that one," Cromwell said.
The Tigers strung together only six hits to Georgia Tech's eight. This was the seventh time this season Clemson won the game when it was out-hit by the opposition. The Tigers continue to grind out wins in every way, shape, and form at the plate.
"I think it's our emphasis on quality at-bats," Cromwell said. "We don't try to get caught up in the outcome. We just want to have quality at-bats. If you have that mindset in the lineup for guys 1-9 and everyone just tries to get on base and pass the torch to the next guy, you are going to find ways to win.
The Tigers are now 13-1 and move to 1-0 in ACC play. Clemson takes on Georgia Tech for the series in a doubleheader on Saturday with the first pitch coming at noon.
Never miss the latest news from Clemson Sports Talk!
Join our free email list