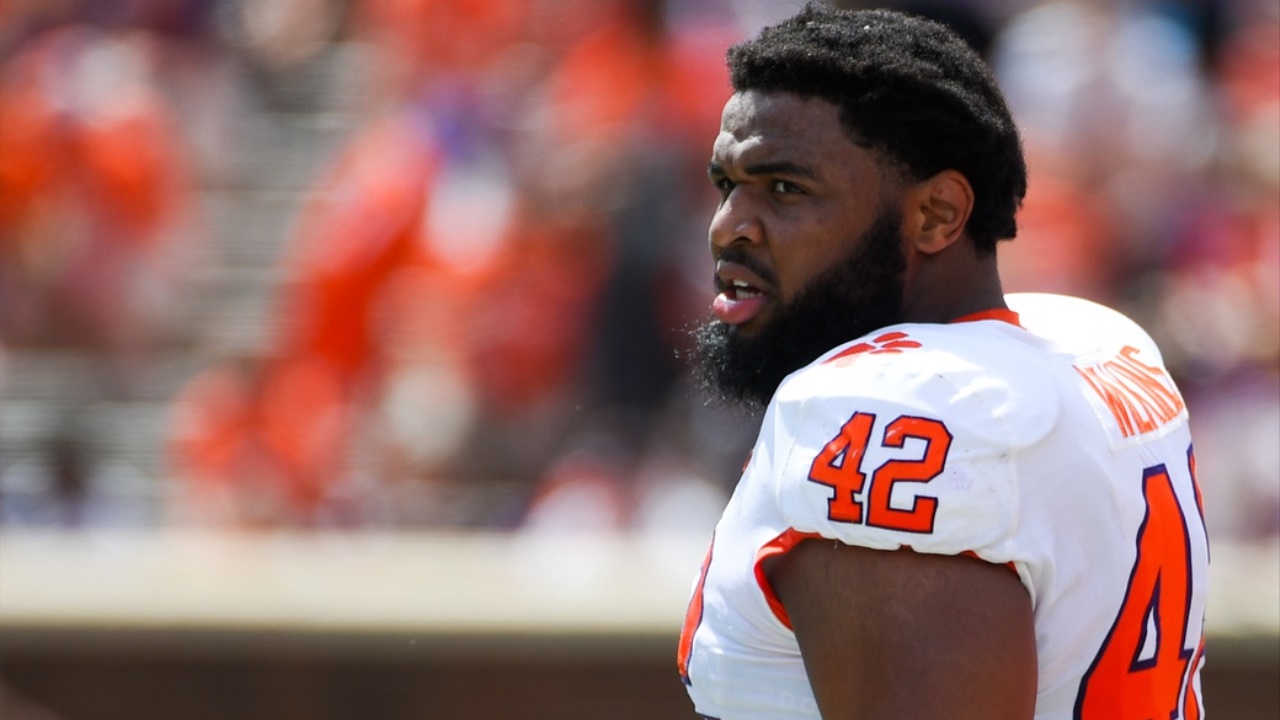 Photo by © Adam Hagy-USA TODAY Sports
Offseason transfers thin ultra-talented Clemson defensive line
---
Last week when Josh Belk announced that he was transferring from Clemson it was a shock to most Tiger fans. After all, it's rare that you have a young man report to campus in January, go through spring practice, and then leave before entering the first season on the field of play.
It just doesn't happen.
Looking back on Belk's decision, as we noted in an article earlier this week, it really doesn't matter what went into his thinking at this point. If it was indeed about playing time and not family, then he just became another casualty of Clemson's "Fearsome Foursome."
Earlier in the spring, Jabril Robinson announced that he was transferring from Clemson, ultimately landing at West Virginia. Sterling Johnson also chose to leave Tiger Town as well and will finish his career at Coastal Carolina.
But those two weren't the first casualties, let's not forget coming off of the national championship victory over Alabama, Scott Pagano left Clemson with eligibility remaining. The Tigers also lost LaSamual Davis a year ago.
| | | | |
| --- | --- | --- | --- |
| Class | Name | Ranking | Transferred to |
| 2013 | Scott Pagano | 4-star | Oregon |
| 2014 | Jabril Robinson | 3-star | West Virginia |
| 2015 | Sterling Johnson | 3-star | Coastal Carolina |
| 2015 | LaSamual Davis | 3-star | SC State |
| 2018 | Josh Belk | 4-star | - |
Saturday, I threw on the tape of Clemson's 31-0 dismantling of Ohio State in the 2016 Fiesta Bowl. Throughout the contest, Christian Wilkins, Dexter Lawrence, Clelin Ferrell, and Austin Bryant were dominating. They certainly had some help from a guy named Carlos Watkins, but you could see what Clemson had brewing on the defensive front.
It's no wonder the Tigers defensive line dominated last year, and to think that Clemson is getting them back for yet another season is nearly laughable. The front four were responsible for 45 tackles-for-loss and 25 of Clemson's nation-leading 46 sacks last season.
What we do know is that Clemson's talent level on the defensive line is still tremendous, but the future is where you might be right to have some concern.
The front four, plus Albert Huggins and Chris Register will all presumably leave Clemson this season. That will leave a lot of opportunity for some of Clemson's up and coming stars, but the losses above could be felt the next few years if Clemson can't replenish the coffers on the recruiting trail.
This coming year, we expected Clemson to take three defensive ends and two defensive tackles. Given the loss of Belk, we are now bumping the defensive tackle number up to three takes.
This coming year, we expected Clemson to take three defensive ends and two defensive tackles. Given the loss of Belk, we are now bumping the defensive tackle number up to three takes.
Last week the Tigers gained the first commitment on the defensive line when 3-star defensive tackle Tayquon Johnson‍ committed. Johnson's addition becomes a nice one, and we think he can become a contributor pretty quickly once he arrives on campus. Johnson has a robust base and plays with aggression.
Johnson was also impressive in our exclusive interview with him last week, make sure you give that a listen.
Another big-time prospect, 5-star Zacch Pickens‍ is one we've dubbed a "must land." Pickens is in Clemson's backyard at T.L. Hanna and is one of the top defensive ends in the country. He has what it takes to be an early impact player, and Clemson will need a few of those moving forward.
Pickens' recruitment is playing out very quietly, and the whole family seems to be keeping things close to their vests. Let's not forget that Clemson has missed on some top-tier local talent in recent years and Pickens could very well become another one that falls into that category.
One other thing to remember is that Richard Yeargin is set to return after sitting all last season following a car crash. Yeargin was beginning to make some noise two years ago and would have played significantly last season. Don't underestimate his return given his sheer size and power.
If he chooses, he could play another season and be a starter for the Tigers in 2019.
The Tigers will end up counting on guys like Nyles Pinckney and Jordan Williams‍ to step up on the interior this year. It will be fun seeing what the ultra-talented Xavier Kelly and Xavier Thomas‍ can bring to the table this year at defensive end as both are unique talents.
Ultimately, 2018 should be a strong season for Clemson upfront, but keep in mind the gaps that must be filled this offseason on the defensive line.
The Tigers have been at or near the top in tackles-for-loss on a regular basis in recent memory, and that's all predicated on great defensive line play. The staff needs a good cycle on the defensive front for Clemson to continue that trend for the foreseeable future.
Never miss the latest news from Clemson Sports Talk!
Join our free email list