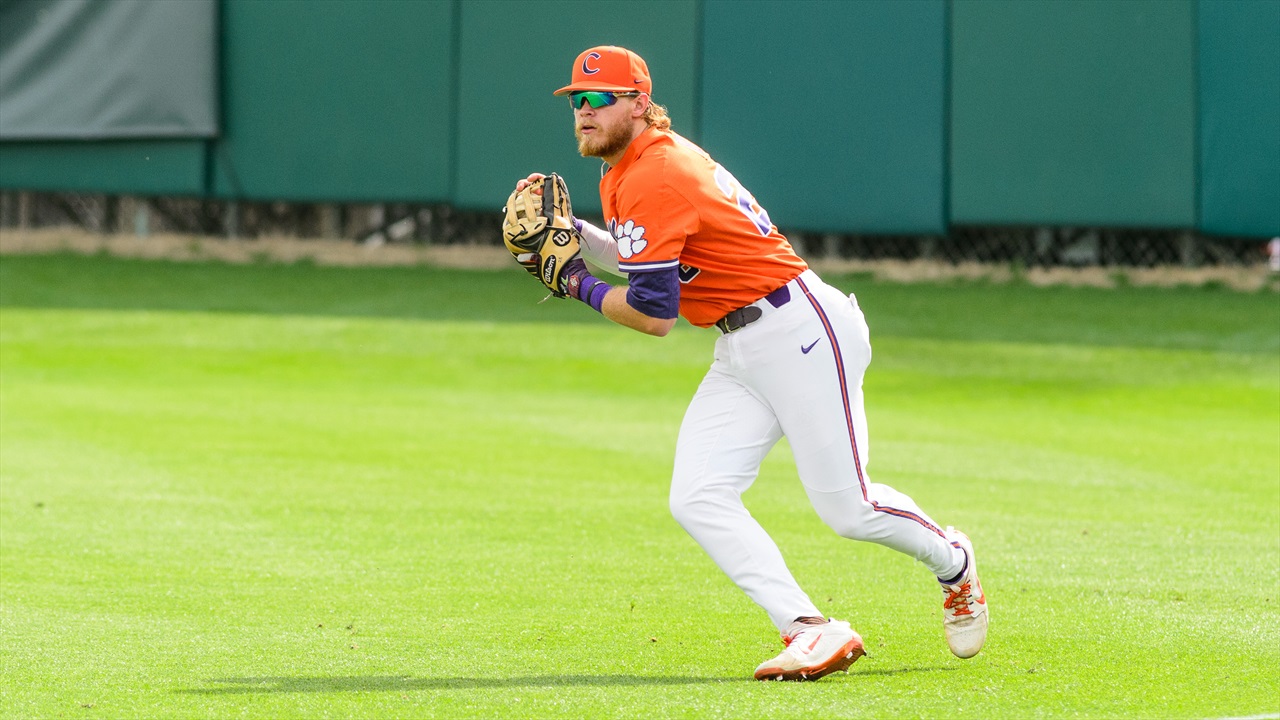 Clemson Baseball
Seth Beer, Ryley Gilliam talk about Clemson's Regional
---
Seth Beer
On playing at home:
"It's our field, it's something, we can use to our advantage."
On Vandy being back in the region:
"I think for us, it's just like, you know, we got to look at it just like any other opponent. You can't really look at anything like a problem with what happened last year and put pressure on it this year. We're just going to go out there and just play our best baseball."
On getting back to a regional:
"I think the more experience, you have anything, you can prepare better and put yourself in those shoes and kind of feel a bit more comfortable. I think the guys that have been here for those years, we have some experience when it comes to this kind of atmosphere when it comes to playoff baseball. I think we're voicing it to all the younger guys and what to expect."
On if he was surprised to not be a top 8 seed:
"Honestly, I'm not the guy that goes out there and does that stuff. I really with baseball like anything in the sport you just can't expect anything. So, I honestly I really wasn't thinking much about it, you know, it is what it is, and, you know, you just got to go out there and play now."
Being familiar with the Seminoles if both teams advance:
"I think it's one of the things, I think this these can be a good experience. There's some great teams that are in our regional and then the one that we match up with and no matter what happens there are some good ball clubs in there so it's going to be some good baseball."
On the team's confidence after losing to Florida State:
"They're great ballclub and they coach extremely well. They've got great players on that team and some great pitchers on that staff. At the end of the day, it's just baseball. They went out there and competed, had some timely hits, and won that ballgame. But no, I wouldn't say it dampens our confidence at all."
Ryley Gilliam:
On not being a top 8 seed:
I just thought we had a chance to but it's out of our control so I wasn't too worried that we weren't because I think we're gonna be fine hosting the regional here. I think we got a good competition and it's gonna be a fun weekend."
The mentality of this team right now:
"We're all about controling what we can control. I think we're gonna stay confident moving out of the ACC Tournament into this weekend and play with the same kind of swagger and confidence we've had the whole season."
If NCAA rounds feel different"

"I feel like we're comfortable in the tournament because it's how we play every game. Every game is important and at the postseason, every game is important. In the regular season, you can lose some games and you can still end up okay but in the tournament, you can't. Our mentality throughout the whole season plays in the postseason very well."

On the prospect of playing Florida State again in Super Regional:
"It's gonna be fun. I mean, I hope we can get a chance to play them again. But like I said, before we gotta focus on every game up until that point before we can play them. It has to work out the right way."

Some of the intagibles that make this team built for a run in the postseason:
"I think our offense complements our pitching well because when we do have those tough games where our bats aren't hot but the pitching keeps the game in check like the FSU game the other night. Our bats didn't come out and our pitching kind of pitching held the game close. It was a solid game. But then our bats weren't as hot as they might have been against Notre Dame or against Miami. I think we are going to be fine."
On Monte Lee getting ejected:
"I mean, I'm glad that he did get ejected just because, I mean, it kind of lights a fire under me and on the mound and makes me want to perform for him. Kind of pick him up for getting rejected for picking me up. But yeah, I was I was pumped, man. It was a huge ending to get out and give my team a chance on offense to score some runs. We didn't, but not a big deal. It's baseball, just a game."
What he remembers about some of these hitters that he saw this time last year:
"Well, they're all at the peak of their seasons. Usually, they're all performing as best as they can. I remember Vanderbilt. We faced a really good offensive club last year and then St. John's I don't think we played them. So other than that, I mean, I think we're ready for anything. And I'm ready for just about any hitter."
Regional Information
CLEMSON, S.C. - The Tigers were selected to the NCAA Tournament as the No. 1 seed in the Clemson (S.C.) Regional at Doug Kingsmore Stadium. The Tigers (45-14) face No. 4 seed Morehead State (37-24) in their opening game, while No. 2 seed Vanderbilt (31-25) and No. 3 seed St. John's (39-15) round out the regional field. Both Vanderbilt and St. John's played in the 2017 Clemson Regional.
It marks Clemson's 43rd NCAA Tournament appearance, fifth most in the nation, and 31st in the last 32 years.
Clemson opens the double-elimination regional against Morehead State on Friday at 6 p.m. Vanderbilt plays St. John's on Friday at noon.
The Tigers were one of six ACC schools chosen to the NCAA Tournament, joining Duke, Florida State, Louisville, North Carolina and NC State.
CLEMSON REGIONAL TICKET INFORMATION
Fans can visit the Clemson athletic ticket office online portal HERE (IPTAY all session) or HERE (general public) to purchase tickets. All-session tickets are now available to purchase for IPTAY members. On Wednesday at 8 a.m., all-session and single-session tickets will be available for all fans.
CLEMSON REGIONAL TICKET PRICES
All-session ticket - $60 (Games 1-6 and a potential Game 7)
Single-session adult ticket - $15
Single-session youth (age 17 & under) ticket - $10
Single-session general admission ticket - $10 (only available if all reserved seats sell out)
Never miss the latest news from Clemson Sports Talk!
Join our free email list