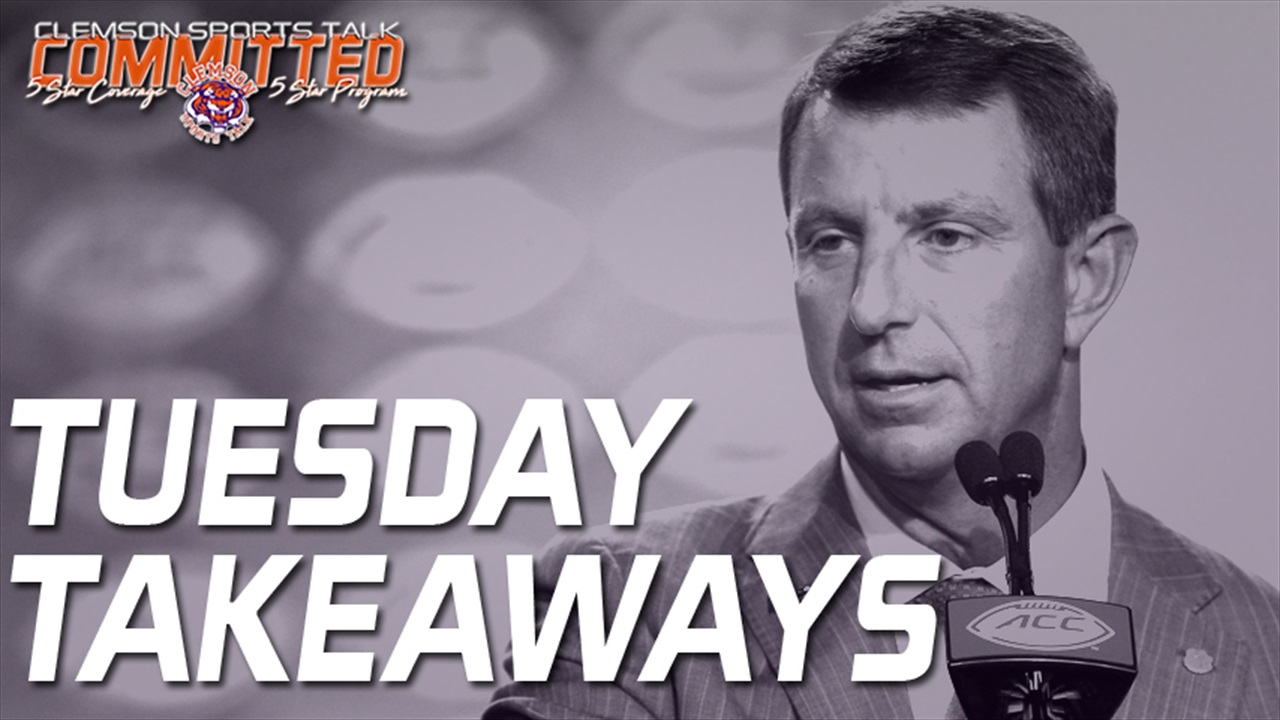 Photo by © Jeremy Brevard-USA TODAY Sports
Tuesday Takeaways
---
Here are a few notes from Coach Swinney's Tuesday press conference.
On Kelly Bryant:
"It's been good. He has responded to treatment and practiced all day yesterday. I was very encouraged. He didn't miss a rep."
On the team:
Proud of the team after six games of evaluating.
Another big challenge this week. Another night game on the road. I know it will be a great crowd and a good environment.
Love how the team came in on Sunday, usually their day off, with that Monday mindset. Love how they have responded
Love the depth of our offensive line. We played eight guys 30+ snaps on Saturday.
We've been really good on both sides of the ball inside the red zone.
On his time at Clemson:
I'm one of the old guys now. Friday night will be 9-year anniversary since I got this job and I have seen a lot.
Always likes to reflect on where he came from nine years ago. Friday night will be "pretty cool" because of the anniversary
On Syracuse:
Syracuse is a much-improved team from last year when we got on them early. We expect a hard-fought fourth quarter battle.
They like to throw a lot of 50/50 balls, and there will be a lot of competitive plays.
They probably have the two best receivers we will face. #8 catches everything, and I had to check and make sure Mike Williams was in San Diego.
Their defense brings a ton of pressures and forces you to be very disciplined.
Syracuse has a clear identity in what they are trying to do.
You learn a lot about the culture of a team when they play field goal block or defend an extra point.
Syracuse is definitely heading in the right direction.
They embarrassed us on defense two years ago.
Syracuse is lightning fast. We like to go at a good tempo, but they are blazing.
They get a lot of offside penalties and have gone for it on fourth down 27 times.
On the boxing gloves for defensive backs:
Swinney took boxing glove idea for defensive backs from Bill Belichick. We were dead last and led the world in pass interferences.
On teams being ready for Clemson:
We know we are going to get everyone's best and we love that. We are so consistent because we don't worry about the opponent.
On playing in the Carrier Dome:
It is a unique environment. When we land, the first thing we do is go walk around the field. We went up there two years ago, and they were playing a basketball game that Friday night.
It gets loud in there, and it'll be intense.
On hiring Brent Venables to face uptempo offenses:
Brent Venables was hired because of what he was exposed to in the Big 12 and what he went up against in practice every day.
On in-game decisions:
Likes to go with his gut when it comes to going for it on fourth down.
We embrace whether we get the ball first or we differ. Helps to have a good defense.
We got excited when Wake Forest differed.
Alright, let's get the ball and let's go. Let's get a stop and then let's get the ball and score again.
On punt returns:
I believe in Ray-Ray. Ray-Ray is blossoming and coming into his own. He had some extra effort yards and was our downfield blocker of the week.
He was worked very hard. He didn't have the maturity that matched his talent when he first got here.
On promising recruits playing time:
Doesn't promise any recruits anything.
You are going to compete, and the best player is going to play.
We are going to help you get better on and off the field.
We try to recruit good people.