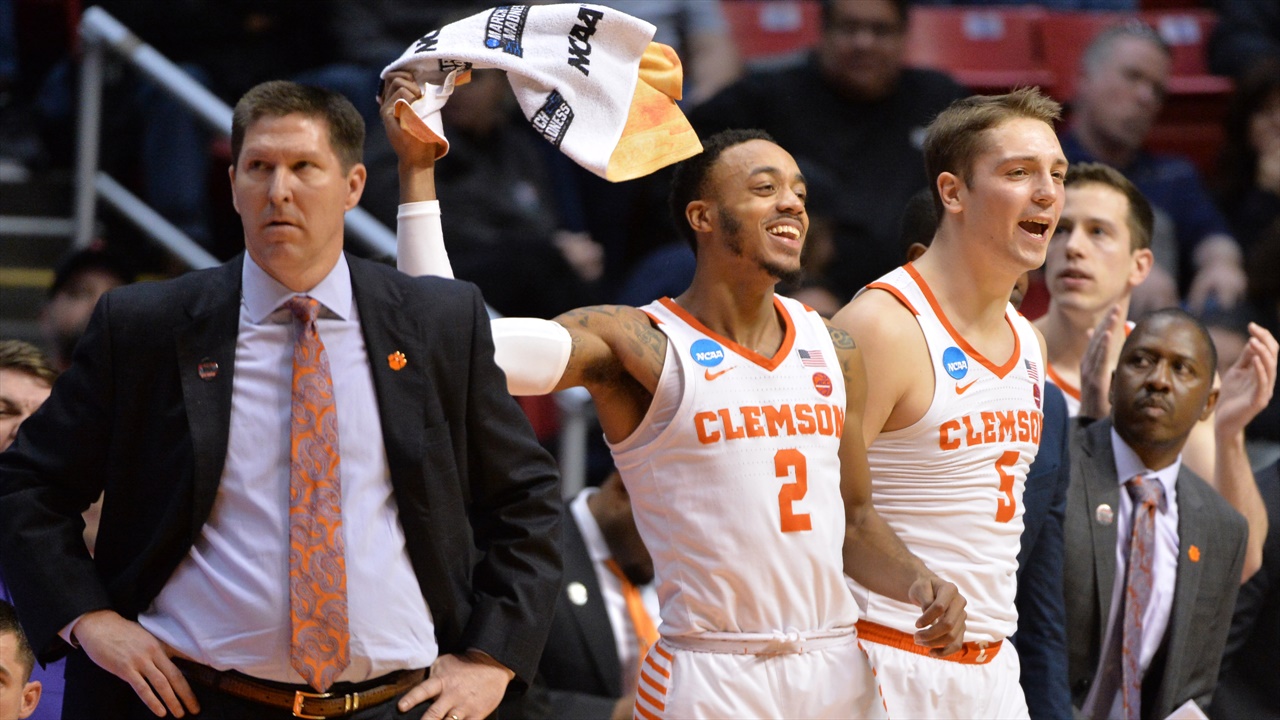 Clemson Basketball
Clemson Announces Non-Conference Schedule
---
CLEMSON, S.C. — Games with Nebraska, Mississippi State, South Carolina and a possible meeting with Georgia highlight Clemson University men's basketball's schedule for the 2018-19 season, announced by head coach Brad Brownell on Thursday. Clemson will face at least three 2018 NCAA Tournament teams and at least six teams who won at least 19 games outside of its demanding 18-game ACC schedule.
Clemson's rivalry with South Carolina will be renewed on Dec. 22 when the Tigers travel to Columbia to try and make it three-straight victories against the Gamecocks. Each of the last two seasons the Tigers have topped the Gamecocks both in Columbia and in Clemson, including a 64-48 win in Littlejohn last season.
The Tigers will travel to the previously announced Cayman Islands Classic during the third week of November to face-off against Akron in the first round on Nov. 19.
Following the Cayman Islands Classic, Clemson will return home to face Nebraska in the ACC/Big Ten Challenge on Nov. 26. It will mark the second time in three seasons that the Cornhuskers will make a trip to Littlejohn Coliseum. Clemson topped Nebraska 60-58 in the 2016 Challenge. The Tigers are 1-0 against Nebraska all time.
On Saturday, Dec. 8 the Tigers will travel to Newark, N.J. for the Never Forget Tribute Classic 2018 event against the SEC's Mississippi State. The Bulldogs finished 25-12 overall last season and reached the NIT title game. This will mark Clemson's first regular season game in the New York City area since December 1997 when the Tigers played Seton Hall in the Meadowlands in East Rutherford, N.J.
Clemson opens the 2018-19 season at home on Tuesday, Nov. 6 against The Citadel. The Tigers next two games also come on their home floor on Friday, Nov. 9 when 2018 NCAA Tournament participant NC Central visits and then on Wednesday, Nov. 14 when Sam Houston State comes to Littlejohn.
Radford, who won 23 games last year and advanced to the NCAA Tournament, will come to Clemson for a Saturday, Dec. 15 matchup. The Highlanders won the Big South Tournament and won an NCAA Tournament game over LIU Brooklyn in the First Four.
Other December non-conference matchups include Charleston Southern on Tuesday, Dec. 18 and a Lipscomb team who won 23 games and advanced to the NCAA Tournament on Sunday, Dec. 30. Lipscomb won the A-Sun tournament championship a year ago.
The Tigers tied a program record with 25 wins last season, including a program-record 11 victories in ACC play en route to advancing to the program's fourth Sweet 16 in its history.
Clemson basketball season ticket renewal applications have begun with a deadline date of July 19. Now is the time to secure your seats for the 2018-19 men's basketball season for as low as $275 with no per seat donation required.
2018-19 Clemson Men's Basketball Non-Conference Schedule
Nov. 6 – The Citadel (H)
Nov. 9 – North Carolina Central (H)
Nov. 14 – Sam Houston State (H)
Nov. 19-21 – Cayman Islands Classic
Nov. 26 – Nebraska (H) – ACC/Big Ten Challenge
Dec. 4 – St. Peters (H)
Dec. 8 – Mississippi State (N) – Never Forget Tribute Classic – Newark, N.J. (Prudential Center)
Dec. 15 – Radford (H)
Dec. 18 – Charleston Southern (H)
Dec. 22 – South Carolina (A)
Dec. 30 – Lipscomb (H)
Never miss the latest news from Clemson Sports Talk!
Join our free email list