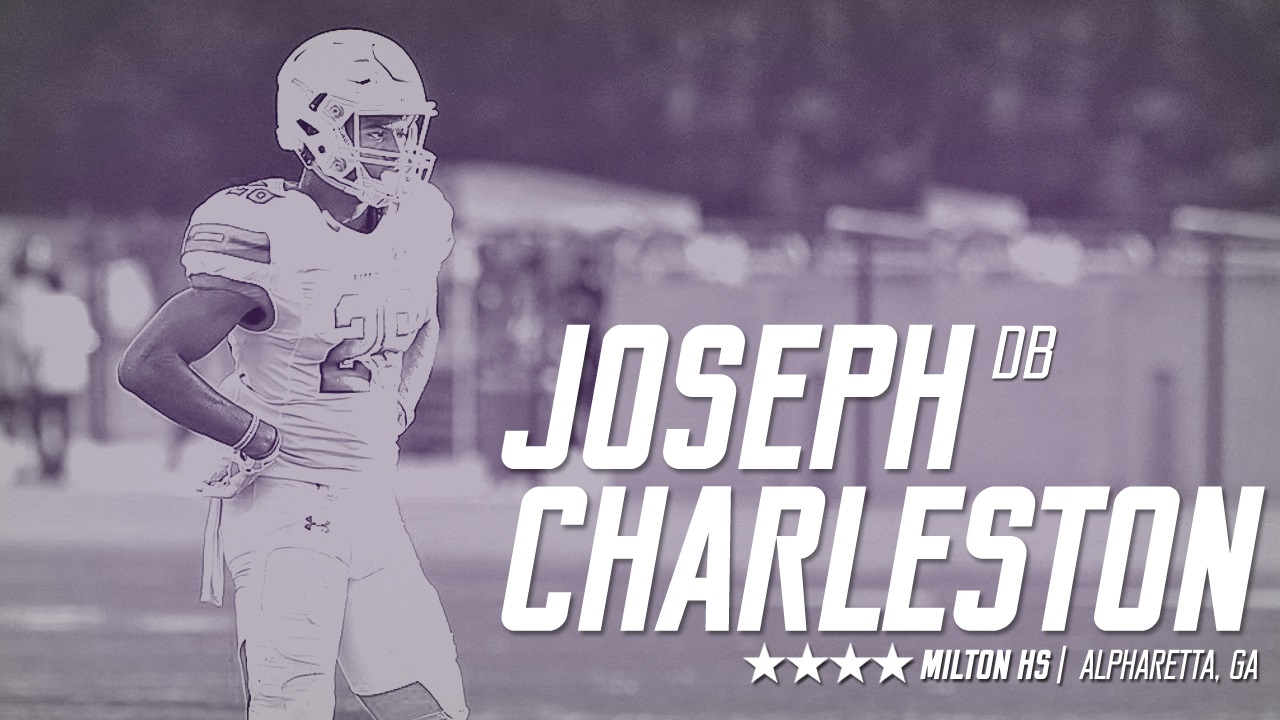 Photo by Twitter: @jcharleston28
Clemson Football Recruiting
Joseph Charleston: What are the Tigers Getting?
---
**Note: Articles like this will soon be for Premium Subscribers only: Subscribe now ($49.95/year) and get a free Clemson Sports Talk #CHAMP16NS shirt.**
The Tigers landed their first commitment for the class of 2019 on Tuesday, and they landed a good one. Joseph Charleston‍ is a consensus four-star safety prospect, an ESPN Top 300 junior player, and he holds offers from Alabama, Georgia, Ohio State, South Carolina, Tennessee, Vanderbilt and West Virginia. But what does the junior from Milton, GA (Milton HS) bring to the table?
Size/Range:
Charleston, just a junior, is already 6'2" and 190 pounds. At his age, he is still likely to continue to grow, and his size and range are the first things that jump out at you. ESPN's National Director of Recruiting Craig Haubert told us Charleston, "posses nice size with room to support additional good mass. He also possesses very good range with the ball skills to make a play on the ball when the opportunity is there."
Physicality:
Charleston is not afraid to hit. He is able to fly up from the safety position and lay the wood if he needs to, and he is also a physical player in coverage, not afraid to get into a receiver at the line of scrimmage in one on one situations. He is also able to come down into the box and be a pass rusher or a run stuffer. Haubert calls him, "a physical player, who is not only willing to throw his body around and try and punish ball carriers, but he can also be a sound and dependable open-field tackler."
I also spoke to Charleston's coach at Milton, Adam Clack, and he had the following to say about the talented young player. "Obviously his most separating quality as a football player is his explosiveness. His ability to redirect, and his ability to play violently, for a lack of a better word, is truly special. He's very physical. He's the type of player that can come down and play in the box and make a lot of plays in the run game."
Versatility:
Clemson defensive coordinator Brent Venables loves having versatile players who can play and cross-train at multiple positions. He has another one of those guys in Charleston. Charleston is a speedster with a lot of range, and that could lead him to play a number of positions within the Clemson defense. He has the ability to stay as a safety in the backend, or he could add some weight and move to a linebacker position. He even has the skillset in coverage to be a corner in certain situations.
Clemson Comparison:
I really like Charleston in a hybrid linebacker role. He is too physical of a player to not have around the line of scrimmage, and he has great instincts and range in coverage. If he adds some weight, he can be an every-down player at linebacker, and even stay in on obvious passing situations to cover a receiver or tight end. His versatility reminds me of Dorian O'Daniel. He can play just about any position, but I think a role like O'Daniel's would maximize his skillset.
Never miss the latest news from Clemson Sports Talk!
Join our free email list