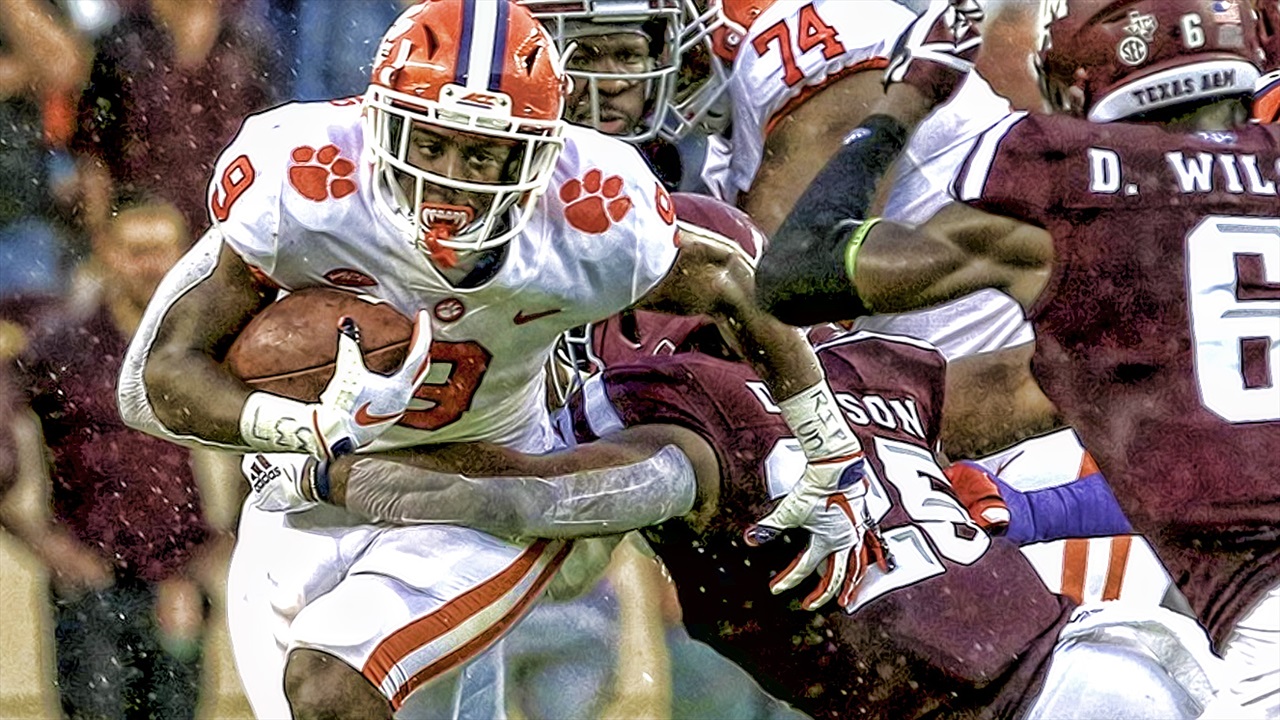 Photo by © John Glaser-USA TODAY Sports
Clemson Football
Clemson's home run hitter needs to get his swings
---
Clemson's offensive minds have stressed before how important running the football is for the identity of the offense.
Head Coach Dabo Swinney raved all camp about how his running back unit could be one of the best groups on the team-- and the entire country. Basically, because this corps has playmakers who can wear down opponents and impose their will as the game goes on.
And if Clemson can win the battle in the trenches, throwing lanes expand allowing more plays to be made through the air. When you think back to a few contests last season, you remember how Clemson's running game took control down the stretch as opposing fronts weakened.
So If you were walking away from Clemson's narrow win in College Station wondering why Travis Etienne only got 11 touches, you weren't the only one.
Etienne had eight carries for 44 yards and a touchdown. He also caught three passes out of the backfield for 23 yards. 11 total touches.
© John Glaser-USA TODAY Sports
The sophomore starter who is known for generating his own explosive plays showed a couple flashes. One 28-yard run where he broke through defenders and almost broke away for a score, and a screen catch on third-and-long to set up a touchdown.
An area where Etienne feels he hasn't shown much of yet is his ability to make plays by catching the ball out of the backfield. He said Monday he only got six or seven opportunities to do that last season and believes he can help that dimension of the offense.
Imagine a linebacker trying to cover Etienne while running a route or a play where he catches the ball and he already out in open space.
Clemson's home run hitter needs to get his swings. And the coaches know it.

Clemson's home run hitter needs to get his swings. And the coaches know it.
It wasn't like running backs coach Tony Elliott and the rest of the staff didn't want to get the ball to one of their most explosive players. There was a multitude of variables that kept Etienne from getting the rock.
One was Texas A&M defensive coordinator Mike Elko's scheme. He wanted to take away any running threats by loading up a seven-man box at times, forcing Kelly Bryant to beat them with his arm. A look the Tigers saw plenty of times a season ago when they sputtered.
The Aggies defense managed to keep Clemson on its toes, but there were also times where the Tigers stubbed their own toes as well. Lack of efficiency on first down will handcuff most offenses' play calling. If you are playing from behind the chains and end up in third-and-long, there's little hope in running the football.
The key, according to Elliott, to keeping those defenders from crowding the line of scrimmage is to keep them honest with the downfield passing game. It is a bit unconventional as most schools use the run to set up the downfield passing game, but Elliott said it's really about being "explosive".
"When you are explosive down the field, now they are going to have to respect Tee Higgins," Elliott stated. "I think there were some unknowns last year and obviously, we took some shots downfield and we didn't connect at as high of a rate. Now you see we are connecting. The quarterback is putting the ball where it needs to be."
"We only had 55 snaps that were worth a darn," Swinney said on Tuesday.
Inefficiency at times led to three-and-outs, five to be exact. And when the offense isn't on the field, there aren't plays to be run. When you are already trying to spread the ball around to as many of your weapons as possible, it gets harder and harder to do that when an offense that is built to run 80 plays stops short of 60.
"We only had 55 snaps that were worth a darn," Swinney said on Tuesday.
All those factors said, getting Etienne the ball will be one of the top priorities for this offense after a game of miscues on Saturday. Having the sophomore involved more should open up the playbook a bit for an offense that can't afford to be one-dimensional.
After all, he's one of Clemson's best, most explosive players.
"We are an 80, 85-plus snap team. Etienne has to touch the ball," Swinney said. "He had three big plays in the passing game for us. We'd like to see 35 to 40 touches with our backs. We have to get it going and do a better job of making sure those guys touch the ball. We have to get better there."
Never miss the latest news from Clemson Sports Talk!
Join our free email list