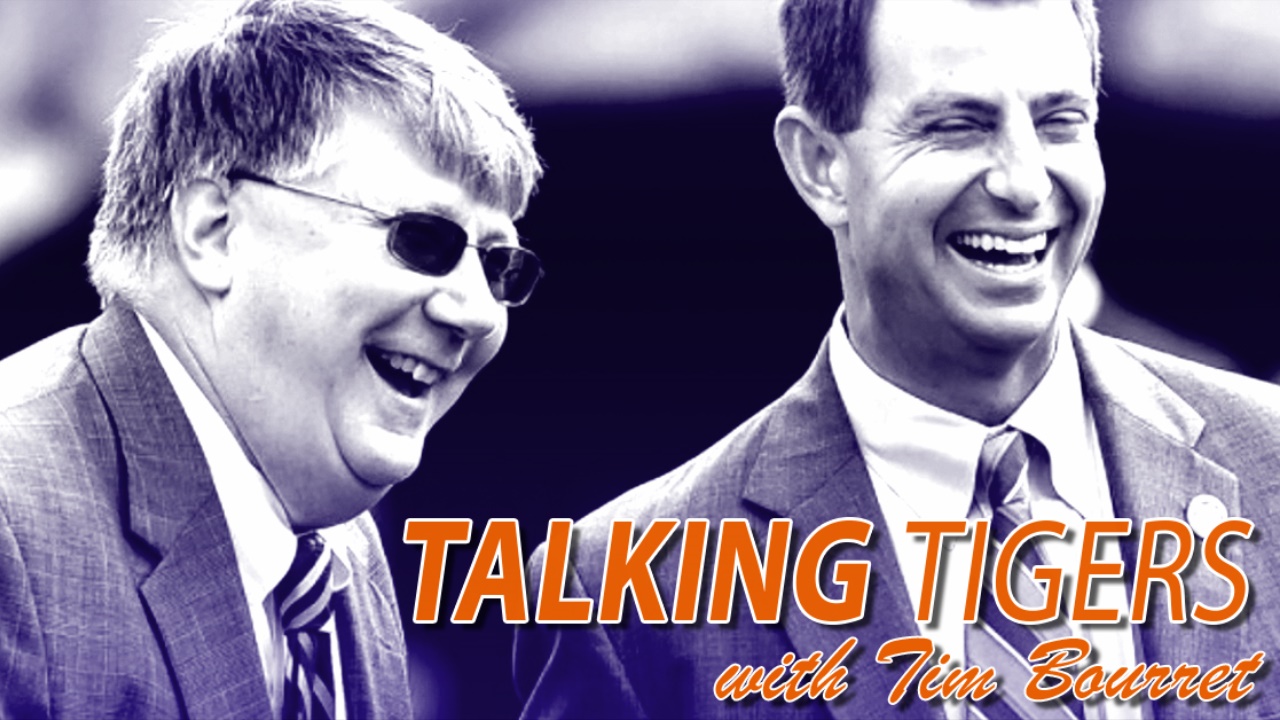 Photo by ClemsonTigers.com
Clemson Football
Talking Tigers with Tim Bourret: First trips to Death Valley
---
---
Each week during the college football season, legendary Clemson SID Tim Bourret will join us to talk about the Tigers. Thanks to his 40 years of experience at Clemson, Tim's knowledge of the program will give our listeners a unique look at Clemson sports.
We look forward to diving into great topics with time throughout the year.
If you would like to suggest topics, specific seasons, or former players for us to talk about, please leave us a comment in the thread below.
This weekend Clemson will host Georgia Southern in Death Valley. The Eagles are making their first trip to Clemson and during his time in Tiger Town, Tim Bourret witnessed 23 teams make their first visit, including Notre Dame's arrival in 1977 when Bourret was still working with the Fighting Irish.
Highlights from Tim Bourret:
"When I came in 1977, I had no affiliation with Clemson. I had no idea on November 12 of 1977 that I'd be coming to Clemson in September. That was a little bit different situation."
"From the Notre Dame perspective, it's interesting. I vividly remember the Chicago Sun-Times writing a story about Death Valley before we went and they talked about the different traditions and the Running Down The Hill. A lot of us didn't know as much of the history. At that time in 1977, It had been 18 years since Clemson had gone to a bowl game but obviously under Frank Howard in the 40s and the 50s and the 60s had a great tradition. We learned a lot about that. As it turned out, they made a big deal about the fact that Clemson was going for its 100thall-time victory in Memorial Stadium against Notre Dame and so that was kind of a big deal and it always had a good winning percentage and a good history of winning there. That was Steve Fuller's junior year and Jerry Butler's junior year so Clemson had a very talented team and of course, it ended up being a great game.
Football traveling back in the 40s:
"From the 40s on, I believe Clemson's first flight to a football game was in 1948 to Boston. Before then, you would take a train. That's how Clemson got to Cotton Bowl in 1939, took a train and of course, school was out by then and that's another reason why you didn't see a lot of out of region games because it was just too difficult to do. Notre Dame used to go by train everywhere in 1947. Notre Dame played Washington, it took them 3 days to go out, and 3 days to come back."
Last week's game against A&M, close games:
"I just made my trip back from doing a couple of PGA Tour events and listen to a lot of sports talk radio on the way back from Philadelphia yesterday and today. There was a lot of criticism about Clemson's secondary or whatever. It's like people forget about how close that Auburn game was in 2016 when we won the National Championship, they forget about how close the NC State game was in a middle of a National Championship season and of course we lost a game to Pittsburgh in the middle of a National Championship season. When you win a National Championship, you tend to forget about any warts you might have had.
"The Auburn game you're referring to, we won 19-16. Hunter Renfrow made a nice diving backward catch in that game. It was very similar. I also saw some similarities to the 2015 Notre Dame game here in which of course Clemson had a stop on the 2-point conversion in that game with just 7 seconds to go and in this one I think it was 42 seconds to go."
"Since 2011, Clemson is 23-4 in games decided by 8 points or less. You can take 8 points because you can say it's a 1 possession game. They could score a touchdown and a 2-point conversion. The 23 wins, that's the most wins in college football as is the winning percentage. It's amazing because you know in the 4, 5 years before that. We lost a lot of games like that. We lost that Boston College game in 2007 when Aaron Kelly almost caught that ball and would've given us the Atlantic Division championship. We seemed to lose those games where we're a play away and now we're getting that extra play and winning and that's what a lot of teams that are successful do. It's that close."
On Welles Crowther who heroically tried to save lives during 9/11:
"Dabo met his parents the last time which was in 2016. He got a signed helmet from everybody on the Clemson team and presented it to the family before the game. They gave Dabo one of those bandanas. He takes it with him everywhere he goes."
Never miss the latest news from Clemson Sports Talk!
Join our free email list