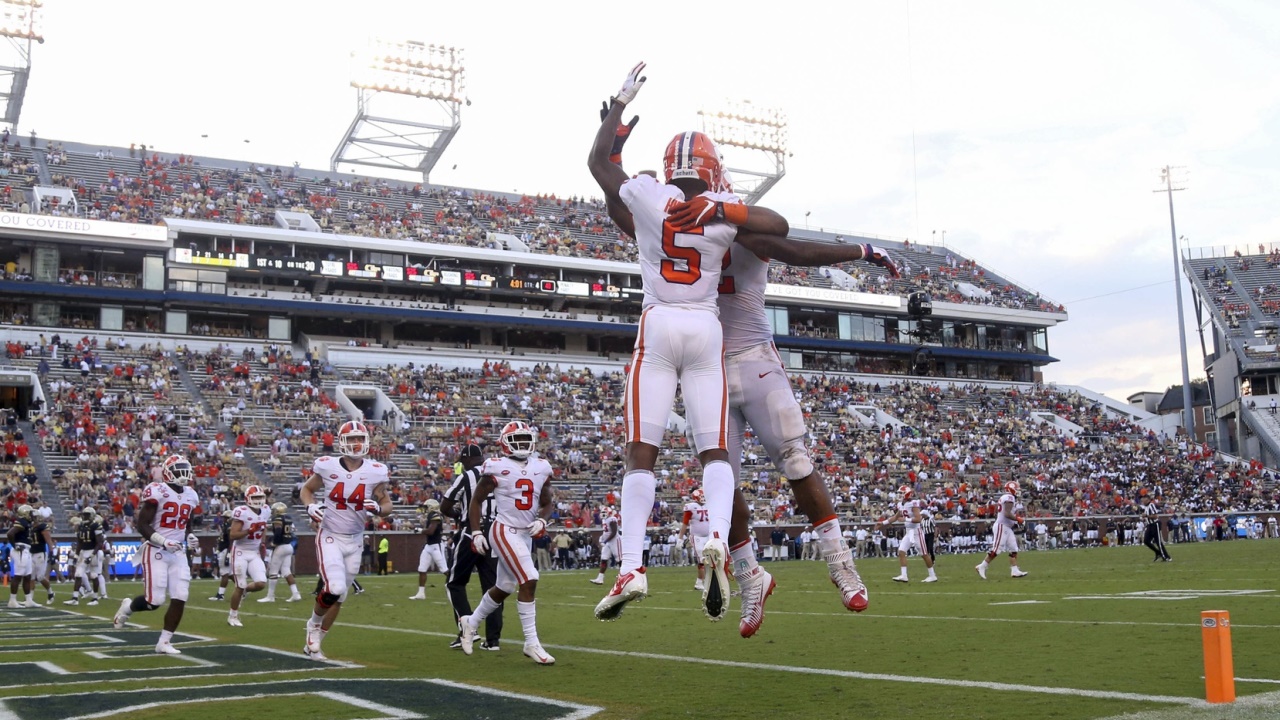 Photo by © Brett Davis-USA TODAY Sports
Clemson Football
With the Win: Clemson 49, Georgia Tech 21
---
WITH THE WIN:
Clemson has now opened 4-0 for the fourth straight season and for the fifth time in the last six years.
Clemson won its first four games of a season for the sixth time under Head Coach Dabo Swinney (2011, 2013, 2015, 2016, 2017). Clemson's five 4-0 starts under Swinney entering 2018 were already the most under any head coach in school history (Frank Howard, 4; Danny Ford, 3; Josh Cody, 3; Tommy Bowden, 2; John Heisman, 1).
Clemson opened ACC play with a victory for a fourth consecutive season, marking the program's longest such winning streak since the 2002-05 seasons.
Clemson earned its 31st all-time victory against Georgia Tech. Georgia Tech is one of 11 schools against whom Clemson has earned at least 30 all-time victories (South Carolina, Wake Forest, North Carolina State, Furman, Virginia, North Carolina, Duke, Maryland, Presbyterian and The Citadel)
Clemson won its fourth consecutive game against Georgia Tech, dating back to a 43-24 home win in 2015. It matched Clemson's longest winning streak in the all-time series, equaling four-game winning streaks across the 1898-1903 seasons and the 1993-96 campaigns.
Including a 26-7 win in 2016, Clemson has now won back-to-back road games at Georgia Tech for the first time the 2001 and 2003.
Clemson recorded its 14th all-time road win against Georgia Tech.
After dropping from No. 2 to No. 3 in the AP Poll last week, Clemson improved to 20-4 under Head Coach Dabo Swinney when entering a game ranked lower in the AP Poll than it was in its previous contest.
Clemson secured its 16th victory in its last 17 true road games.
Clemson earned its 23rd victory in its last 26 games away from home, including neutral site contests.
Clemson defeated an ACC foe for the 28th time in its last 30 opportunities, including conference championship games, dating back to 2015.
Clemson extended its winning streak in Saturday games to 20, already the longest active streak of any Power Five school in the country. It is the second-longest Saturday winning streak in school history, trailing a 21-game Saturday streak across the 2014-16 campaigns.
Clemson won its 17th consecutive game in the month of September, dating back to 2014. The current streak was already the longest in school history.
Clemson improved to 31-0 since 2015 when scoring first.
Including a win against Georgia Southern a week earlier, Clemson won games in back-to-back weeks against teams from the state of Georgia for the first time since winning consecutive games against Georgia and Georgia Tech in September 1987.
With the 105th victory of his head coaching career, Head Coach Dabo Swinney matched the number of total victories earned by Notre Dame's Knute Rockne, the winningest coach by percentage in Division I history. Rockne compiled a 105-12-5 career record from 1918-30 at Notre Dame for a record .881 winning percentage.
Swinney improved to 7-5 all-time against Georgia Tech. Entering the game, his six previous wins against Georgia Tech were already the most of any coach in Clemson history
Swinney improved to 10-6 as a head coach all-time in games against schools from the state of Georgia. He now holds a 7-5 mark against Georgia Tech, a 1-1 record against Georgia and a 1-0 mark against both Georgia State and Georgia Southern.
Clemson has now won 46 of their last 51 games overall, dating to 2014.
Clemson has won 26 of their last 28 games against ACC teams.
Clemson has now won 15 of its last 16 away from home against ACC opponents.
Clemson led 28-7 at halftime and has now won 56 of their last 58 when leading at halftime. It marked the most first-half points scored by any opponent against Georgia Tech since Oct. 1, 2016.
Clemson led 42-14 after three quarters and improved to 77-2 since 2011 when leading after three quarters.
Clemson held a 25-15 advantage in first downs and now has a 77-2 record when recording more first downs than their opponent since 2011
Clemson earned the victory despite losing the turnover battle for the second consecutive week. It marks the first time that Clemson has won games when losing the turnover margin in back-to-back weeks since defeating Kent State and Auburn despite negative turnover margins in the first two games of 2017.
Clemson rushed for 248 yards and is now 48-1 when rushing for at least 200 yards under Dabo Swinney.
Clemson improved to 34-2 when producing a 100-yard rusher since 2011 (Travis Etienne - 122 yards).
Never miss the latest news from Clemson Sports Talk!
Join our free email list