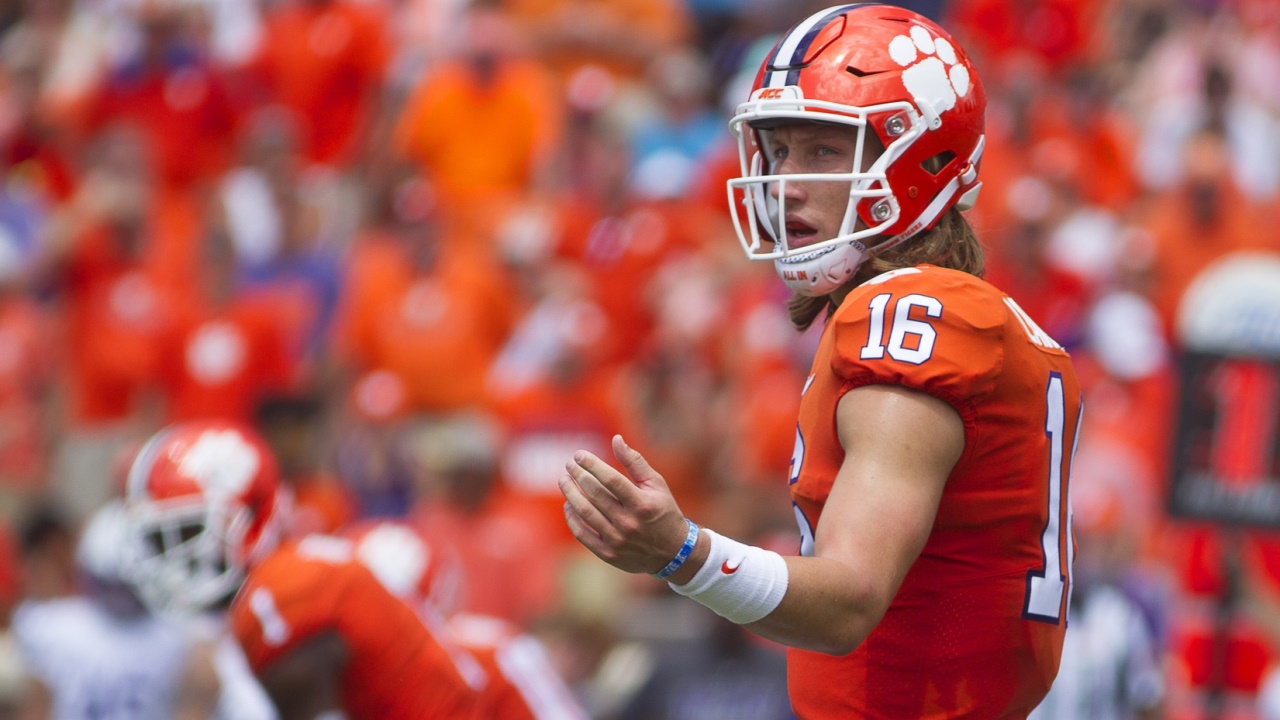 Clemson Football
Road to Santa Clara: Benchmarks show Clemson offense explosive and dynamic
---
---
For the foreseeable future, teams at Clemson will continue to be measured by the success of the 2016 national championship team. Dabo Swinney doesn't live in the rearview mirror, but for the fans, that group set the standard.
That glorious night in Tampa, confetti fell a few minutes after Deshaun Watson told his teammates, "Let's go be special, let's go be great," and then calmly guided the Tigers down the field.
The result was a long-awaited second national title and as Watson mentioned, legendary status for the players. Even if luck had not shone on the Tigers that night, many facts about that 2016 team would have remained unchanged.
An all-time Clemson offense with playmakers who were not just elite, but clutch. As the mighty Alabama Crimson Tide found out that's a difficult combo to beat.
Win or lose, they still had the G.O.A.T. at quarterback, a top 7 overall draft pick at wide receiver, a tight end that ruined parties on college campuses from Louisville to Tallahassee. Add to the mix a running back that would just as soon run over than around you on his way to the Meadowlands and the NFL, and that's just scratching the surface.
An all-time Clemson offense with playmakers who were not just elite, but clutch. As the mighty Alabama Crimson Tide found out, that's a difficult combo to beat.
That's why I choose to use 2016 as the measuring stick. Not necessarily because of the national title, those can be slippery, and only one team wins it each year (unless you're UCF).
It's the numbers they put up while being clutch that separates the 2016 group. They're each good in their own right, but when you combine their talent with their ability to be clutch, you've got a recipe for greatness. Think peanut butter and jelly my friends. Good apart, great together.
Given the defense Clemson carries to each contest in 2018, if the Tiger offense can approach the 2016 numbers they will have an excellent shot at another title. (I'm still waiting for the Mensa invitation that's sure to result from this earth-shattering observation.)
There were many discrepancies between the 2016 offensive numbers and those from the 2017 version, but we'll focus on three (highlighted in chart below) that are crucial differences between a team with a title (2016), a team that makes the playoff (2017), and one with a promising start (2018).
| | | | | | |
| --- | --- | --- | --- | --- | --- |
| Season | Yards/Play | Yards/Pass | Explosive % | Deep Passes Per Game (16+ yards) | Tempo (seconds per play) |
| 2016 | 6.19 | 7.96 | 14.2% | 8.3 | 22.57 |
| 2017 | 5.74 | 7.01 | 9.5 | 4.3 | 24.58 |
| 2018 | 7.42 | 8.93 | 16.2 | 7.5 | 22.89 |
These numbers are all good: 8.93 yards per pass, an explosive play rate above that of the 2016 team and two quarterbacks who have thrown deep well early (see chart below).
The season is still young, and two of the four games played were non-competitive, but the numbers above are encouraging. Take note that right now the 2018 team leads in every statistical category except deep passed and tempo.
The yards per play and yards per pass metrics will likely regress as ACC play progresses. It's just math as Tim Bourrett told us the other week, but the goal should be to meet or exceed the 2016 numbers, specifically meeting or exceeding 8 yards per pass attempt and eight deep passes per game.
Take a look at the 2017 playoff teams. There is one team that lagged far behind the others in yards per pass attempt:
| | | |
| --- | --- | --- |
| Team | National Rank | Yards Per Pass |
| Oklahoma | 1 | 11.70 |
| Georgia | 12 | 8.70 |
| Alabama | 28 | 8.16 |
| Clemson | 81 | 7.01 |
The Sooners were an outlier, and none of us are expecting 11.7 yards per pass. The other two are a bit more difficult to explain away as both Georgia and Alabama, who had Jalen Hurts at the controls until half-time of the National Championship game left the Tigers in the dust.
To date, both Kelly Bryant and Trevor Lawrence have thrown deep (16+ yards downfield) successfully, but the question remains if one (or both) will be able to continue to do so against better teams on the schedule and ultimately in the playoff.
| | | | | | | |
| --- | --- | --- | --- | --- | --- | --- |
| Quarterback | Complete | Attempts | Percent | Yards | TD | Int |
| Bryant | 7 | 13 | 53.8 | 224 | 1 | 0 |
| Lawrence | 9 | 17 | 52.9 | 341 | 5 | 0 |
Why are these numbers important?
Averaging below 8 yards per pass attempt indicates a reliance on shorter passes (as in 2017) that limit the ability for explosive plays. With Trevor Lawrence being named the starter, you have to feel good about this stat moving forward as he's averaged 10 yards per pass in his first four games.
Explosive plays, measured as a rush of 12 or more yards and a pass completion of 16 or more yards, are critical because they reduce the number of snaps needed to score, decreasing the chances of mistakes, penalties or a turnover.
Last night, Dabo Swinney noted during Tiger Calls that for the first time since Clemson's been tracking stats (back to 1938) it's the first time in history that the Tigers have averaged 7 yards or more per play for four consecutive games.
There are times a 15 play, 75-yard drive is a thing of beauty. However, the more plays needed, the more chances something could go wrong - look no further than Georgia Tech's 11 play 39-yard drive that took 7:46 off the clock to open the game last weekend. All that work with nearly two turnovers, and zero points to show for it.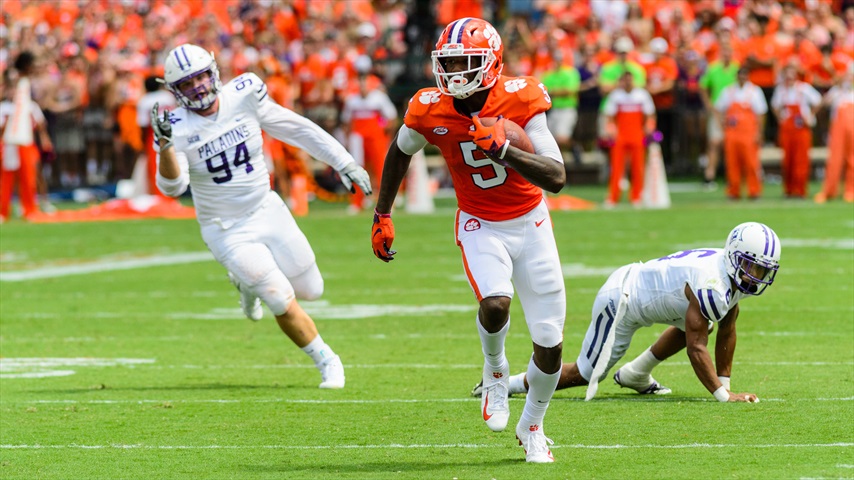 Clemson Sports Talk
The goal is to score a touchdown, and I would argue that nearly 100% of the time teams want to score as efficiently as possible. More yards, fewer plays...explosive.
While the eight deep passes per game is a somewhat arbitrary number, it's close to the 8.3 mark set by the 2016 championship team. Considering the personnel Clemson rolls out at wideout, not taking as many deep shots as you might expect could be an indication of other issues: pass protection, not trusting the quarterbacks, etc.
Reaching these benchmarks doesn't guarantee a title, and it's still to be determined if this team will make the plays in crunch time like the title team. When playoff time rolls around an explosive offense with a real deep threat gives the Tigers a chance.
A chance much like they had on the final drive on January 9, 2017, on the way to becoming legendary.
Never miss the latest news from Clemson Sports Talk!
Join our free email list