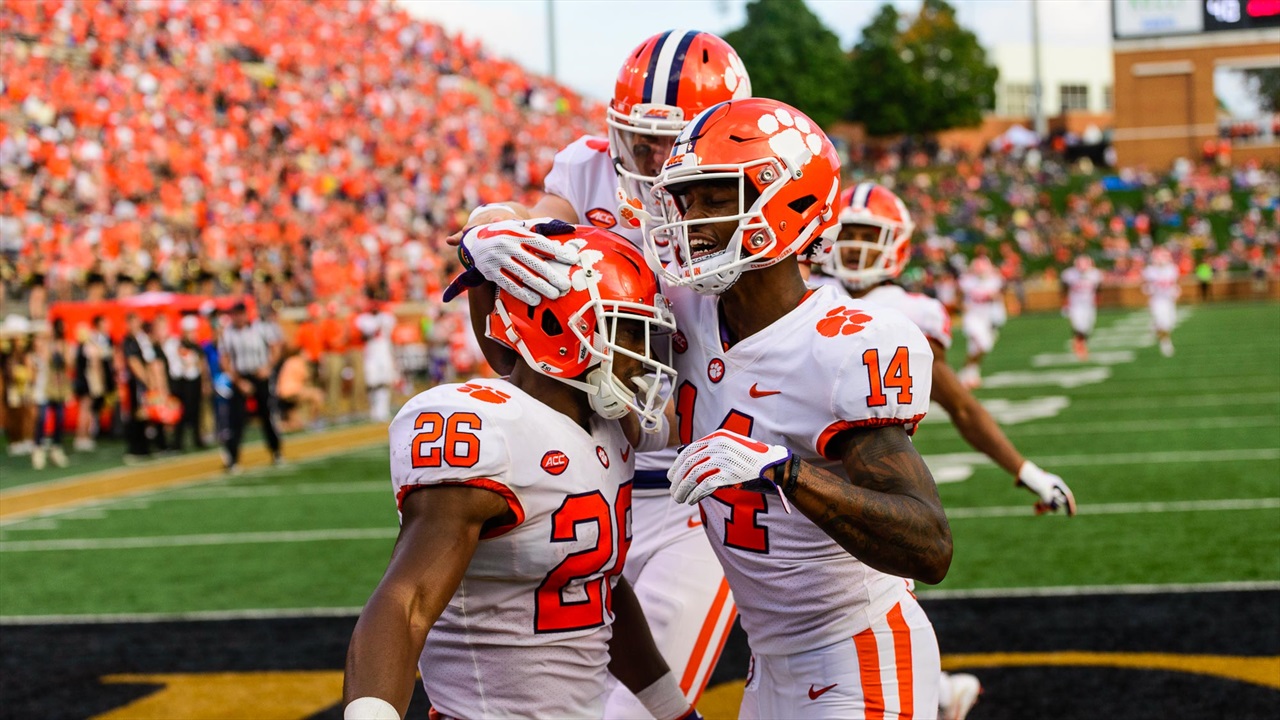 Photo by © David Grooms/Clemson Sports Talk
Clemson Football
Postgame Notes: Clemson 63, Wake Forest 3
---
Team Notes
Clemson's 60-point margin of victory was the program's largest in conference play in school history.
The win was Clemson's 14th win of 60 points or more in school history and the program's first since a 66-point win against South Carolina State in 2014.
Clemson gained 698 yards of offense, the fifth-most in a game in school history. Four of the program's five highest single-game yardage totals have come under Head Coach Dabo Swinney.
Clemson averaged 10.0 yards per play, the fourth-best single-game average in program history behind games in 1903 (11.2 at Georgia Tech), 1945 (10.7 vs. Presbyterian) and 1947 (10.4 vs. Presbyterian).
Clemson eclipsed the 400-yard rushing mark for the first time since rushing for 416 against Miami (Fla.) on Oct. 24, 2015.
Clemson's 471 rushing yards represent the most in a single game under head coach Dabo Swinney, surpassing the previous high of 416 set in that contest against Miami.
Clemson's 471 rushing yards are the fourth-most yards on the ground in program history and the most since Oct. 31, 1981 when the Tigers amassed 536 rushing yards against Wake Forest.
Clemson averaged 11.8 yards per carry, breaking the previous school record set on Oct. 17, 1903 against Georgia Tech (11.2).
Clemson reached the 300-yard rushing mark for the second time this season (309 vs. Georgia Southern). Clemson reached the 300-yard rushing mark twice last year and has now posted multiple 300-yard rushing games in back-to-back seasons for the first time since 2006 (four) and 2007 (two).
Clemson rushed for 200 yards in a fourth consecutive game for the first time since games 7-10 of the 2015 season against Miami, NC State, Florida State and Syracuse. The two four-game stretches mark the program's longest under Head Coach Dabo Swinney.
With 1,321 yards in its last four games, Clemson has now reached 1,000 rushing yards in a four-game span for the first time since rushing for 1,101 yards in the first four contests of last season.
Clemson outrushed an opponent for a sixth consecutive game, the program's first time outrushing six consecutive opponents since the first six games of the 2017 season. The Tigers have now outrushed opponents in 17 of their 20 games since 2017 and are now 17-0 when outrushing opponents in that time frame.
Clemson led 28-0 at halftime and has now won 57 of its last 59 when leading after two quarters.
Clemson shut out an opponent in the first half for the third time this season. Dating back to last year, Clemson has shut out its opponents in the first half of seven of its last 11 games (28-0 vs. Wake Forest, 21-0 vs. Georgia Southern and 27-0 vs. Furman in 2018; 21-0 vs. Miami, 20-0 vs. South Carolina, 38-0 vs. The Citadel and 17-0 vs. Florida State in 2017).
Clemson recorded a season-high eight three-and-outs defensively. Clemson has now forced 33 three-and-outs through six games this season.
Clemson held Wake Forest to 71 passing yards and has now held four of its first six opponents in 2018 to double digits in passing yards.
Clemson's captains for the contest were linebacker Kendall Joseph, offensive lineman Sean Pollard, defensive lineman Chris Register and wide receiver Hunter Renfrow.
Individual Notes
Running back Travis Etienne finished the game with 167 total yards on offense, tallying 16.7 yards per carry and three touchdown runs (two for 50+ yards).
Running back Adam Choice eclipsed the 100-rushing yards mark, posting 128 yards on 10 carries, including a 64-yard touchdown run.
Running back Lyn-J Dixon recorded 163 yards on 10 carries with a pair of rushing touchdowns. Like Etienne, Dixon also tallied a pair of 50+ rushing touchdowns, including a career-long 65-yarder.
Between Etienne, Choice and Dixon, Clemson had three players reach the 100-yard rushing mark in a single game for only the sixth time in team history. The game marked Clemson's first time accomplishing the feat since James Davis (143), C.J. Spiller (127) and Demerick Chancellor (113).
The performance marked the first time in school history Clemson has had three players exceed 125 rushing yards in a game and the first time two players have surpassed the 160-yard mark.
The three backs over 100 yards averaged at least 10.0 yards per carry, with Etienne averaging 16.7, Dixonaveraging 16.3 and Choice averaging 12.8.
Of Clemson's 471 rushing yards, 310 came via five touchdown runs of 50 yards or more.
In total, Clemson recorded six touchdowns of 50 yards or more, believed to be a first in school history. Clemson entered the game with six plays of 50 yards or more in the first five games of the season.
With 654 yards in the last four games, Etienne broke Woodrow Dantzler's school record for most rushing yards in a four-game span (623 in 2000).
Etienne became the first Clemson player to rush for at least three touchdowns in consecutive games since Travis Zachery against Duke (four) and Georgia Tech (three) in 1999.
Etienne has now rushed for at least one touchdown in six consecutive game to add to his career-long streak of games with a rushing touchdown.
Etienne became the first Clemson player to rush for a touchdown in six straight games since Wayne Gallman's eight-game streak to end the 2016 season.
Etienne now has six career games with multiple rushing touchdowns. He has now recorded back-to-back games with multiple rushing touchdowns for the second time in his career (vs. Florida State and The Citadel in 2017).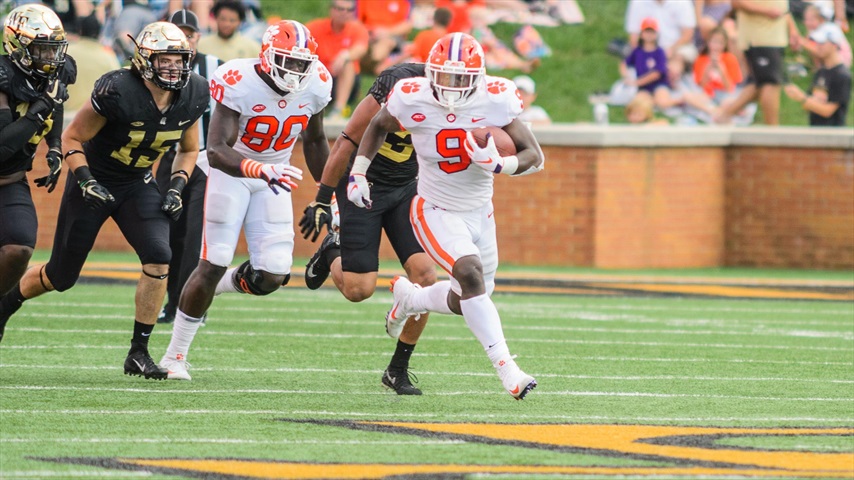 Clemson Sports Talk
Etienne became the first Clemson player to rush for 100 yards in four straight games since Woodrow Dantzler against Wake Forest, Virginia, Duke and NC State in 2000. He is one 100-yard game shy of the school record of five consecutive 100-yard rushing games, set by Kenny Flowers in 1985 and by Raymond Priester in 1996-97.
Etienne opened the scoring in the first quarter on a 59-yard touchdown run on the fourth play of Clemson's fourth drive.
At the time, the 59-yard run was Etienne's longest of the season and the second-longest of his career, trailing only his 81-yard touchdown run against Louisville in 2017. He later added a 70-yard touchdown run in the third quarter, setting a new long for the season.
In one game alone, Etienne eclipsed the number of rushing touchdowns of 50 yards or more accrued in 15 games by the 2016 national champion Clemson squad, which recorded only one rushing touchdown that season.
Playing on his 19th birthday, quarterback Trevor Lawrence completed 20-25 passes for 175 yards with two touchdown passes and no interceptions for a pass efficiency rating of 165.2.
On a 55-yard strike to wide receiver Justyn Ross, Lawrence recorded his 10th touchdown pass of the season and became only the fourth freshman (first-year or redshirt) in Clemson history to throw double-digit touchdown passes, joining Kyle Parker (20 in 2009), Deshaun Watson (14 in 2014) and Charlie Whitehurst (10 in 2002).
The touchdown reception was Ross' fourth of his freshman campaign, three of which have come from 50 yards or longer (57 vs. Georgia Southern, 53 at Georgia Tech, 55 at Wake Forest).
Ross is the first Clemson player to score three receiving touchdowns of 50 yards or more in a single season since Artavis Scott in 2014 (four).
Wide receiver Tee Higgins set a new single-season career high in touchdown receptions with his third touchdown catch of the season on a 20-yard scoring grab from Lawrence in the second quarter.
Choice recorded a 64-yard touchdown run in the third quarter. It was the longest touchdown run of his career, surpassing a 39-yarder against Louisville last year.
Dixon recorded a 65-yard rushing touchdown in the third quarter, the first touchdown of his career.
Quarterback Chase Brice threw the first touchdown of his career in the fourth quarter, connecting on a two-yard scoring pass for Diondre Overton's third touchdown reception of the season.
Safety Tanner Muse collected his first interception of the season — the second of his career — in the first quarter. It marked his first interception since Nov. 5, 2016, vs. Syracuse.
With Muse's interception, Clemson forced a takeaway in a 14th consecutive contest, the program's longest streak since a 15-game stretch across the 2012-13 seasons.
Wide receiver Hunter Renfrow extended his streak of consecutive games played with a reception to 34.
Linebacker Tre Lamar recorded his first sack of the season — the sixth of his career — on Wake Forest's opening drive. It was his first sack since his highlight reel sack/fumble against Florida State in 2017.
Lamar added his second sack of the game in the third quarter, matching his career high set against Georgia Tech last season. It marked his second career multi-sack game.
Defensive end Clelin Ferrell added his sixth sack of the season in the first quarter. He entered the day ranked tied for third in the country in career sacks among active players.
With the sack against Wake Forest, Ferrell moves into ninth in Clemson history for career sacks.
Defensive lineman Albert Huggins added his first full sack of the season to close the third quarter.
Defensive lineman Christian Wilkins appeared in his 50th career game, the most among active Clemson players.
Tackle Mitch Hyatt made his 48th career start to pull within one start of tying and two starts of breaking Landon Walker's school record for career starts by an offensive tackle (49). Walker also shares the mark for most starts by an offensive lineman with center Dalton Freeman.
Hyatt passed OG Eric Harmon, OT Jim Bundren, OG Glenn Rountree and PK Aaron Hunt (47 each) for sole possession of the fourth-most career starts at any position in Clemson history.
Never miss the latest news from Clemson Sports Talk!
Join our free email list