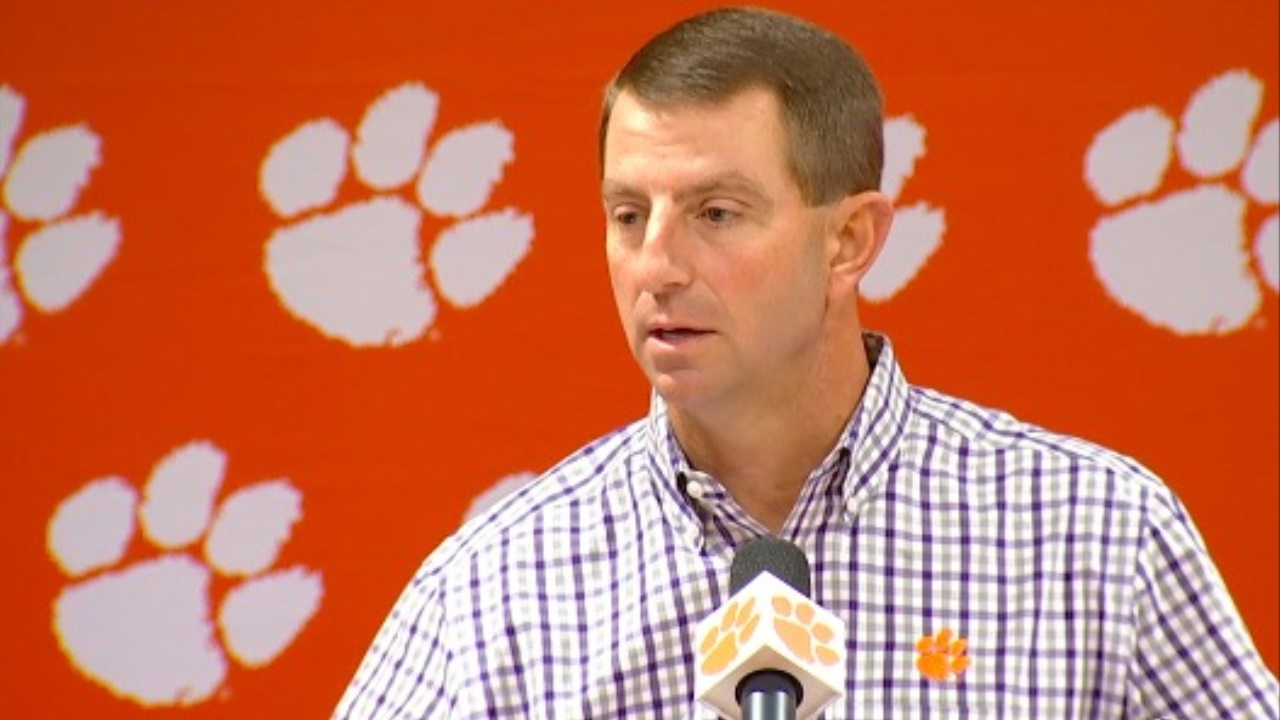 Dabo Swinney
Willie Taggart
Clemson Football
Swinney, Taggart preview Clemson vs. Florida State
---
Dabo Swinney
Opening Statement:
"We have another big challenge ahead of us this week. After really having a few days to dive into Florida State, they're still Florida State. I know their record is 4-3 right now, but they got off to a slow start…new coach, new systems, new everything, so it took them a couple of games to figure out who they are and hit their stride a little bit. They really probably should have won the last four in a row, but they're 3-1 in their last four games and are really starting to play some good football.

"Offensively, [quarterback Deondre] Francois is a very good player. They have great skill outside…two running backs in [Cam] Akers and [Jacques] Patrick that are really good players. Francois is a good thrower, and he's mobile. They have figured some things out up front on the offensive line as far as getting guys in the right place…that was an area for them, early, that they were trying to figure out. They have a really good tight end, and that freshman receiver that is going to be a really special player…[Tamorrion] Terry is a 6'4" guy that looks a lot like Justyn Ross. They're typical Florida State.

"They definitely have the best defensive ends we've seen…this defensive line is really, really good. [Brian Burns] leads the nation in sacks…he's long, fast and twitchy. They have really good depth at defensive end and defensive tackle…and they play them. They're big, thick, physical and strong guys inside. They're fast and athletic at linebacker, and really good in the secondary. They're very skilled and talented, and one of the best in the country against the run. I think they're sixth in the country versus the rush.

"Again, their record is not same ole Florida State right now, but their talent is. This is my tenth year as head coach, and I think I'm 1-9 against them in recruiting rankings. I think the only time we've ever so-called 'out-recruited' them was last year. That's it. They have a bunch of cats…a bunch of good football players on that roster. Again, they're really starting to hit their stride.

"That left-footed punter [Logan Tyler] is a good player. They have dangerous, dangerous returners. That little [D.J. Matthews] who plays the slot for them is also a punt returner, and he takes a lot of chances. He's one of the best out there…a really good player.

"It's a dangerous football team that I think is really figuring out their identity and buying into what Willie [Taggart] is trying to get them to do. So, we're going to have a huge challenge, for sure…there's no doubt. For us, it's same old, same old. Each week is the biggest game of the year. This is another game within our division, which gives us a huge opportunity to try to stay in control of the division…that's really what it comes down to…not putting yourself at the mercy of something else happening. That's the focus of our team…having another great week of preparation and trying to build on the momentum that we created. I think we got a lot of confidence right now, but we have a lot of improvement to do. There is so much that we can continue to do better, but I like the progress that I've seen, and I like where we are. I think that we're a team, kind of like Florida State, that's figuring some things out as far as who we are and who can do what as we move from the first half of the season, too.

"I'm excited about it. It's always a great place to go play a ballgame. It's a place we haven't had a ton of success at, so we have a lot of respect for their program and the place we're going to be playing…and certainly, their players. They're very talented across the board."

On Willie Taggart's visit to Clemson a few years ago:
"It was good. That was the first time I'd ever met him. I did not know him at all, really…I knew who he was, but I had never been around him. He certainly had a good reputation and had done a great job at Western Kentucky and South Florida. If you look what he did with those programs…he built them and got them going. I don't know that he had great starts at either place, but he built them, which is probably why he got the Oregon job. He came right before his first season [at Oregon], and then, obviously, I've had a chance to be around him a couple more times through our ACC meetings, but I think he'll do a great job and is a great fit. Good man."

On whether Taggart implemented anything Clemson-style into his schemes after that visit:
"Not really schematically. They're very committed to who they are. His visit here was more program-type stuff. Schematically, they're very convicted in what they do. And we're very different…we're very, very different in what we do. Offensively, there's a few things that are similar, but we're different."

On the difficulty of coming in, as a new head coach, to players that were recruited to the previous coach's system:
"It's hard…and I think that probably speaks to what happened in the first few games. Everybody is trying to figure it out. It's one thing to go out and have spring practice, and it's another thing to go out there and play. They're tempo, kind of like Syracuse…a lot of fast snaps, screens, zone read and a little bit of counter, some jet sweep stuff, multiple formations, bunch sets and really, really wide splits…and they play fast. They try to create space and one-on-ones. Obviously, that's very different from who they were. I just think it's taken them a little time to get to their stride.

"The Virginia Tech game got away from them early. Samford came in there with a hot quarterback and a heck of a plan…I don't know what Samford's record is, but I'll tell you what, I was impressed watching that bunch. That quarterback that they have at Samford is a baller. He's a good player. But [Florida State] hit some big plays on [Samford], and Florida State ends up winning the game and just found their stride. Syracuse got to their quarterback, and that was the biggest issue in that game. But in those first few games, I think coaches and players alike were figuring out who can do what, and exactly what their identity was going to be. Now, they've really settled in. Again, they're right there in position to win the Miami game…they led most of the game. They're a team that is 3-1 in their last four, and really all that matters is this game. Records don't matter. If records mattered, Purdue doesn't beat 7-0 Ohio State, right? Records don't matter. You have to play the game. Heck, we lost to Syracuse last year, and they won three games while we were undefeated. That doesn't have anything to do with the game that you're getting ready to play. That's why you have to prepare, respect every opponent and understand them. Like I just said, if you think they don't have talent, then you're not paying attention. That's a bad, bad assumption. If the recruiting rankings mean anything, we're 1-9 against them in my 10 years. They have plenty of talent."

On Christian Wilkins' Monday comment about having the most fun he's had in his four years:
"I just think that he made a decision to come back and has been so intentional in everything. He has truly enjoyed the entire journey…all of it. He had fun in mat drills. He's been so committed to what he came back to do. He loves his teammates. The guy graduated last December, and you don't make a decision like that [to come back] unless you really, really love where you are, who you're with and what you do. I just think that he knows that this is it. Last year at this time, he was torn, and it was heavy on him…whereas now, he knows this is it, and he's gone about it in a way where he's really enjoyed it. Go back to the spring game…he's playing safety and having a ball. He has had a blast. He's an unbelievable teammate and is one of the best leaders that I've ever been around. He has a dynamic personality, but is also a great football player. He's taken such great care of his body. We've been able to play a lot of guys, and I think our guys are healthy right now…fresh. That's a real key for us down the stretch, especially with guys like Christian…how they feel at this point in the season. But he's just enjoyed it all. Homecoming last Wednesday…going out and handing pizzas out at the floats. He just loves the whole college experience and is just trying to finish strong. He takes a lot of pride in his role as a leader, and he'll show up today and be excited for Tuesday practice, because that's just who he is and how he's wired."
Willie Taggart
WILLIE TAGGART: Great win once again for the Noles this past Saturday. By far one of our most complete games this season. Not where we want to be, but our football team is making improvements and we're seeing it each week. We have a great challenge in front of us here at home this Saturday versus the defending ACC champions, the Clemson Tigers and what an opportunity for us. We're really excited about it. More excited about it because we have it here at Doak Campbell and look forward to having the crowd there to help us this Saturday at noon. So go to bed early at night, fans. Make sure you're there nice and early.

Q. Florida State hasn't dominated an ACC opponent like that really in a couple years. And particularly in the second and third quarters, I mean it was complete domination. What can that do for the players, just having that experience?
WILLIE TAGGART: Well, I think that if our players just look at the overall improvement that we're doing each and every week, they see we're getting closer and closer every week to being what we felt we could be at the beginning of the year and if we continue to make those improvements each day and each week, we'll ultimately see what we can be on a consistent basis. That's the challenge for our team now is to be able to do that consistently. But we have to continue to improve, continue to do the things that we did to prepare for that game like that and for the team to make the adjustments that we have to when we're playing an opponent at the halftime. But I thought for the most part throughout the season defensively our guys were really playing well in the second half and it was good to see our offense come out at halftime and score some points in the third quarter, something we hadn't done. So just consistent improvement and I think as we consistently improve, our guys consistently gain confidence in themselves and what they're capable of doing.

Q. After Saturday Brian Burns now he's the second in the country in sacks of the what's it like having somebody that productive on the line and then secondly last week he said something that he wants to improve on is he wants to become more vocal as a leader. How would you describe his leadership for the team?
WILLIE TAGGART: It's great to have one of those guys on your team as a pass rusher and not going against you, first and foremost. And again, he's one of the leaders on our defense, he's a leader on our football team. Brian is one of those guys, he leads by example. I do like when he speaks and when he speaks he says things that everybody needs to hear, but he's one of those guys that's going to give you a hundred percent at everything he does. He's not going to complain about anything, he's a kid that hasn't missed one practice since I've been here. He enjoys practicing and getting better and it speaks volumes of what his teammates think of him by voting him captain. Personally, I don't think he necessarily needs to be more vocal, he just needs to continue to be Brian. I think he's exactly what we need on our football team.


Q. It wasn't a perfect performance, a couple penalties in there but second time this year offensive line didn't give up a sack. How many improvements have you seen even with the shuffling?
WILLIE TAGGART: You see it from a technique standpoint and that's why it's getting better and we're really focusing on that in the last few weeks, just getting back to day one things that we do and not only that I just think our guys are having a better understanding of what we're trying to do, what we're trying to get accomplished and now that they have a better understanding they're not panicking and they're able to go out there and execute their assignment the way that we need to. But I think that's happening because they have a better feel for what we're doing and understanding of how we're going to get it done. So that's helping. Again we're not where we want it to be completely but we continue to make little improvements like that, we'll get there.

Q. Going back to Brian [Burns] he's someone that we heard about spring, winter conditioning. What were your initial impressions of him and when did you realize that he was someone that could be a leader, a focal point for this program?
WILLIE TAGGART: Well with Brian, I saw him play a few times and from afar when I wasn't here and knew that he was a very talented player and knew from a football standpoint what we were going to get - a very, very talented athlete. But once I got here and got a chance to meet him, as a person, I was shocked because he is, he's everything you want in a student-athlete. He takes care of his business off the field and wants to do the same thing on the football field. It's important to him, he's one of those individuals that came here with high priorities, which was academics and football. He hasn't changed that since he's been here. He's getting results behind it.

Q. Clemson's defensive line is one of the best in college football. How difficult is it to prepare for a defense that up front is just equally talented across the board?
WILLIE TAGGART: I think for us it's not necessarily difficult to prepare because we have one of the top defensive lines in the country as well. So I think going against our guys daily helps our guys. So from that standpoint I don't think it is as difficult. Our guys are just as talented as their guys are and so it helps. We knew going in that was going to be a strength for us our D-line. So our guys get some good competition daily going against those guys, so they will be prepared for them.

Q. Deondre [Francois] looked pretty sharp on Saturday overall of the but there was two plays in the screen game, one where you threw to Tre'Shaun [Harrison] when Tre'Shaun was engaging in a block and there was one where it looked like Cam [Akers] almost intercepted it away from the opposition there itself. Are the play calls too similar between their responsibilities having to run routes and block or is that just miscommunication or do they just need to rep that stuff more to get better?
WILLIE TAGGART: It's just lack of focus by receivers. Lack of focus on those two plays. On the play to Tre'Shaun, he was going to get the ball it was just one of those young guys making a mistake and he's going to learn as he gets older, when I got a chance to catch the ball I'm going to make sure I'm aware and be there. So that was on that play and then on the play where he threw it to Cam, I think Tamorrion Terry should have blocked the linebacker, he didn't, he blocked the corner instead. So just a missed assignment by some young receivers that made up for it later on.

Q. It looked like a little bit more of the old Cam [Akers] on Saturday the one we're used to seeing. What is he doing the last week or two that maybe he wasn't doing those first couple weeks?
WILLIE TAGGART: Well I think just from playing wise I think him being more patient and in the run game. When I say patient, just allowing blocks to develop for himself or more importantly him helping set up the blocks. I thought early in the year he was pressing and trying to get the home run every time he touched the ball and wasn't really letting blocks develop. It started last week in practice, he started in, I'm eavesdropping listening to him and Deondre [Francois] talk one day in practice and Deondre was talking to him about some of those things which I thought was pretty cool just to hear those guys talking football and how he can be a little more patient and then he worked on it all week. I think him coming up and watching more film, having a better understanding of what we're doing helped him and had him become more comfortable with being patient again. Then just his mentality. He came out to practice, he was practicing like he was playing in the game. It showed. It paid off for him.

Q. My weekly question about Landon Dickerson. Any chance he's going to play this week and if not could he be back this season?
WILLIE TAGGART: No timetable to get him back, but Landon won't play this week. It would be nice to have him though.

Q. We know what Demarcus Christmas and Marvin Wilson do, but we have seen Robert Cooper and Cory Durden kind of continue to play more and more. What do those two guys bring to the defensive line rotation?
WILLIE TAGGART: Well they're very talented. I call them big athletes, some big guys that can run. You watch big Marvin run, I mean he's light on his toes. But they're very talented, very explosive, you get some push back and again we feel like they're two of the top defensive tackles in the country if you ask us. Those guys are really good. Those guys are really setting the standard of what they want that defensive tackle room to be like. Whether you see guys like Cory and Fred [Jones] and all those other guys come, it's a standard of the way they want to play, no matter who is in there. It's good to see. It's also good to see that our defensive ends are playing the way that they're playing. All those guys made plays for us on Saturday. Brian Burns, seeing [Joshua] Kaindoh starting to get into his groove I think because he's playing more football, getting more into football shape now it's really helping him. And then just how inspiring J Rob (Janarius Robinson) played on Saturday and again what that young man, we saw that in practice when he came back on that Tuesday, you mean he was flying around he was making plays. He started with the drill you guys are out there, the Nole drill, he was all over the place. I think that really inspired his teammates too to see how he came ready to practice and perform going through the things he was going through. I think nobody made any excuses and said, hey, let's get out here and just go do what we're supposed to.

Q. What are your impressions of Trevor Lawrence and I guess what if anything can you do to test or make a true freshman quarterback uncomfortable?
WILLIE TAGGART: Well he's the real deal. The kid can make all the throws. You can see what everyone was talking about when they talk about Trevor. He's a heck of a talent. He's a really good football player, you got to get to him. That's the thing, you can get to him, I think that's the only way you beat guys like that, you got to get to him so he can't make all the throws that he's capable of making. Because he has some talented receivers out there and again you see when he's in there their offense becomes a lot more explosive now. So big challenge for our defense. Best quarterback they have faced this season and I know that they will be up for it.

Q. At linebacker two guys Emmett Rice had the sack Saturday and Zaquandre [White] got out there and made a number of plays. Those aren't guys at the beginning of the year who might have been in this position. What's it mean to see those guys doing that?
WILLIE TAGGART: It's great to see those guys getting better too. Improving just like our team and it's funny you bring the name up but to see those guys go and make the plays they're capable of making was big time. Emmett has been battling a knee injury and hasn't been a hundred percent and he's been limping around and all, but he got in that game, I didn't see not one limp on that sack. He was pretty smooth going in there tackling. It was good for him to have some success. And for Z, for a kid who played running back and for to us move him over there at linebacker in training camp we knew he wasn't necessarily going to get there at the beginning of the year but we felt from a talent standpoint athletically he's got a chance to be really, really good at the linebacker position once he learns the position inside out and each week he's getting better at it and our coaches are more comfortable putting him in there and he showed us on Saturday what he can do out there. When he's out there he's very athletic.

Q. Clemson's set the standard in the ACC over the past few years. As you're trying to rebuild this program, is there stuff you can take away from what they have been doing to try and help you guys out?
WILLIE TAGGART: Yeah, win. You know? They have been winning. We got to win. Bottom line is we got to recruit and you got to win. They have done a great job of recruiting and building -- Dabo [Swinney] has done a great job of building a culture of how he wanted it and you can see it. You go visit the program, you see it by everybody in there. Everybody involved in it. Everything they do is towards winning. It's paying off for them, helping student athletes. So what can we do? We got to recruit, we got to win, if you want to be the man you've got to beat the man. So great opportunity for the Noles. Looking forward to it. Against a really, really good football team, one of the best college football teams out there. You look at their defense, nine returning starters, very challenging. You hear everyone talk about Alabama, Clemson is right up there with them and they have been in the playoffs the last three years so, great football team, comes to Doak Campbell and we're looking forward to it. Noon, fans. Noon. Go to bed early Friday. Need everybody there. I don't want to hear we don't do well at noon games. Those times are over. It's different. We do very well. So look forward to seeing everyone there at Saturday. Great opportunity for the Noles.


Q. You've mentioned a lot of the young guys who made impacts against Wake Forest, is this typically the time of year you expect some of those freshmen and redshirts who haven't had a lot of playing time to kind of pick things up and find themselves with the opportunity to make plays?
WILLIE TAGGART: Well I think with all of our players, not just freshmen but all of them, this time of year you expect for them to be so much better than what they were at the beginning of the year and I think that's what we're seeing out of some of the younger guys that's playing for us now is they're more comfortable in what they're doing and doing it more consistently enough to whereas coaches we feel comfortable to put them out in the game so they can make a play we know they're capable of. I know sometimes in practice those things happen but it's a little different once you get in the spotlight, you know, but our young guys getting in there making plays showing that the spotlight is not too big for them. You look at just the way Tre'Shaun [Harrison] was playing in there, I mean he enjoys the spotlight. He loves that. But that's a good sign for us with those young guys and we're going to need for them to continue to make plays for us.

Q. I think this was the 7th straight week you had a different combination starting combination on the offensive line. You had Derrick Kelly at left tackle. Will that streak come to an end this week, do we have the five in place going forward for this Clemson game?
WILLIE TAGGART: Well so far we don't have anybody hurt. I think a big part of that was injuries is why you were seeing those things. We said from the beginning, we would like to have where we have all five guys in there so they can play consistently enough and we are banking on having the same line we had this past weekend. If we can continue that, again I think you're going to see more improvement out of our offense.

Q. You visited Clemson I think back in 2017 a year or so ago and you could have visited a bunch of different programs, what about Clemson other than winning do you like and respect to the point where you wanted to go there to see how they do things?
WILLIE TAGGART: Well at South Florida we developed a good relationship with Tony Elliott and he came down and spoke with our guys and our team at one of our coaching clinics that we had. He came down and spoke and got a chance to talk to him and just some of the things they were doing and a lot of things they were doing we were doing the same thing at South Florida and when I went out to Oregon I had a chance to go out and spend some time with them and see it firsthand and was really impressed with just how they do the entire organization. I think Coach Swinney's, he's in it for the right reason, which is the student-athletes and making sure that they develop as players and as a human being and they do a great job with it. You look at it and you see some of the things you're doing and you see the results, you know the things you're doing are right on track but you also know that they didn't get there on day one, it took them some time to get there. But they stayed the course and he got it the way he wanted it and now it's a well-oiled machine.

Q. You touched on it previously that you were going to affirm some things that were you doing it the right way as a younger coach. What were some of those things that did stand out to you that you took away from the time there?
WILLIE TAGGART: Well I think it's more culturally than anything. Just how they go about things with their student-athletes. From player development to the way they run the offense and do some things. When we decided to change our offense at South Florida, Clemson was one of the teams that we talked to and studied a little bit. But I mean just from every aspect, from football standpoints, to the development standpoint of the student-athlete was really impressive to how they do it. And then just the staff chemistry there. Clemson's one of those staffs that not many guys leave and that's a direct reflection of Coach Swinney and then the culture and environment that he has there and that's important and a big reason why they're having success because of the consistency that they have there. So I just think overall culturally what they have and everyone speaks the same language there and to me all those are great recipes for winning and not only winning but winning big and they're doing it.

Q. I saw Khalan [Laborn] was down on the field before the game. I don't know if he's done that before or not. He looked to be in good spirits. Could you talk about how his rehab has been going?
WILLIE TAGGART: It's going really well. Well it's going a lot better, I would say that. He was down and out, of course, he was expecting a big time year, we all were from him, he especially after sitting out. For that to happen, it was devastating for him and we knew that it was going to be devastating for him, the kid loves playing football. But he's been rehabbing, he's been around the team more now that he can get around a lot better. I know about a week ago or so he was struggling bending his knee like he wanted to and had to get some scar tissue off of there and now he's bending it, walking around, you see a smile on his face, he's dapping you up everywhere, a totally different attitude. I think a lot of it is because of the success he's had with history has been he sees himself coming back. But Khalan's in a great place right now and I know for me it's great to see him out there with his teammates on the sideline and excited about just being around.

Q. According to the game notes here you guys have the toughest remaining schedule in college football. When you look down that schedule, NC State, Notre Dame, Florida, Clemson, is it daunting or do you relish those type of opportunities?
WILLIE TAGGART: Well, for us that's good, it hasn't changed from the beginning of the year. We knew what we had to go against and what we're up against and to be honest with you we're not looking at the rest of the schedule. I told our team we're not going to get ahead of ourselves, I think our task ahead of us right now is important enough not to go ahead. We have a big time game this week against Clemson and again that would be a lack of respect to move forward and to go to any game before that. So we're focusing on Clemson and we're going to take each one of those games one game at a time and play them. Again we knew what we were going against at the beginning of the year but we also look at it too that those games won't be easy for those teams either. So they got a tough opponent that they're going to go against too.

Q. You've had one of the toughest run defenses in the country so far this season but obviously Clemson has a pretty potent running attack. What's going to be the key to you guys slowing them down and just what's the difficulty with facing a team like that?
WILLIE TAGGART: Well, yeah, do what we have been doing. Shutting down the run. We got to make sure we play great defense, great gap sound defense and do a great job of tackling. I think whenever it comes down to stopping the run you got to be good at tackling. A lot of times it's gang tackling you can't have a lot of one-on-one tackles, you got to get guys to the ball and get them down. For us we're not going to necessarily change just because it's Clemson though. We're going to play our defense and try to prepare our guys to play their very best against a talented football team and understanding that we can't make the mistake that is we have been making and expect to beat a team like this. So we got to be on our A game but we're not going to change up everything just because of Clemson, we're going to go out and play football, they put on pads the same way our guys do, so it will be fun.

Q. You talk about Zaquandre [White] earlier. The passion he plays with and the energy and then you got a lot of young guys like Cory Durden who plays like that, Marvin [Wilson], several of them, what does that bring to the defense?
WILLIE TAGGART: It's contagious. I think that's what you see when you see guys like that because we all say enthusiasm is contagious and you can tell it's important to them. And we always talk to our guys, you make plays, you should celebrate. You did something we try to coach you up and try to get you to do. I don't like when guys just walk away. I mean it's tough to do it, so it's okay to celebrate, show a little emotion. And it's better to do it with your teammates. But all those guys play with that passion and those guys you named I can tell you they all love football and they all love competing and it's great to see and it's what you guys see on Saturday is the same thing we see in practice. They make a play in practice they're the same way, which you love. No matter whether it's practice or a game, they are excited about making plays. They're what you call football players and those are guys we want to have on our football team.
Never miss the latest news from Clemson Sports Talk!
Join our free email list