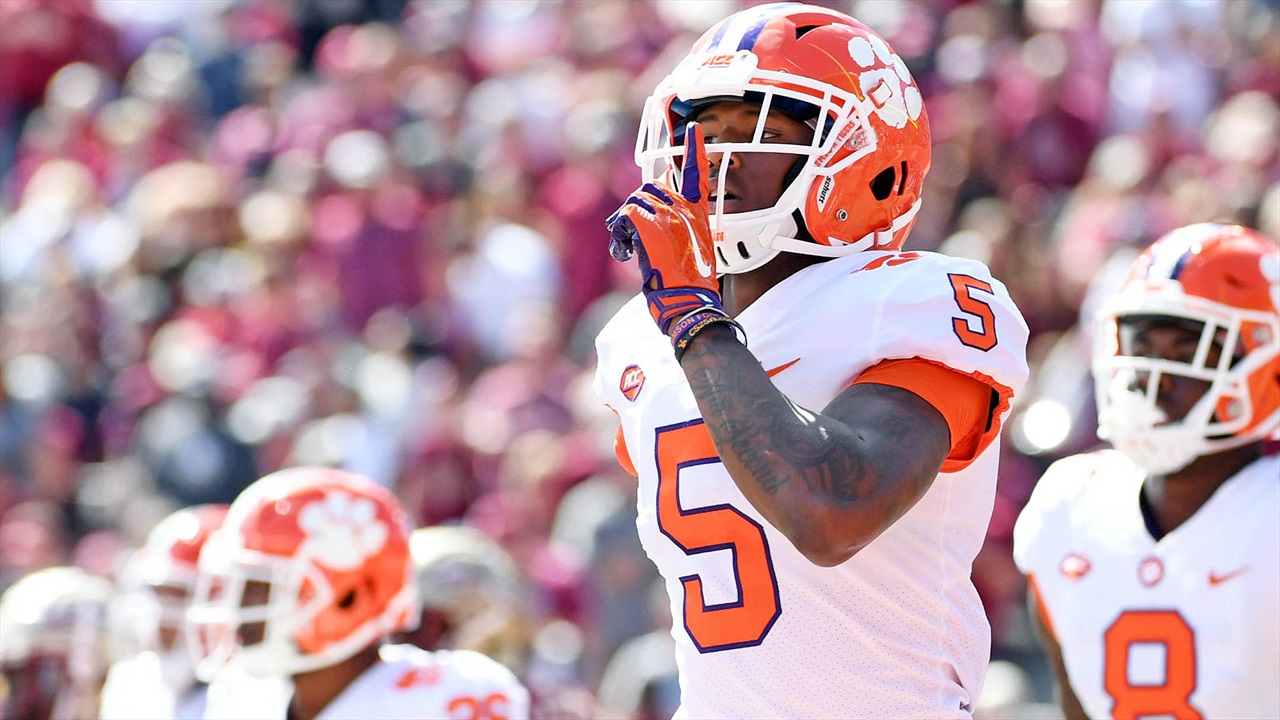 Photo by © Melina Myers-USA TODAY Sports
Clemson Football
Domination at Doak
---
TALLAHASSEE, Fla. -- Once upon a time, the rivalry between Clemson and Florida State was the must-watch game of the year in the ACC.
Not only has the winner of this game represented the Atlantic division in the ACC championship every year since 2009, many meetings lately had national title implications on the line.
Two years ago, Deshaun Watson was heroic in Clemson's first win at Tallahassee in 10 years. But those days are long gone after Saturday's bludgeoning. This game used to be must-see television. Now, those watching were changing the channel by halftime.
It was domination yet again for the Tigers, this time inside Doak Campbell Stadium as No. 2 Clemson rolled over Florida State 59-10. For the first time in ACC history, a senior class has four consecutive wins over the Seminoles under their belt.
OK, "domination" may be a slight understatement. But we're running out of words to describe what Clemson is doing to its opponents.
The 49-point margin of victory ties for the worst loss in Florida State's storied program's history and set a new record for worst home loss. Nobody just walks into Doak Campbell and lights the Seminoles up, especially Clemson, which had never won in Tallahassee two times in a row.
But that's just what Clemson did with ease. And with the way this team's been performing lately, the end result wasn't very surprising.
Clemson has now outscored its last three opponents by a combined score of 163-20.
"I have been in a lot of really, really sad locker rooms coming down here," head coach Dabo Swinney said after improving to 8-0 (5-0 in conference) on the season. "So this was a special day."
"I have been in a lot of really, really sad locker rooms coming down here," head coach Dabo Swinney said after improving to 8-0 (5-0 in conference) on the season. "So this was a special day."
Again, Clemson's defense set the tone from the opening whistle. Of Florida State's first four drives, three went for 3-and-outs. The other was an 8-play drive that only resulted in five total yards after a 23-yard loss on a bad snap.
Taggart's style of offense has been deemed "lethal simplicity." Perhaps it was so simple, Brent Venables' crew made it merely look harmless.
The Tigers defense kept Florida State behind the line of scrimmage for most of the afternoon with 14 tackles for loss. The Seminoles were truly one-dimensional considering they rushed for -21 yards. Clemson only allowed 268 passing yards with almost half coming in the fourth quarter.
Florida State punted 12 times and were 4-of-17 on third downs throughout the contest.
"We wanted to make them one-dimensional, take the run away. We were able to do that," Swinney said. "That led to us being able to pin our ears back, bring some pressure on the quarterback and disrupt their timing."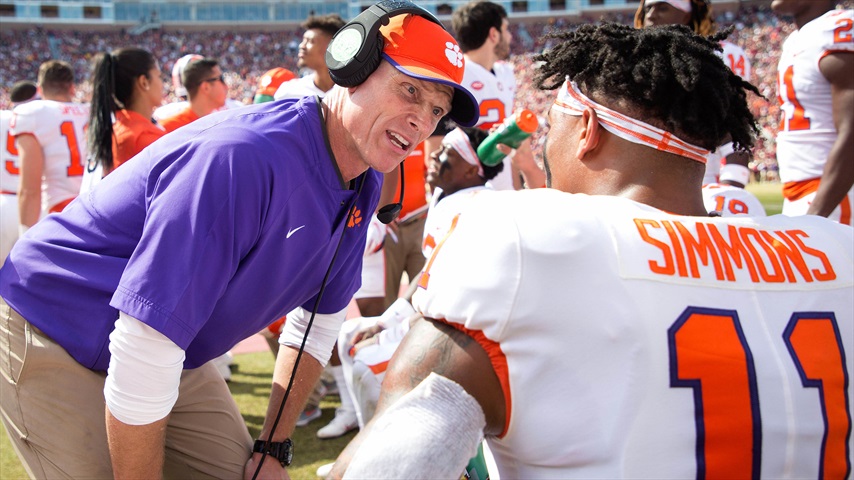 © Glenn Beil-USA TODAY Sports
Florida State quarterback Deondre Francois was running for his life all day as of he was in a Halloween remake. He finished throwing for 180 yards and one interception on a 17-of-36 clip.
Taggart had downplayed his overmatched offensive line's matchup against Clemson's front earlier in the week, saying he wasn't worried since they go up against a great defensive line in practice every day. After five sacks and putting Francois on his back a countless amount of times, the best thing that offensive line did all day was scrape his remains off the ground.
But even though Clemson's defense its normal destructive self, the game was still scoreless after the first quarter. That didn't last long as the Tigers finally kicked things into gear, just as they did against Wake Forest.
The Tigers had 524 yards of total offense on the afternoon. The 59 points scored were the most any Florida State team had ever given up at home. Quarterback Trevor Lawrence had another awesome, as Swinney liked to put it, performance.
Lawrence finished with 314 passing yards on a 20-of-37 clip with four touchdowns. The true freshman broke Watson's record for most passing yards and touchdowns by a freshman in Clemson's history. He connected with sophomores Tee Higgins and Amari Rodgers for most of the day, who combined for 12 catches and 218 receiving yards and four touchdowns.
Clemson scored a touchdown on four consecutive drives in the second quarter to take the will out of the Seminoles little by little. Let's review:
The moment where things started to spiral out of control for Florida State was when Seminole Asante Samuel roughed Greg Huegel after Huegel missed a 40-yard field goal wide right. Clemson scored three plays later after Lawrence found Higgins for a 7-yard strike.
Travis Etienne got going on Clemson's next drive rushing for 10, then 15 yards on consecutive carries to set up Higgins' second touchdown of the day from three yards out. The back shoulder throw from Lawrence to Higgins is starting to look familiar to what Watson and Mike Williams used to connect with during their time at Clemson.
Defensive tackle Christian Wilkins then got his wish when the Tigers faced third-and-goal from the one on their next drive. Clemson sent out its jumbo, "fridge" package, which put defensive tackle Dexter Lawrence at fullback and Wilkins at running back. That's over 670 pounds in the backfield.
Wilkins then got the ball and leaped into the end zone to show his athleticism. He admitted after the game he could have walked in, but wanted the style points by soaring through the air for his third career touchdown. If you're keeping track at home, Wilkins' one yard rushing out-rushed Florida State.
Trevor Lawrence then pierced the Seminoles with a dagger before halftime after a Florida State 3-and-out. Lawrence found Trevion Thompson for 17, Rodgers for 10, Hunter Renfrow for 14, then Higgins for 21 yards on consecutive plays. Two plays later, Garrett Williams scored from two yards out and fans started to head for the exits.
Clemson outgained Florida State 247 to 65 in the first half. The Seminoles only ran eight plays in Tiger territory. From the moment the second half began, the onslaught continued as Clemson emptied its bench and Florida State flat-out quit.
It was an undisciplined performance for Taggart's team as they racked up 16 penalties for 134 yards. Three players were ejected, two of which for throwing a punch. At one point, Florida State had as many players ejected as it had points on the scoreboard.
"First time since I've been here I felt like we had some guys quit on our football team and that can't be tolerated."
"First time since I've been here I felt like we had some guys quit on our football team and that can't be tolerated," Taggart said.
Rodgers scored on a 68-yard touchdown on the second play of the second half. He finished with 218 total yards, 62 of which came on punt returns.
For the third consecutive road game, Clemson played all 72 players who traveled - another statement to recruits: If you deserve to play, you're going to play. And Clemson looks like it's having so much fun while doing so.
At the end of the day, one program is a train running over any opponent in its way while it continues its incline, slowing down for no one. The other looks like a train that has run completely off the tracks.
Before both teams ran on the field, a video played showing highlights of the old Florida State - a program with three national titles and a rich winning tradition that used to always dismantle Clemson. The word "unconquered" then flashed upon the screen.
Those old days seem long gone at the moment, even a year removed from another close matchup between these two rivals. Clemson came, saw, and conquered in a dominant fashion unlike anything the people of Tallahassee had ever seen on their home field.
It got to be so bad at one point, a shirtless Seminole fan was sitting alone reading a book, uninterested in what was going on around him. The book, appropriately named, was Dark Places.
"I've been on the other end of them butt-whippings too," Swinney said with a grin. "Today was our day."
Never miss the latest news from Clemson Sports Talk!
Join our free email list