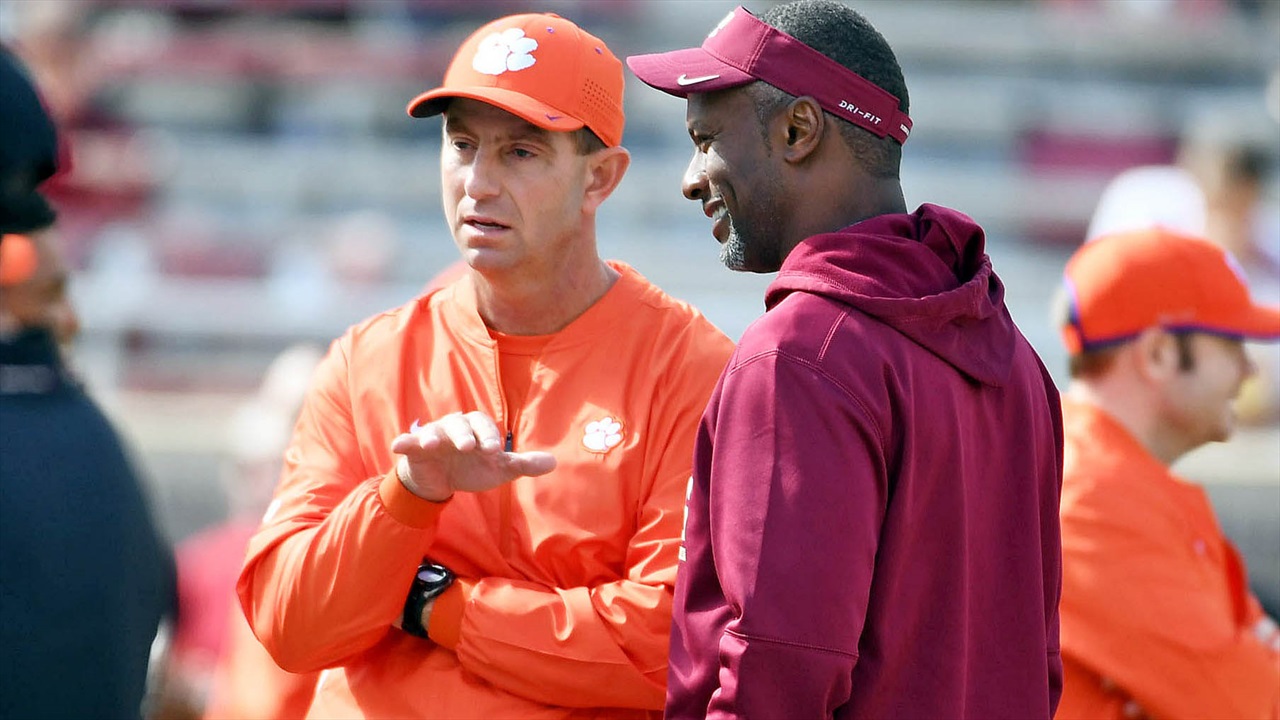 Photo by © Melina Myers-USA TODAY Sports
Clemson Football
With the Win: No. 2 Clemson 59, Florida State 10
---
With Clemson's 59-10 win over Florida State, here some streaks that are still intact.
Clemson has now opened a season 8-0 for the seventh time in program history and the third time in the last four years (1948, 1981, 2000, 2011, 2015, 2016 and 2018). Clemson earned conference titles in five of the previous six seasons in which it opened 8-0.
Clemson has now won the first eight games of a season for the fourth time under Head Coach Dabo Swinney (2011, 2015, 2016 and 2018). All other coaches in Clemson history have combined for three 8-0 starts, including one each by Frank Howard, Danny Ford and Tommy Bowden.
Clemson has now won four consecutive games against Florida State for the first time in series history. Clemson's four-game winning streak against the Seminoles surpassed the Tigers' previous longest in series history, beating a three-game streak from 2005-07.
Clemson became the first school to defeat Florida State in ACC play in four consecutive years. Miami previously accomplished the feat prior to joining the ACC.
Clemson earned its 12th all-time victory against Florida State.
Clemson defeated the Seminoles in Tallahassee for the fifth time in history (1976, 1989, 2006, 2016 and 2018) and has now won back-to-back games in Tallahassee for the first time in series history.
Clemson bucked a series trend that had seen the home team win 13 of the last 16 games between the two programs prior to Saturday. Of the three previous wins by the visiting teams, two of those squads went on to win the National Championship (Florida State in 2013, Clemson in 2016).
Head Coach Dabo Swinney pushed his all-time record against Florida State to 6-5.
Clemson secured its 18th victory in its last 19 true road games.
Clemson earned its 25th victory in its last 28 games away from home, including neutral site contests.
Clemson earned its seventh consecutive victory in the state of Florida, dating back to a 40-6 win against Oklahoma in the 2014 Russell Athletic Bowl in Orlando. Clemson won in the state of Florida for the first time since winning the national championship in Tampa to conclude the 2016 season.
Clemson won the 26th of its last 27 games against ACC Atlantic Division opponents.
Clemson defeated an ACC foe for the 30th time in its last 32 opportunities, including conference championship games, dating back to 2015.
Clemson has now won 59 of their last 61 when leading at halftime.
Clemson improved to 80-2 since 2011 when leading after three quarters.
Clemson recorded a 25-14 advantage in first downs and is now 81-2 when recording more first downs than their opponent since 2011.
Clemson won the turnover margin, 2-1, and now has a 42-3 mark when winning the turnover margin since 2011.
Clemson extended its winning streak in Saturday games to 24 to extend the longest Saturday winning streak in school history. The 24-game streak is the longest of any school in the country.
Never miss the latest news from Clemson Sports Talk!
Join our free email list