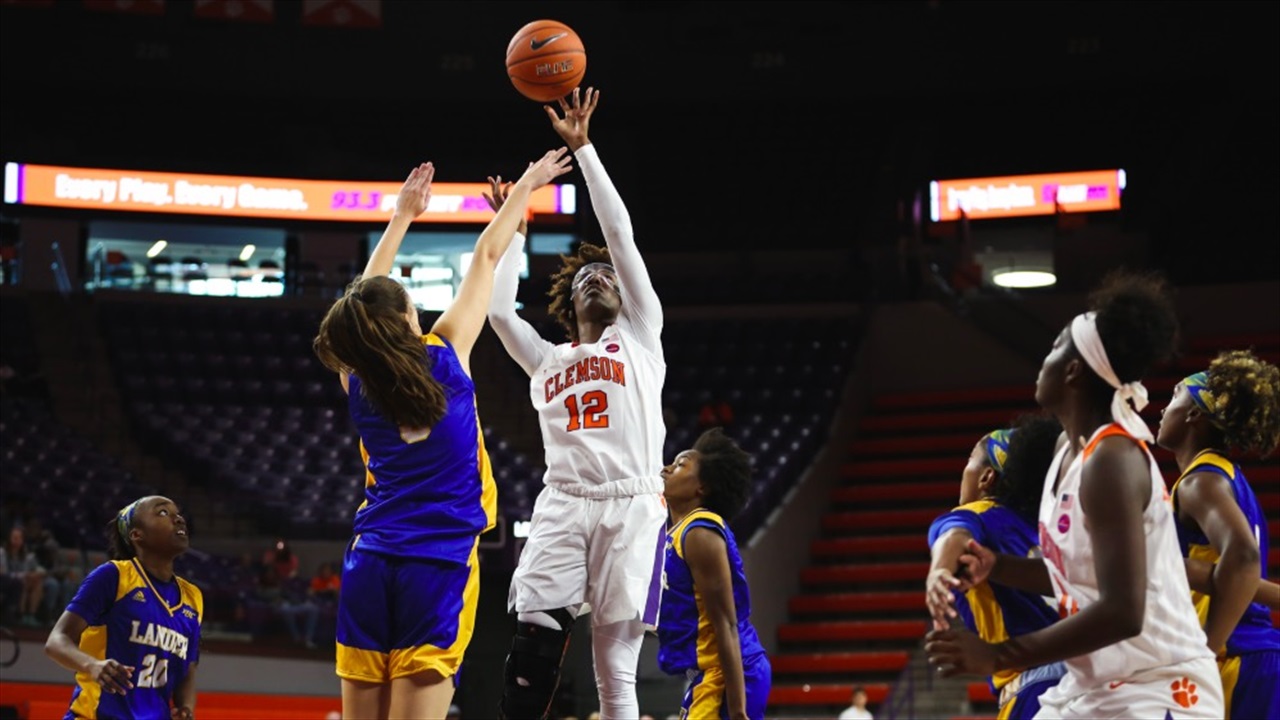 Clemson Women's Basketball
Clemson topples Lander in exhibition victory
---
CLEMSON, S.C. — Taking the court for the first time in the 2018-19 campaign, the Clemson Tigers battled the Lander Bearcats at Littlejohn Coliseum in an exhibition contest on Sunday. In the first action for the Tigers under the direction of new head coach Amanda Butler, Clemson led from start to finish, topping Lander by a final score of 84-53.
The Tigers went 35-of-68 from the field for an efficient offensive performance. Outrebounding Lander by 51-31, Clemson dominated on the glass with junior Kobi Thornton hauling in 10 boards to go along with her 14 points for a double-double.
Senior Aliyah Collier led all scorers with 17 points, shooting 7-for-10 from the field. Simone Westbrook finished with 12 points and manned the defensive effort for Clemson, accruing five steals in the contest. Freshman Taylor Hosendove added 12 points and also tallied five rebounds in her first outing with the Tigers.
Clemson had the hot hand from the start, going on a 7-0 run before the Bearcats scored their first bucket. Making her Tiger debut, Westbrook started 3-for-3 from the field to set the tone. Clemson led 25-14 at the end of the first quarter, thanks in large part to its imposing defense.
In the opening period, the Tigers scored 14 points off nine turnovers committed by Lander. Clemson continued to control the pace of the game in the second quarter, with the Tigers taking a 40-16 lead at the 4:31 mark.
Clemson held a commanding 46-25 advantage at halftime and maintained a sizable lead throughout the second half. Thornton was a playmaker down low for the Tigers, corralling multiple offensive rebounds and scoring several key layups.
Boasting a 22-point lead at the conclusion of the third quarter, the Tigers remained aggressive to close out the game. Clemson poured in a trio of three-pointers in the fourth quarter, two of which came off the hands of Collier.
Clemson hosts the Wingate Bulldogs at home in its second and final exhibition contest of the preseason on Friday, Nov. 2, at 5 p.m. The Tigers are scheduled to begin the regular season with a matchup at home against Wofford on Thursday, Nov. 8, at 7 p.m.
Never miss the latest news from Clemson Sports Talk!
Join our free email list