Clemson Football
Kentucky Derby
---
CLEMSON -- The city of Louisville is known for two things: horse racing and bourbon. Both were on full display in Clemson on Saturday afternoon.
Oh, and you can add giving up 77 points to the second-ranked team in the country to that list. Seventy-Seven. And it could've been way worse.
The Tigers raced to their ninth victory of the season behind their fourth-highest scoring game in school history as Clemson defeated Louisville 77-16.
Clemson treated Memorial Stadium as if it were Churchill Downs as its stable of running backs galloped for 492 rushing yards on the afternoon. Travis Etienne led all running backs with 153 yards on eight carries and one touchdown. Three different running backs rushed for over 100 yards and four touchdowns combined.
It was enough to drive any Louisville fans in attendance to drink some of that famous Kentucky bourbon.
The offense racked up 661 yards of total offense, which more than doubled Louisville's 312 and set new records again this week. Clemson's rushers, all 12 of them, averaged 13.3 yards per carry which is a new team record. The offense as a whole also averaged 11.6 yards per play, which broke another record - this time from 1903.
With 240 points in the last four games, Clemson broke the previous team record for points in a four-game span, which was set in 1900 after a game where Clemson won 122-0.
"They must've been carving some people up in 1900," Dabo Swinney said after the win.
Uh, yeah. Then and now, Clemson is treating its opponents as if it were the turkey at Thanksgiving dinner. We'd say Clemson dominated its opponent for what now feels like the sixth week in a row, but we don't want to beat a dead horse.
"That was definitely a rare game," co-offensive coordinator Jeff Scott said. "It seemed like whatever we called was working… It's fun."
"That was definitely a rare game," co-offensive coordinator Jeff Scott said. "It seemed like whatever we called was working… It's fun."
This type of game may have been rare at the beginning of the season. But the offensive production Clemson has shown for the most part of this season has been consistent and pretty dang impressive. Scoring over 40 points has become a norm.
Ten different players scored touchdowns for Clemson throughout the contest, which speaks to the depth Swinney continues to build upon. There were 15 plays Clemson ran that gained at least 15 yards or more. Three of them went for touchdowns.
It all began with another fast start where Clemson raced out of the starting gates on the opening possession. The 4-play, 75-yard drive capped off by Etienne's 10-yard touchdown run was the second consecutive home game where Clemson scored on its first possession.
The next drive lasted one play as Tavien Feaster sprinted free for a 70-yard touchdown run. By that point, you knew the game was going to get ugly. You knew Clemson was going to cover the 39.5-point spread. Now, that number seemed low.
Clemson's offense spent much of the first half sunbathing on the sidelines. At one point, the score was 28-3 and the offense had only ran 13 plays in just under five minutes on the field. In contrast, Louisville had one 16-play drive which ended with a field goal.
Sure, there were a few minor footnotes that Swinney's staff will work to correct. A targeting call on AJ Terrell broke the game's rhythm in the first half and Swinney was in his players' ears plenty of times when mental mistakes were made.
Clemson ended the first half with a 60-yard, 7-play touchdown drive to put the game to bed. The 32-point halftime lead was the largest margin in a conference game since 2015 at Miami. We all know what happened to that coach after that game.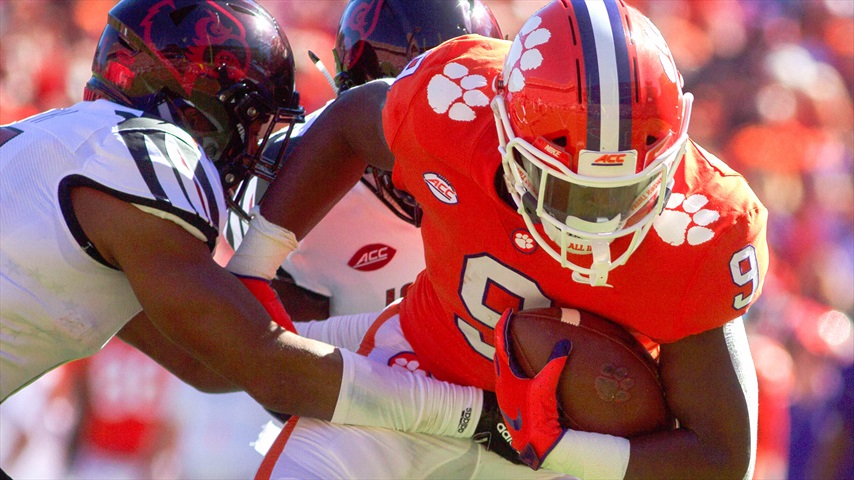 © Joshua S. Kelly-USA TODAY Sports
Etienne set up Clemson on that drive on the fourth play with a 32-yard run. Trevor Lawrence followed up three plays later with a touchdown pass to Amari Rodgers from three yards out.
Speaking of Lawrence, he finished the day barely breaking a sweat with 59 yards, two touchdowns and one interception on 8-of-12 passing. Backup quarterback Chase Brice was 6-for-7 for 110 yards and a touchdown, highlighted by a 59-yard touchdown pass to Justyn Ross.
The Tigers scored on all six of their second-half possession. Dexter Lawrence got to show Christian Wilkin what he could do with the ball in his hands with a short-yardage touchdown run. Even Will Swinney caught and ran for an 8-yard score for the first time in his career. He got a little hug from pops as he walked off the field giving the Tigers their 11th touchdown of the game.
Clemson's defense played lights out yet again by frustrating the offensive mind of Bobby Petrino. Louisville quarterback Jawon Pass, who finished 12-of-24 passing for 110 yards and two interceptions, was sacked six times, a season-high for the Clemson defense. Clemson also added nine tackles for loss on the afternoon.
The last four contests, Clemson has broken the will of opposing teams with the way its been playing on both sides of the ball. Willie Taggart admitted it after last week's loss and you had to think Petrino was at least thinking that as he walked to the locker room.
If this was the best 2-6 team (now 2-7) that Swinney had seen, we'd hate to see the worst.
It's hard to imagine Petrino and his Louisville program matched into Death Valley as a one-point favorite just two years ago. That game could've been a program-altering one for the Cardinals. Instead, the cards have been face-down ever since.
"Things come and go," Swinney said of Louisville's program since 2016, which he also said has plenty of room for improvement moving forward with the pieces they have.
"Things come and go," Swinney said of Louisville's program since 2016, which he also said has plenty of room for improvement moving forward with the pieces they have.
But today spoke volumes about the gap between then and now.
Louisville defensive back Marlon Character was ejected for targeting when the game was well out of reach at 49-3.
Character proceeded to celebrate with his teammates and pump the crowd up as he was running towards the locker room. Maybe he considered himself lucky. Maybe he was glad he didn't have to be a part of another embarrassing loss at the hands of another ACC foe.
Maybe he was racing to crack open some of that famous Kentucky bourbon.
Never miss the latest news from Clemson Sports Talk!
Join our free email list