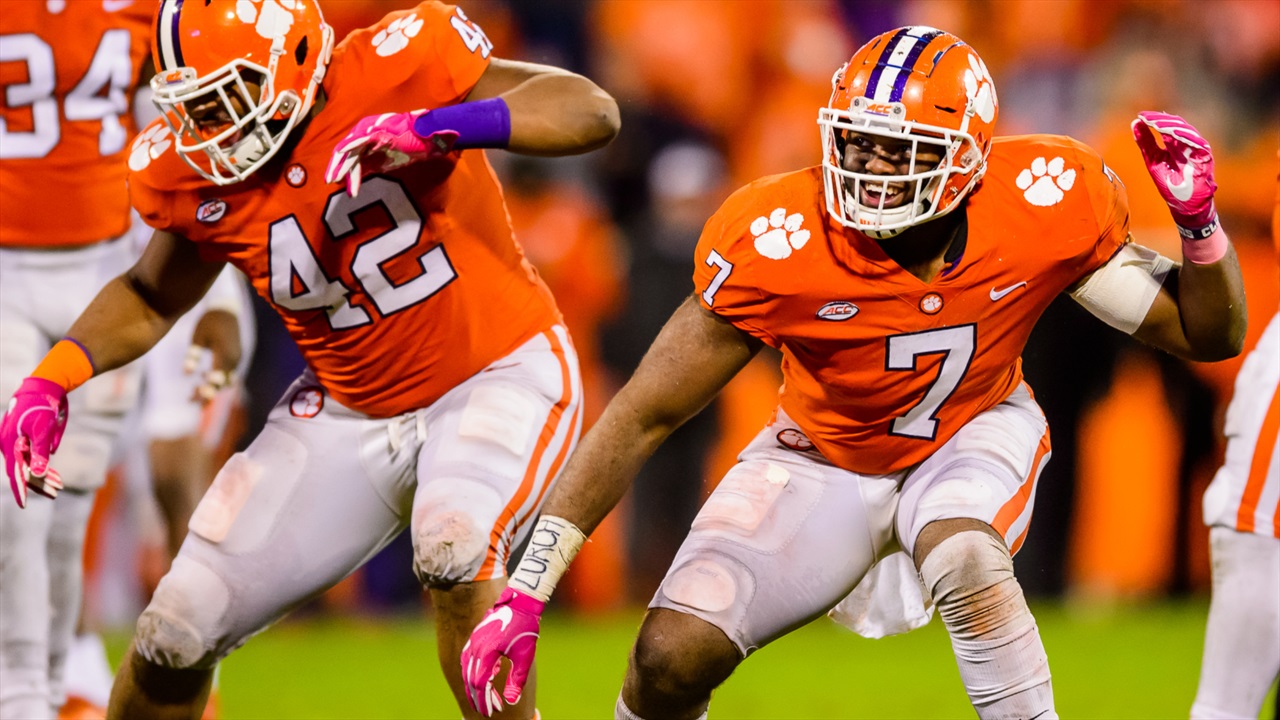 Clemson Football
Keys to Victory: No. 2 Clemson vs Duke
---
---
Clemson will honor one of the most prolific senior classes in college football history on Saturday
when the newly crowned ACC Atlantic Division champions return home to face the Duke Blue Devils.
Clemson's 2018 senior class is still in the midst of writing a legacy that will leave the group as one of the most decorated classes in school, conference and national history. Last week, the group tied Clemson's 2017 seniors with its 50th win in a four-year span, matching the ACC record set by the 2017 class. The 2018 seniors can stand alone in ACC and Clemson history with their 51st win on Saturday.
Clemson would become only the second school ever to produce a 51-win class, joining Alabama, which has produced classes of 53 wins (2014-17) and 51 wins (2013-16 and 2015-18).
Entering this week, Clemson has...
Won 53 of its last 57 overall, dating to 2014
Won 32 of its last 34 against ACC teams
Won 61 of its last 63 when leading at halftime
Gone 82-2 since 2011 when leading after three quarters
Gone 36-0 when scoring first since 2015
Posted an 83-2 record when recording more first downs than its opponent since 2011
The Match Up:
Clemson (10-0, 7-0) vs. Duke (7-3, 3-3)
Clemson vs. Duke 2012 Highlights:
All-Time Series:
Clemson leads: 36-16-1
at Clemson: Clemson leads 19-4-1
at Duke: Clemson leads 16-12
Neutral: Clemson leads 1-0
Last Meeting: Clemson won 56-20 in 2012at Duke
Streak: Clemson has won four in a row and 9 out of the last 10.
Listen Live: Fox Sports Radio 1400 on iHeart Radio
Stat of the Week:
Clemson attempting to open a season 11-0 for the fourth time in program history, joining 11-0 starts in 1948, 1981 and 2015. Clemson could also win the first 11 games of a season for the second time under Head Coach Dabo Swinney (2015).
Swinney would become the first coach in Clemson history to coach the school to multiple 11-0 starts, as legendary coaches Frank Howard and Danny Ford only accomplished the feat once each, in 1948 and 1981, respectively.
Key 1: Pound the football
Last weekend we put part of Clemson's success against Boston College as making sure that running back Travis Etienne got plenty of touches. The Eagle defense was tough against the run all night, and Clemson found success over-the-top with the downfield passing game. Tonight, the story should be much different if Etienne gets his touches.
Duke's defense gives up 212.0 yards on the ground per game ranking 107 out of 129 programs.
Historically, Clemson has had lots of success against Duke in the running game. Clemson players have recorded 23 games of at least 100 yards rushing vs. Duke, more than against any other opponent.
That includes a pair of 260-yard games that rank as the top two running games in Clemson history. Raymond Priester had 263 against Duke in 1995 and Cliff Austin had 260 against the Blue Devils in 1982. Both of those games were at Clemson. We are not suggesting that Etienne will get 250+ yards, but closing in on a 200-yard day wouldn't be unreasonable if he gets the carries.
Key 2: Unleash Lawrence
According to ESPN, Trevor Lawrence has been the best quarterback against a blitz in college football hitting on 71% of his passes for eight touchdowns when challenged by opponents. That's simply incredible considering Lawrence is a freshman.
Tonight, in his first night game at Death Valley, Lawrence will get another opportunity to outplay another top ACC quarterback, thus taking the crown as the league's top gunslinger. The Tigers have been riding high and we expect limited work and large numbers for the 6'6 Lawrence as he delivers the football to a bevy of talented wideouts.
Key 3: Get after Daniel Jones
It's fair to say that Dabo Swinney was as complimentary of Duke's Daniel Jones as he has been of any quarterback the Tigers will face this year. Swinney, always one to build up an opponent, wasn't dropping hyperbole when he gushed over Jones during his press conference this week.
Jones has the prototypical look of an NFL quarterback and the arm to match. If he were given boatloads of time to sit in the pocket, you could envision a game where he takes over and spreads the football around to a capable group of wideouts.
The issue at hand will be Clemson's defensive line and Brent Venables' schemes to get after and frustrate opposing quarterbacks. As good as Jones is, he will not be immune to Clemson's pressure, and the Tigers will harass the senior quarterback all night.
Prediction:
As cold temperatures work their way into Death Valley tonight, Clemson's hot offense is sure to keep the place warm. When you look at the balance of Clemson's attack, combined with the talent and versatility on the field, it's hard not to imagine that this is the best offense we've seen at Clemson. The only position that's really left us wanting would be at tight end.
The Blue Devils are going to find it tough to move the football and if that's your issue, keeping pace with the Tiger offense will be nearly impossible, as it has been for most teams this season.
Even last weekend, when the offense was stuffed in the red zone and failed to light up the scoreboard, there wasn't a moment where the outcome felt in doubt. Clemson's just that good, they are an elite program and will not face an elite program until the College Football Playoff.
Final Score Predictions:
| | | | |
| --- | --- | --- | --- |
| | Clemson vs Duke | Pick of the Week | Season Score |
| Lawton | 52-10 Clemson | Furman, Syracuse, Wake Forest, Louisville | 18 |
| Sanders | 42-13 Clemson | Texas A&M, Georgia Southern | 14 |
| Lowell | 56-13 Clemson | - | 10 |
| Brandon | 59-10 Clemson | Florida State | 12 |
| Simulation | 45-3 Clemson | Georgia Tech, NC State, Boston College | 15 |
Perfect Prediction = 5 points Best Prediction = 3 Points Correct Prediction = 1 Point
**Pick of the Week: Indicates the best prediction given for that game.
Never miss the latest news from Clemson Sports Talk!
Join our free email list