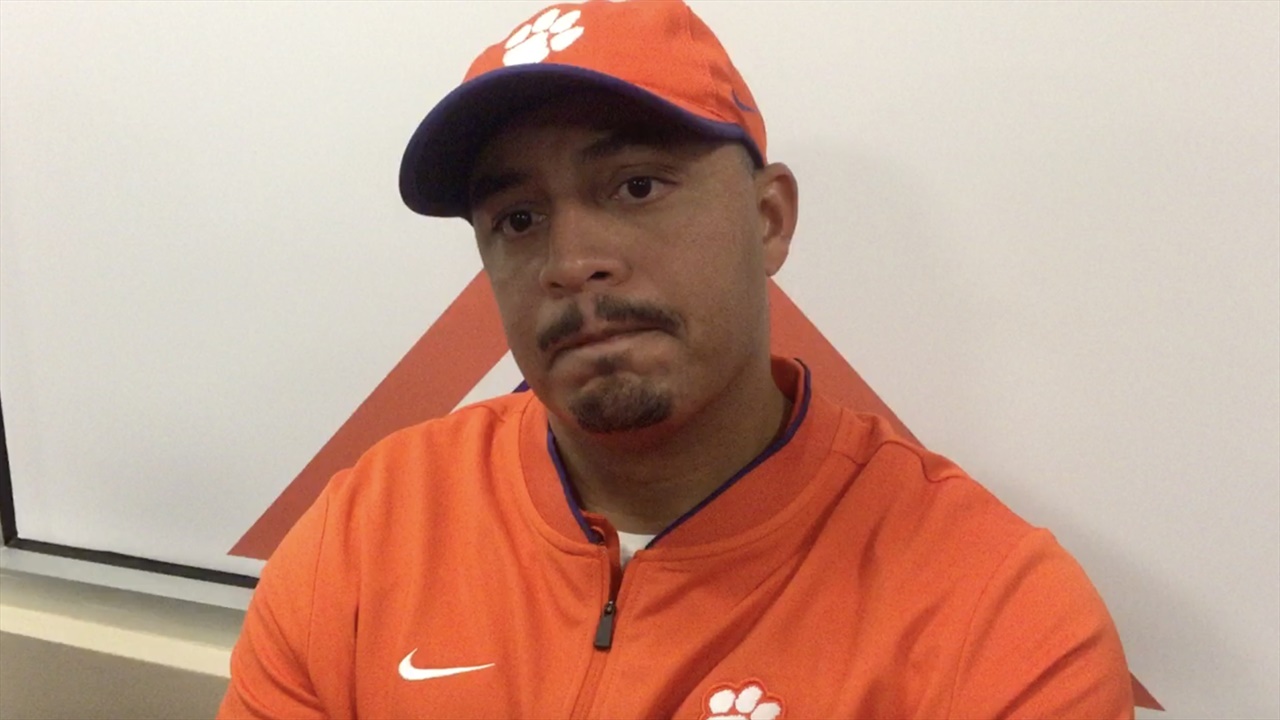 Jeff Scott
Tony Elliott Pt. 1
Tony Elliott pt. 2
Brent Venables
Clemson Football
Tony Elliott on South Carolina: 'It's personal'
---
Clemson's staff gives their thoughts on Clemson's 35-6 win over Duke and looks toward Saturday's Palmetto Bowl showdown with South Carolina.
Co-offensive coordinator Tony Elliott:
The first half:
"That was a very interesting first half. I think we got to a third and short and had a RPO (run-
pass option) and the quarterback throws, and he's got every right to throw it there, we just
missed the throw and then we come back on another short yardage and we don't convert and
then we're just kind of out of sync and then we try to get some stuff going in the running game
and obviously, they were dead set on stopping the inside run so it was going to take us a little
bit of time but we needed to get the game under control."
"They were giving us a lot of soft coverage so we were going to take the easy throws and then
you saw in the second half they decided to take those throws away and force us to run the ball
and we challenged our guys at halftime. I think we only had 17 yards rushing obviously because
of the situation in the first half, we came out and responded."
What was the message to the players at halftime?
"Just to settle in, and be who we are and to respond. You've got an opportunity to respond.
You've got the second half. It's 0-0. The biggest thing for us, offensively was to challenge them
to make sure we can establish the running game. We were able to do that first drive coming out
and sparked the second half for us. (The first half was) things that are uncharacteristic of
ourselves. We get a bad throw there by Trevor and I know he makes that 9 out of 10 times but
we don't convert on short yardage then, we had some third and longs and we had guys in place
and we just dropped the ball. That's uncharacteristic for our guys, probably the most drops
we've had all season but they responded and made the plays when we needed to make plays.
It's good to see DK come back, he had an open touchdown he dropped and he comes back on
a similar play and he makes a play. The biggest thing was just to challenge them and say hey,
'let's have the heart of a champion.' If we say we're a championship caliber team, then we've
got to respond that way in the second half."
What were some of the issues with the run game in the first half?
"If you go and you watch their structure, they have a lot of 7-man boxes so they were set on
getting those safeties down there and they were playing some soft coverage and you were
seeing they were rotating their safeties and trying to have an extra fitter so the biggest thing
there was we really didn't get into a rhythm running the ball because obviously, we weren't
having the success, we weren't staying ahead of the chains and so we had to throw the ball,
they were jumping back in Cover 2, doing a lot of line twists that's really going to stop your run
game, so it just took us a little bit of time to get settled in and once we were able to commit to
establishing the run, we had some success."
Was it hard to keep Travis from getting too frustrated in the first half?
"The biggest thing with him, he's probably frustrated because he wasn't playing well. He had a
couple of carries and again, the way it was going in the first half dictated that but there were a
couple of plays that he missed too and as a coach, you know that so he was a little bit
frustrated. He's a young player and he knows how talented he is and how much impact he can
have and the biggest thing is to have him understand that when you're not maybe doing everything you want to do with the ball in your hand, let's impact the game without the ball and that's probably what he was frustrated in."
Was that the first time you've seen him like that?
"No, I didn't see it. I know there might have been a report. There was no discussion on the
headset. The first I heard of it was afterward and I talked to him about it and he said, 'Coach, I
was just frustrated in myself because I wasn't playing well' He missed a play, we were trying to
run a draw to him. He used the wrong footwork and we didn't get it going and obviously, some
other ones where he could've been a little more patient. The biggest thing for him is he wants
the team to win. He's a very, very unselfish guy and he knows he can impact the game and he
wasn't having success but the positive thing is he came out at the half and he found his rhythm
and he really, really sparked us."
Co-offensive coordinator Jeff Scott
The first half:
"Obviously, got off to a little slow start there in the first half and really the biggest issues were on
third down, really couldn't stay on the field and just weren't efficient enough on third down in the
first half. I think we were 0 for 7 in the first half and then did a good job, 4 for 7 in the second
half. It was a good opportunity to challenge our guys at halftime and we've been in a lot of
games where maybe the game's well in hand at half but that's not going to be the case moving
forward as the competition continues to get better and we just said, 'Hey, we're going to find out
what we're made of today.' No reason to be worried about the things we didn't do in the first
half, it's really about going out and executing the second half and said, we'll find out a lot about
the group and really proud of the way the guys responded. Scoring on the first three drives of
the second half, really I think was really big and did a better job on third downs in the second
half and good job by the o-line, another game with no sacks so I believe we've had one sack in
the last four games and then did a good job of protecting the ball."
"Probably the biggest disappointment was the drops. It's probably seven or eight drops out there
that could've really put the game away a lot earlier. That was surprising. We've caught and
thrown the ball very well in practice but just lost focus for whatever reason and sometimes it
gets contagious out there on you. It's good for us to have an opportunity to refocus and I know
our guys will continue to work hard and improve on that but again, very happy to get the win and
really happy the way the guys responded in the second half."
You had 17 yards rushing in the first half. You come out in the first three possessions of
the second half and get some chunk plays. What was kind of the difference in the run
game?
"I've gotta go back and watch the video really to see it but I think the biggest thing in the first half
is we were in a lot of third and long situations and so we didn't have some opportunities maybe
to kind of get in rhythm and we're going out trying to decide what they're going to defensively.
They played some coverage and some different things, when you're running the ball up front, a
lot of guys up there, you've gotta have everybody on the same page and I felt like it was one
guy here, one guy there in the first half and I think we had a better mindset going out there in
the second half. The guys were frustrated that we didn't get it done like we needed to in the first
half and everybody was running hard and did a better job up front and also when you're getting
those first downs, all the sudden you can play with a little better tempo and wear them down and
I thought that was the difference in the second half in the running game."
On Hunter Renfrow:
"He's under evaluation. We think he's okay. He was in the locker room after the game and I got
to talk to him and he still knows the day he's getting married in April and obviously, disappointed
that he got hurt and wasn't able to come back but he broke two Clemson records tonight. One
with most consecutive starts by a wide receiver and also, most consecutive games with a
reception so I was trying to remember after he came out of the game if he had a catch or not
because I knew he had some close calls so, I was glad to get to the stat sheet after the game
and see that he did get that catch. We think he's okay and I got a chance to talk to him. He may
have been able to come back in the second half but just wanted to be cautious with him in that
situation."

Defensive coordinator Brent Venables
"We have been in a pretty decent rhythm. We certainly haven't been perfect but we've been in a
pretty good rhythm for however long, I lose sight. I'll forget who we just played within 24 hours
like, who did we just play?"
Did Clelin's performance qualify as playing with your hair on fire tonight?
"Yeah. That's how he practices all the time. He's an alpha dog. Loves to compete, loves to play.
He's got a broad set of shoulders that loves to have pressure on him. He wants guys to look to
him, lead, he's just always got this very contagious, infectious attitude in just about everything,
good and bad. He messes up, man, it means so much to him. You just love that. He's very
intentional, passionate, focused guy that demands a lot of himself and expects whatever you
can expect of him."
Albert Huggins:
"Really proud of Albert. He really has (grown a lot). He's just decided to change how he thinks,
it's just as simple as that. What his teammates think of him is important now, what his coaches
think of him is important. He just has a different sense of maturity and accountability. I think he's
kind of actually having fun. I think before he's had to leave a little bit in the tank because he
didn't want to get too tired and too worked up at practice and things of that nature instead of just
always just didn't quite realize and maximize his ability which is the same kind of effort towards
going a little bit harder as opposed to saving a little bit for the end. He's realized that man, he's
capable of so much more. I think he's having fun and enjoying that. Great example that it
doesn't happen overnight for everybody. He's got some stick-to-it-ness, it'll happen. Thankfully,
his teammates will be the first one to tell you that they didn't get up on him and there's a little
peer pressure there to help pull him through the knothole."
Back to Clelin real quick. I know people will see the sacks but maybe, the biggest play I
saw from him was on the batted ball and the recognition not to just chase (Daniel) Jones:
"We really thought there would be some opportunities there. They like to get the ball out quick
and particularly over the middle and inside so, though there were certain calls, hey, in these x,
y, z calls, there's a good chance he's going to do what? He's going to hold the ball. So you may
not get there, okay? But get in front of him. So, Cle a very aware player, those guys up front do
a great job and those were big huge plays in the game, tips are like tackles for loss for me and
certainly, they can be picks. Shaq (Smith) should've had the one probably, somebody took it
and it keeps them from getting into a rhythm. That's a guy that's played a lot of football so, he
showed up there."
Never miss the latest news from Clemson Sports Talk!
Join our free email list