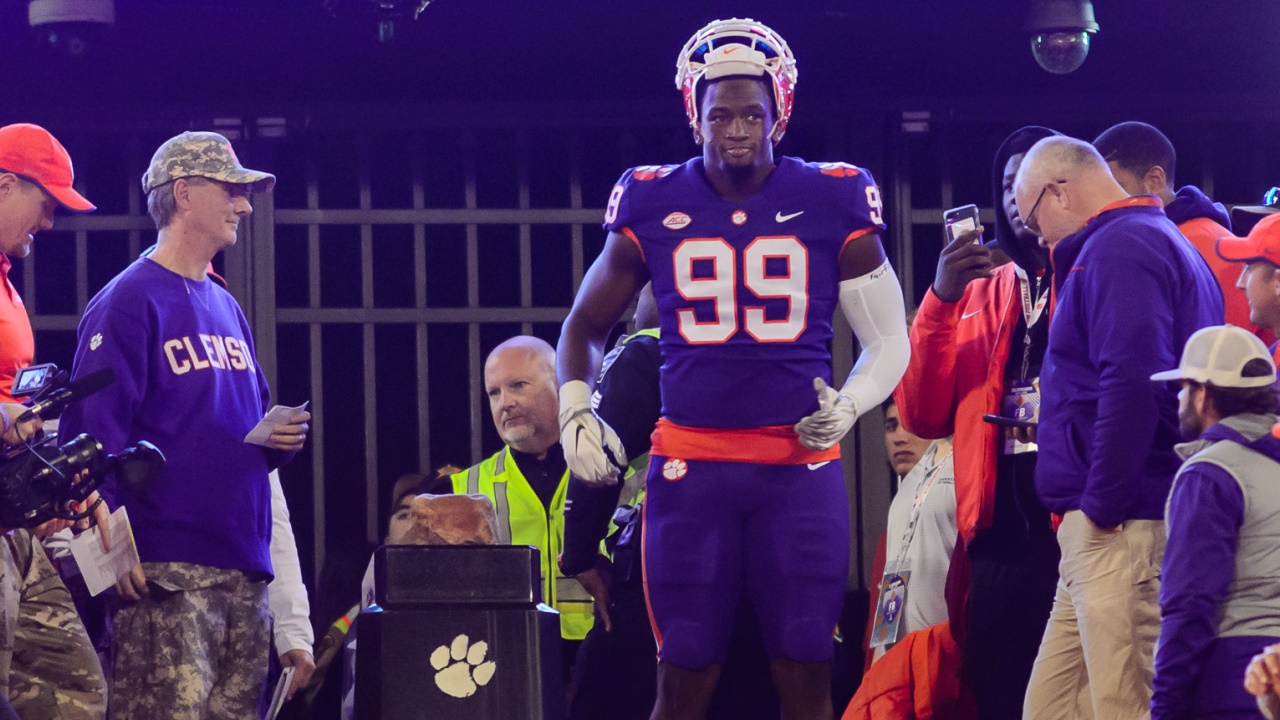 Clemson Football
With the Win: No. 2 Clemson 35, Duke 6
---
WITH THE WIN
Clemson opened a season 11-0 for the fourth time in program history, joining 11-0 starts in 1948, 1981 and 2015.
Clemson has now one the first 11 games of a season for the second time under head coach Dabo Swinney (2015). Swinney became the first coach in Clemson history to coach the school to multiple 11-0 starts, as legendary coaches Frank Howard and Danny Ford only accomplished the feat once each, in 1948 and 1981, respectively.
The 2018 Tigers won their 11th game of the season to tie the 1948, 1978, 2012 and 2013 squads for the fifth-most wins in a season in school history.
Clemson's active 11-game winning streak is now tied for the fifth-longest winning streak in school history and is the program's seventh winning streak of 11 games or more all-time.
Clemson won its 51st game in the last four years give the 2018 senior class the most wins in school and ACC history, surpassing the mark set by Clemson's 2017 senior class.
The victory was Clemson's 99th win of the decade. Next week, Clemson will attempt to join Alabama and Ohio State as the only FBS programs to win 100 games this decade.
Clemson finished ACC regular season play with a perfect 8-0 record. It represents Clemson's seventh time winning every ACC regular season game, joining perfect conference records in 1967 (6-0), 1978 (6-0), 1981 (6-0), 1982 (6-0), 1983 (7-0) and 2015 (8-0). The school posted additional unbeaten conference regular season records including ties in 1956 (4-0-1) and 1991 (6-0-1).
Including 2015, Clemson joined Florida State (1992-94, 96-97, 99-00, 2013-14) as the only ACC schools to post multiple 8-0 regular season records in conference play since the league adopted the eight-game conference schedule in 1992. Clemson, Florida State (nine times, listed above), North Carolina (2015) and Virginia Tech (2000) are the only ACC schools with perfect eight-game conference regular seasons to their credit.
Clemson's senior class finished regular season conference play 30-2 in the last four years, becoming the first class in league history to win 30 regular season conference games.
Clemson's senior class also improved to 26-1 at Death Valley with one more home game to play next week.
Clemson defeated an ACC foe for the 33rd time in its last 35 opportunities, including conference championship games, dating back to 2015.
Clemson won its regular season ACC finale for a fourth consecutive season. It marks Clemson's first four-game winning streak in regular season ACC finales since the 1993-96 seasons.
Clemson won its 14th consecutive game at Memorial Stadium, dating back to a 56-7 win against South Carolina on Nov. 25, 2016. The current 14-game streak is Clemson's second-longest home winning streak in Dabo Swinney's tenure as head coach (21 from 2013-16).
Clemson improved to 6-0 at home this season to give the Tigers at least six home wins in each of the last eight years.
Clemson improved to 38-4 in ACC contests at Memorial Stadium under head coach Dabo Swinney.
Clemson improved to 37-16-1 all-time against Duke, including a 20-4-1 mark in Death Valley.
Clemson played its third night game of the season -- its first at Memorial Stadium --
and improved to 23-3 in night games since 2015.
Swinney earned his 112th career victory to pull within one win of Frank Beamer (113) for third-most career wins as head coach of an ACC program. (Note: Beamer's figure reflects his 113 wins after Virginia Tech joined the ACC as a member institution, excluding his victories as an independent or as a member of other conferences).
Swinney remained undefeated against Duke all-time. He is currently undefeated against five ACC programs, including Duke (3-0), Louisville (5-0), Virginia (3-0), Virginia Tech (5-0) and Wake Forest (10-0).
The victory improved Swinney to 25-2 all-time against ACC teams from North Carolina, including a 3-0 mark this season. Clemson has won its last 18 games against ACC teams hailing from North Carolina, a streak inclusive of the 2012-18 seasons.
Clemson extended its streak of consecutive home victories against Duke to 15 games, dating back to 1982. The streak ties for Clemson's second-longest active home winning streak against a single opponent, matching a 15-game home winning streak against Presbyterian and trailing a 21-game home winning streak against Furman.
Clemson trailed, 6-0, after the first quarter. The game was Clemson's first trailing after one quarter this season and represented Clemson's first win when trailing after the opening period since overcoming a 14-7 first-quarter deficit in a 38-31 win at NC State last season.
Clemson took a 14-6 lead into halftime and has now won 62 of its last 64 games when leading at halftime.
WIth a 28-6 lead entering the fourth quarter, Clemson improved to 82-2 since 2011 when leading after three quarters.
Never miss the latest news from Clemson Sports Talk!
Join our free email list