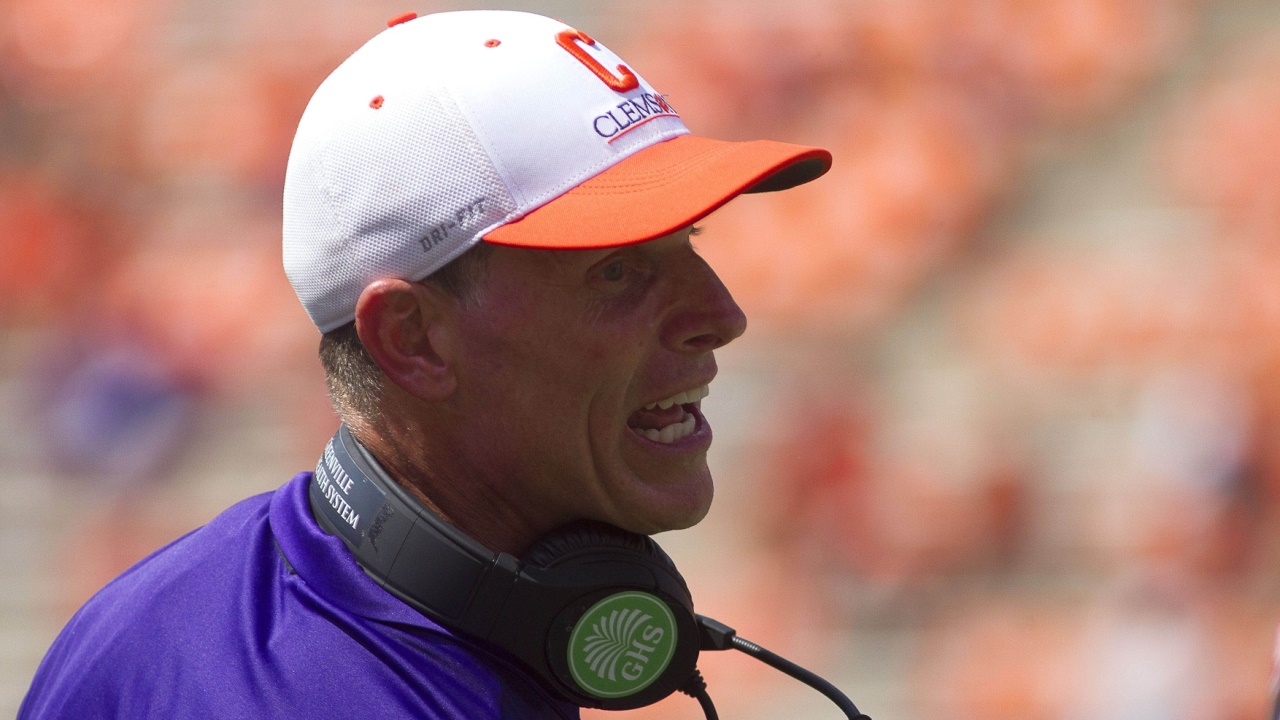 Photo by © Joshua S. Kelly-USA TODAY Sports
Clemson Football
In response to Texas Tech coaching rumors, Brent Venables doesn't want to be a hypocrite
---
Texas Tech Athletics Director Kirby Hocutt addressed the Red Raiders fan base following the firing of head coach Kliff Kingsbury.
"We will be elite in football again. I guarantee you, we will be elite in football again," Hocutt stated.
It's that time of year when college ADs looking to fill a vacant head coaching position create their shopping list of coaching candidates to make their teams great again. At the top of that list, seemingly for the past couple of years, is Clemson's defensive coordinator Brent Venables.
On Monday morning, Kirk Bohls of the Austin-American Statesman reported that Hocutt and Venables have talked recently, according to a source. Hocutt and Venables have a close relationship. The two were linebackers together at Kansas State and continue to be close friends to this day.
Venables was asked on Monday afternoon if there was any truth to the rumor that Hocutt and he have spoken.
"I talk to Kirby a lot and I talked to him recently, but that's all I'll say," Venables said after a slight pause.
But that's not all Venables said. He wanted to let everyone know how thankful and appreciative he is of the job that he currently has at Clemson.
"But I got a great job. I've got great loyalty and appreciation for the people that are responsible for me being here... I would never compromise the integrity of my job for other opportunities ever -- ever," Venables said. "That's not who I am."
Venables' son Jake is currently on Clemson's roster as a linebacker and is redshirting this season as a freshman. The defensive coordinator has been at Clemson since 2012 and won the 2016 Broyles Award for top assistant coach of the year.
The opportunities for Venables to leave for a head coaching job somewhere are always going to be there. His name is of one of the hottest commodities in the country.
But while he's at Clemson with his family and with the current task at hand, Venables doesn't want to be a hypocrite.
"Just so people understand where I'm at right now, my son Jake is here and he's chasing a dream. I sold this dream to him," Venables added. "My responsibility as a dad is to support him for as long as he wants to chase his dreams. Who am I to be a hypocrite? Regardless of what opportunities are out there, that's how I look at it."
Venables also added that he has it all at Clemson. He gets satisfaction out of being valued for what he does as a coach and the success that the entire program gets from his work.
He's currently the second-highest paid assistant coach in the country with a $1.6 million salary. Clemson's defense is currently No. 7 in the country in total defense, allowing 283.2 yards per game and 4.16 yards per play. • His 2017 defense was second in the nation in scoring defense (13.6) and fourth in total defense (276.7).
Venables could have shut down any speculation of rumors with Texas Tech. While even though he said it was a simple situation to manage and that him and Hocutt have conversed, he could have left it at that. But what he also said spoke volumes about his current situation at Clemson.
We'll let you decipher.
Venables: "Well, obviously - I say obviously - I've said many times that I am very thankful and appreciative of what I have and very aware of what I have. I've never tried to leverage one situation for another - ever. I would never try to prostitute myself. If I am worthy of something, then let the powers that be decide. You want to be valued and you want to be appreciated. To me, I get more out of that than anything.
"To me, I have it all here at Clemson. The success of our players and our team, our offense, coach Swinney, his leadership, the byproduct of that is success for all of us. That's part of the profession that we live in and managing it is pretty simple to me. You do have representation that handles a lot of stuff and you give them guidance on how to handle certain things, but I've always had a be-here-now mentality and never have tried to have multiple hats in the ring."
Never miss the latest news from Clemson Sports Talk!
Join our free email list