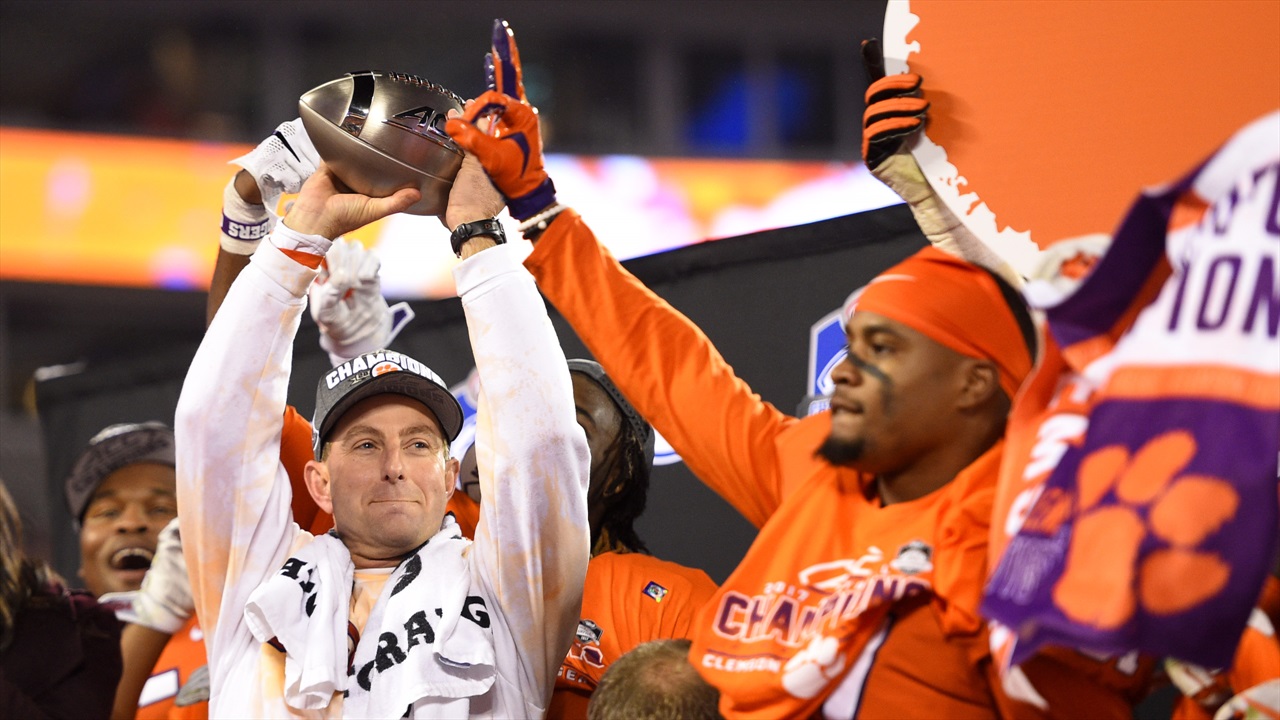 Clemson Football
Paw Predictions: ACC Championship
---
No. 2 Clemson will take on Pittsburgh in the ACC Championship and the Tigers are currently a 27.5 point favorite over the Panthers. Our official prediction will come out later but you can see how the national media is viewing this game below.
The preview:
---
247 Sports, 45-10 Clemson/45-7 Clemson
What they said:
"Hummer: Man, the ACC is bad … Anyway, I digress. Clemson's defense got embarrassed last week against South Carolina, and I expect it to bounce back in a big way. Plus, the Panthers have lost current Top 25 teams by an average of 27 points this season ... Clemson 45, Pittsburgh 10.
Crawford: How does Pitt keep it within the number? Throw it and throw it some more. South Carolina quarterback Jake Bentley threw it around the yard 50 times last week in Death Valley, leading to a career-best 510 yards and five touchdowns through the air against a Brent Venables defense that was embarrassed. Expect the Tigers to tighten up this weekend in a rout of the Panthers ... Clemson 45, Pitt 7."
---
What they said:
"This really is a bad matchup for Pittsburgh. All year long, the Panthers have been a team that has relied on its offensive line and the running game. Quarterback Kenny Pickett's efficiency numbers are okay, but they just don't make many big plays in the passing game. If there is a vulnerability to the Clemson defense, it's their pass defense and it doesn't appear that Pitt has the capability of exploiting the Tigers secondary. They are going to have to run the ball with Darrin Hall and Qadree Ollison and that's a tough chore against this Clemson defense.
Defensively, the Panthers are going to have to force the issue on Lawrence because Clemson's receivers can make plays. Throw in a little Travis Etienne against Pittsburgh's 80th-ranked run defense and the Panthers could be in a ton of trouble. Yes, Pittsburgh pulled off the huge upset in 2016. No, the Panthers won't do it this year. The Tigers will roll and earn one of the top two spots in the College Football Playoff."
Clemson Sports Talk
---
Bleacher Report, 37-17 Clemson
What they said:
"Absolutely nothing on paper suggests Pitt will compete with Clemson in the ACC title game. The only reason to give the Panthers the benefit of the doubt is their historical penchant for sticking with top competition. But Pitt is heavily reliant on its running game for success on offense, and Clemson leads the FBS with a mere 2.2 yards allowed per carry."
---
What they said:
"This is too many daggum points for a game between two really good rushing teams. Clemson and Pitt both want to pound the rock and the Tigers want to get out of the game healthy. Clemson will win, but Pitt will score enough to cover the spread."
---
College Football News, 44-14 Clemson
What they said:
"It won't be the total wipeout everyone seems to think it'll be, and Pitt will have some early success. But the Tigers will adjust and start to pull away in the second half.
The Panthers are dead last in the ACC in yards per completion – the Tigers will take their chances that Kenny Pickett can't consistently push the ball deep. The Clemson defensive front four will dominate most of the game, and the offensive balance will take care of the rest in the second half.
It'll be a drama-free game after the first quarter, with the Tigers pulling away late on the way to a date with Notre Dame in Miami."
---
What they said:
"Tigers trying to become first team to win four straight ACC championship games since it started in 2005 … CLEMSON 42-10."
---
What they said:
"When you're relying on mysticism — "Hey, man, Pitt has done strange stuff before" — as a reason to watch, you're probably not going to be watching very long. Pitt has indeed pulled some strange results, beating national champ Clemson in 2016 and unbeaten Miami in 2017, but only really evil spirits could make this a game.
Clemson is first in Def. S&P+ and sixth in Off. S&P+. (Pitt: 51st on offense, 66th on defense.) Since the near-loss to Syracuse, the Tigers won seven by an average score of 51-12, allowing more than 16 points and scoring fewer than 35 just once. Last week's strange shootout against South Carolina (final score: 56-35) was an odd red flag ... but no more than Pitt scoring just three points against Miami. Pitt QB Kenny Pickett's going to have to play the game of his life."
---
What they said:
"Clemson is making its fourth consecutive ACC championship appearance, and it's the first meeting with the Panthers since the 43-42 shootout in 2016. It's been an up-and-down season for Pitt, and the Tigers have won their past six games by an average of 35.6 points. Clemson dominates here, but it's a matter of whether a back-door cover happens. Clemson wins 42-19 but FAILS TO COVER the spread."
Never miss the latest news from Clemson Sports Talk!
Join our free email list