Clemson Football
No Dexter Lawrence, No Problem: Tigers on to California
---
Many people expected Saturday's Cotton Bowl between Clemson and Notre Dame to be a competitive game between two undefeated teams. Instead, In the end, it looked more like the 2016 Fiesta Bowl against Ohio State as Clemson didn't allow the Irish in the end zone and dominated for much of afternoon in AT&T Stadium.
After going back and watching the tape, here are a few things that stood out from Clemson's 30-3 win over the Fighting Irish.
No Dexter Lawrence, No Problem
The biggest story heading into kickoff was Clemson's loss of Dexter Lawrence. The All-American defensive tackle was suspended after trace amounts of Ostarine were found in his system. Fortunately for the Tigers, senior Albert Huggins was more than up for the challenge.
Huggins opened the game forcing an early fumble and playing well throughout the contest. Clemson's defense picked up six sacks in the game and controlled the line of scrimmage without their 340-pound run stuffing tackle.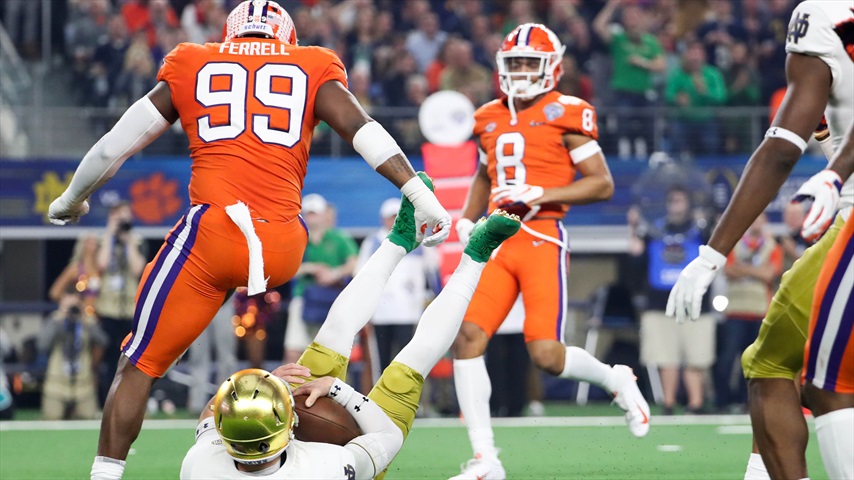 © Kevin Jairaj-USA TODAY Sports
Lawrence's absence didn't phase the mindset of the defensive front, according to Austin Bryant.
"It was the next man up mentality. Of course, we miss Dex (Dexter Lawrence). He's a great player and a great personality to have on your defense when times get tough. But those guys stepped up and did an awesome job,"
"I'm just proud of them and proud of Dex for cheering them on and being there for them whenever they needed someone to lean on. We all came together and played our hardest and just thankful for the opportunity," Bryant said.
Notre Dame's only points during the game came off a field goal aided by a Trayvon Mullen pass interference penalty. The Irish averaged over 400 yards per game but ran into a buzzsaw in the Clemson defense.
Getting it into gear
The Tiger offense put the pedal to the metal in the second quarter scoring three times, two of which came during a stretch of just 1:42 to close the half. Freshman quarterback Trevor Lawrence hit his stride and hooked up with Justyn Ross on a 52-yard and 42-yard touchdown strikes on the lethal vertical route we've seen all season.
The Lawrence-Ross connection isn't a new concept as the two former 5-star recruits have been in sync all fall. When you mix in Tee Higgins, the Tigers have as much vertical talent as any team in America. Tee Higgins' spectacular one-handed catch, gave Clemson a commanding 23-3 lead at the break. When Ross and Higgins are on the field at the same time, which we've seen more of recently, the Tigers are tough to defend. We asked Jeff Scott about that in the locker room after the game.
"We've been working into more of that as we go. Kind of picking our spots when we've needed too," Scott noted. "There are certain sets where they are on the same side. There are other sets where they are both on the outside. I felt like there were some big plays out of those sets tonight."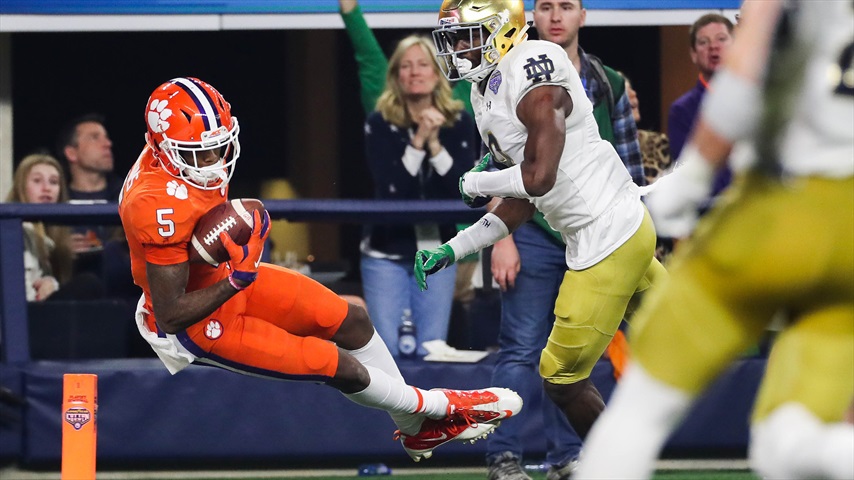 © Kevin Jairaj-USA TODAY Sports
Listening to Scott, it's easy to hear how much confidence they have in the group of wideouts. There is a reason that Clemson is now considered WRU. The wealth of talent at receiver right now is ridiculous. When you add in 5-star prospects Frank Ladson‍ and Joseph Ngata‍ next year...look out.
The wide receiver group has the ability to make acrobatic catches, and when Lawrence puts the ball in the right spot, things go well more often than not.
"You saw tonight. It's just -- those guys are unbelievable. Just everybody on the offensive line, receivers, running backs, everybody," Lawrence said. "But they made a lot of plays. Just throw it in their area, and they'll come down with it. They did an awesome job, and it just shows how good those guys are."
No matter what happens in Santa Clara, the Tigers will return an incredible passing game next season. Unlike last year in New Orleans against Alabama, the strength of the Tigers on offense might be the ability to stretch the field, which is what they were missing the last time these two teams faced off.
Get ready for Clemson-Alabama Part IV
Speaking of facing off, Clemson and Alabama will attempt to become the first 15-0 team in college football since the 1880s. Given how good both teams have been the past few years, it is probably fitting that the Tigers or Crimson Tide will be the first to do it since Penn in 1897.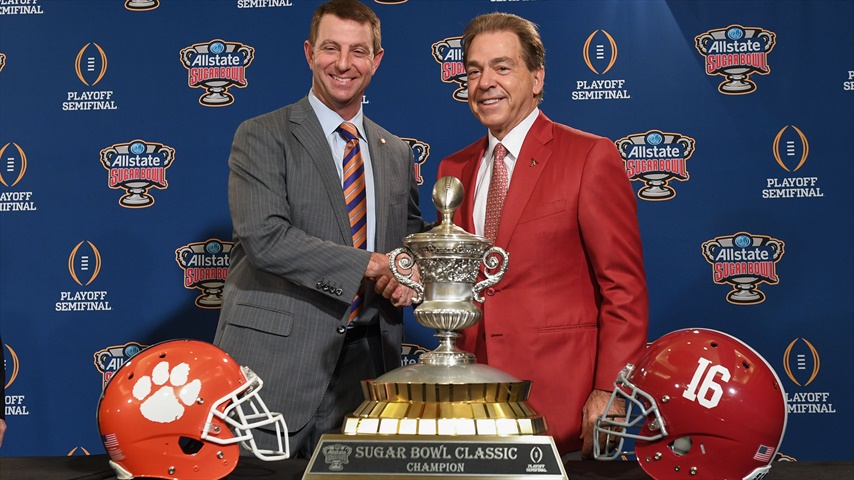 © Bart Boatwright-USA TODAY Sports
The Clemson seniors are 54-4, two of their defeats have come against Alabama in the playoffs. Alabama's seniors are 55-3, one of their losses was against Clemson in the National Championship.
If Clemson wins, both teams will finish the past four seasons 55-4 with two national titles. Part V anyone?
Winning at this level speaks volumes about the coaching staff and the players as Dabo Swinney pointed out after the 30-3 win over Notre Dame.
"Our daily structure prepares us for this moment. I always tell them, we're built for this. I mean, we're built for this by how we train, how we run our program from January to this point," Swinney stated. "It doesn't start in August."
It's going to be lots of fun in the Bay Area on Monday night.
Never miss the latest news from Clemson Sports Talk!
Join our free email list