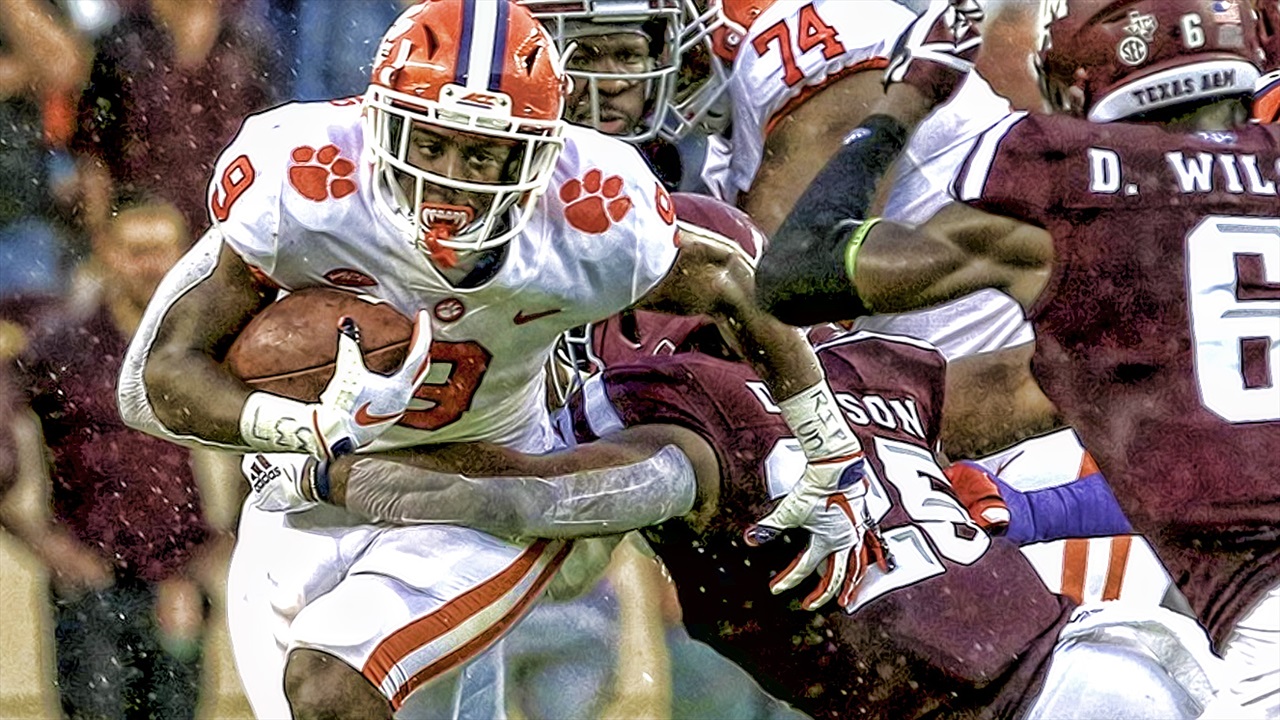 Photo by © John Glaser-USA TODAY Sports
Clemson Football
Keys to the Game: 2019 National Championship
---
---
The top two seeds in the College Football Playoff will battle for college football supremacy for the 2018 season when No. 2 Clemson faces No. 1 Alabama in the College Football Playoff National Championship. Kickoff from Levi's Stadium in Santa Clara, Calif., is scheduled for 8 p.m. ET (5 p.m. local).
The meeting of the Tigers and Crimson Tide is becoming an annual rite of winter. This year's matchup marks the fourth consecutive season that the two teams have met in a bowl game, a first in college football history. Like Clemson and Alabama in the last three years, Ohio State and USC had met previously in three consecutive bowl games across the 1972-74 seasons.
Last week, Clemson and Notre Dame played the first game between undefeated teams in College Football Playoff history. This week, even more history will be on the line when the 14-0 Tigers and 14-0 Crimson Tide square off, as each team will attempt to become the first major college football team in the modern era to go 15-0. No major team has recorded a 15-0 record since the 19th century, when Penn compiled a 15-0 mark in 1897.
In addition to featuring the two winningest programs of the College Football Playoff era, Monday's contest will also highlight the two winningest senior classes in college football history. The current seniors at Alabama and Clemson have won 55 and 54 games since 2015, respectively, the top two totals in Division I history. A Clemson win on Monday would tie the two senior classes with 55 wins and two national championships each.
With Clemson and Alabama meeting in a bowl game/national championship for the fourth consecutive year, they become the first teams to ever pull off the fest in college football history.
The Tigers and Crimson Tide enter the game with a combined 109-7 record since 2015. Excluding the three games the teams have contested against one another in that time frame, the Tigers and Tide are a combined 106- 4 (96.4 percent) against all other competition over the last four seasons.
Entering the National Championship Clemson has...
Won 57 of its last 61 overall, dating to 2014
Won 65 of its last 67 when leading at halftime
Gone 86-2 since 2011 when leading after three quarters
Gone 38-0 when scoring first since 2015
Posted an 87-2 record when recording more first downs than its opponent since 2011
The Match Up:
Clemson (14-0, 8-0) vs. Alabama (14-0, 8-0)
Clemson vs. Alabama Part I Highlights:
Clemson vs. Alabama Part II Highlights:
Clemson vs. Alabama Part III Highlights:
All-Time Series:
Alabama leads: 14-4
at Clemson: Clemson trails 1-2
at Alabama: Clemson trails 1-9
Neutral: Clemson trails 2-3
Last Meeting: Alabama defeated Clemson 24-6 in the Sugar Bowl last year
Listen Live: Fox Sports Radio 1400 on iHeart Radio
Stat of the Week:
Two of the most storied programs in the South and across the college football landscape, Clemson and Alabama have combined to win each of the last three National Championships. Both programs have the most league titles in their respective conference histories. Clemson has won 18 ACC titles, the most in ACC history, while Alabama has 27 to lead SEC institutions.
The two schools have met just four times on the gridiron since 1975, including the regular season opener for the 2008 and the last three College Football Playoffs, when the programs met in National Championship games to conclude the 2015 and 2016 seasons and in a playoff semifinal in the Sugar Bowl last year.
Alabama has a 14-4 lead in a series that dates back to a 35-0 Clemson victory in 1900. College Football Hall of Fame Coach John Heisman was Clemson's coach that day. Clemson won the first three games of the series, as the Tigers followed with shutout wins in 1904 and 1905. Alabama won the next 13 until Clemson won in the National Championship game at the end of the 2016 season, 35-31.
Key 1: Play Clean
This seems like a no-brainer when you face the Crimson Tide, but when you play them on the biggest stage, mistakes can be catastrophic. Both teams are extremely talented and the smallest mistake can be the difference in bringing home a national title and heading home empty-handed.
Both young quarterbacks enter this contest with just four interceptions during the season, but neither has seen the pressure that they could face from the opposing defensive line.
One advantage that we give Trevor Lawrence over Tua Tagovailoa is his height. Lawrence towers at 6'6 and should be able to survey the field faster than Alabama's spectacular quarterback.
The Tigers offensive line and maybe even more so, running backs with pass protection will be important. Give Lawrence enough time and Clemson's wide receivers will have great opportunities downfield to attack the Crimson Tide defensive backs.
Key 2: Win the LOS
Here is a serious question. How many teams in college football have the talent to dominate both sides of the ball against either of these two teams? Maybe none.
The thing about both clubs is that they are built from the line of scrimmage back. Neither team has seen another group collectively that can turn a game the way these units can. It will be a compelling match to watch. Last season, Clemson's offensive line didn't look ready for the task at hand and Alabama's defensive front took control over the game, including a deflection of a Kelly Bryant pass that was intercepted by Da'Ron Payne.
Following last season's performance, you would expect that the Tigers will be a touch sharper this time around. That could pay huge dividends in a game fought in the trenches.
Key 3: Get off to a good start
There isn't much that rattles Nick Saban's teams, but there is one thing that they aren't used to and can't really simulate in practice.
Playing from behind.
One problem with being as good as Alabama has been is that they don't typically have to chase teams down. Last season in the National Championship, Georgia had Alabama on the ropes, but couldn't finish the job.
Trailing 13-0 at the half, the Crimson Tide looked shellshocked. Saban took a huge risk, which he's done before on the biggest stage, and it paid off as Tagovailoa lead an incredible come-from-behind win in overtime.
For the Tide, it is still unusual to be in that position and if Clemson can get off to a good start and keep Alabama playing from behind it should bode well for the Tigers.
Both teams will have a tremendous amount of pressure, but if Clemson can force Alabama to play from behind it will increase the chances that the Crimson Tide make more mistakes than usual as they will be playing outside of their comfort zone.
Prediction:
As we said earlier this week, we are witnessing history and both of these teams have separated themselves from the rest of college football. Ohio State, Oklahoma, Georgia, and others want to be elite, but right now there on only two truly elite teams— Clemson and Alabama.
Both teams have the offensive firepower to take over the game, yet both teams yield top-shelf defenses that can slow even the best teams to a crawl.
Over the past few games, the Crimson Tide have seemed a bit more vulnerable than usual, leading us to think that this is Clemson's time to strike.
The Citadel scored 17 points against Alabama but more importantly had the game tied at the half. The Bulldogs also missed a kick in the 3rd quarter that would have given them the lead.
Since that game, the Crimson Tide has given up 21 points to Auburn, 28 points to Georgia, and 34 points to Oklahoma. That's not a trend that Saban can be happy about.
If that continues tonight, expect the Tigers to hoist the golden scepter once again becoming the kings of college football.
Final Score Predictions:
| | | | |
| --- | --- | --- | --- |
| | Clemson vs. Alabama | Pick of the Week | Season Score |
| Lawton | 27-23 Clemson | Furman, Syracuse, Wake Forest, Louisville | 22 |
| Sanders | 31-24 Alabama | Texas A&M, Georgia Southern, Pitt | 20 |
| Lowell | 34-28 Clemson | South Carolina | 16 |
| Brandon | 45-31 Clemson | Florida State | 17 |
| Simulation | 14-7 Clemson | Georgia Tech, NC State, Boston College, Duke, Notre Dame | 23 |
Perfect Prediction = 5 points Best Prediction = 3 Points Correct Prediction = 1 Point
**Pick of the Week: Indicates the best prediction given for that game.
Never miss the latest news from Clemson Sports Talk!
Join our free email list