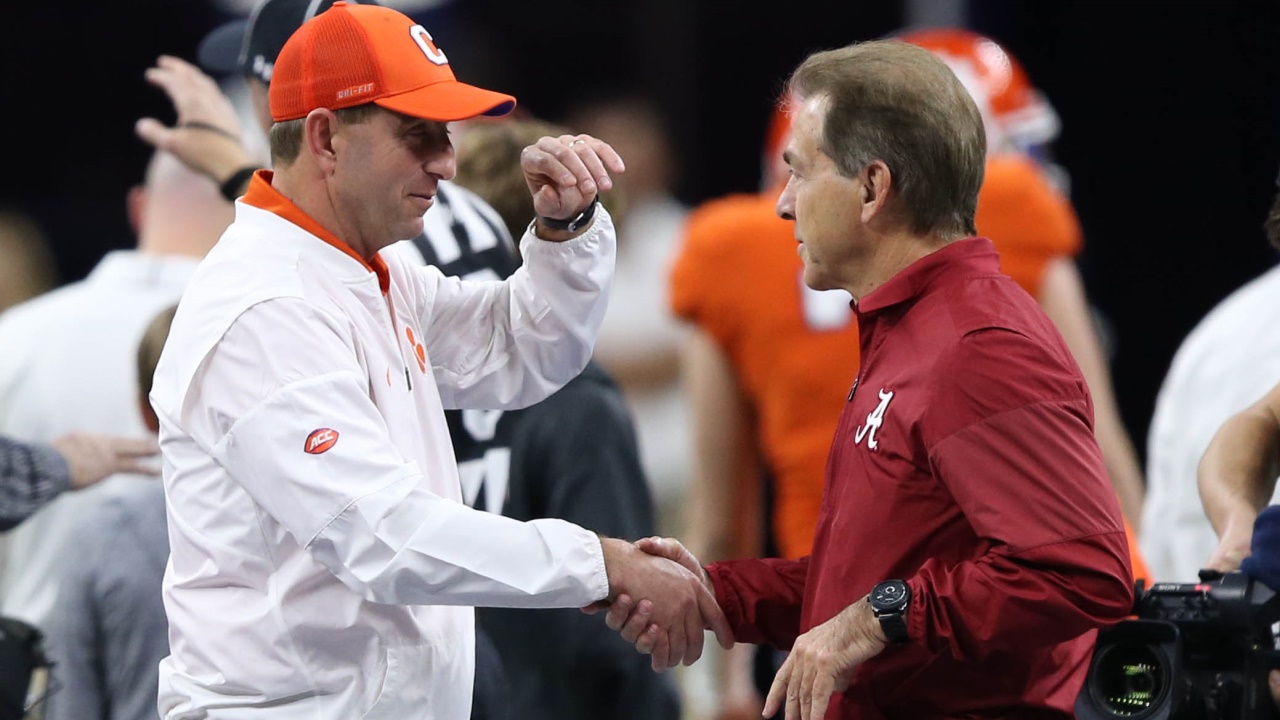 Photo by © Chuck Cook-USA TODAY Sports
Clemson Football
Paw Predictions: 2019 National Championship Game
---
---
No. 2 Clemson will take on No. 1 Alabama tonight in Santa Clara. The Tigers enter the game as a 5.5 point underdog, their first time as an underdog this season. Our official prediction will come out later today, but you can see how the national media is viewing this matchup.
Check out a game preview here:
---
Athlon Sports, multiple predictions, 34-31 Alabama by lead author
What they said:
"Similar to when Alabama has the ball, can Clemson's offensive line hold up at the point of attack? The Tigers have allowed only 17 sacks this year but three came against Notre Dame in the Cotton Bowl. Can Williams, Davis, Buggs and the Crimson Tide's standout group of linebackers get constant pressure throughout the game on passing downs? If Alabama stuffs Etienne and gets Lawrence into third-and-longs, even though the receivers will make a handful of plays downfield, that could be a tough recipe for Swinney's team to overcome all night."
---
Bleacher Report, 34-28 Alabama
What they said:
"Although this edition of Alabama vs. Clemson is going to once again be close, the prediction here is that the Crimson Tide again find a way to capture the national championship.
Tagovailoa will lead Alabama's high-powered offense to an impressive showing, and the Tide's defense will come up with a key stop to seal the win late."
---
CBS Sports, Multiple predictions, 35-33 Clemson by lead author
What they said:
"I think Alabama will start fast (again) and then at some point the Tide's offense will slow (again). What will be different this time than in the Orange Bowl is that Clemson's red zone defense has a much better chance of getting stops and forcing field goal attempts than Oklahoma, which ranks No. 130 among FBS teams in opponent's red zone touchdown percentage. I think 35 is the magic number for Clemson to win, and it's going to take withstanding that first charge by Alabama in order to give Trevor Lawrence a chance to warm up and get settled. Look for Justyn Ross to be a huge factor in the second half with a Mike Williams-like breakout performance as yet another true freshman quarterback snags a national championship."
---
Clemson Sports Talk
College Football News, 27-24 Alabama
What they said:
"Be stunned if this isn't a fight to the finish.
Expect the level of play to be at a ridiculously high level, with the lines each trading haymakers. The skill guys will do their respective things, but it'll be the trenches that deserves the longest watch.
Alabama will struggle, it'll never be easy, and it'll need a few big moments late, but it'll get the job done.
It will seem like Clemson has this. Everything will be working, the defensive line will take over, and Trevor Lawrence will be fantastic. And then the Tide D will stiffen and allow a few field goals instead of touchdowns.
Bama will get the right marches at the right times including a late, meticulous drive that will bring another national title home to Tuscaloosa."
---
What they said:
"The two biggest names in college football are battling again. Alabama is No. 1, the favorite, the defending national champion and has the (arguably) best quarterback in the country.
But something seems off.
After looking unbeatable for much of the season, Alabama barely beat Georgia thanks to Jalen Hurst heroics. The Tide raced out to a 28-0 lead against Oklahoma, only for the Sooners to get to within 11 points three times in the second half. Sure, Alabama always found an answer against OU. But Clemson isn't Oklahoma.
Huge, undefeated favorites have gone down before. Underdog Ohio State shocked Miami to win the 2002 national title. Texas beat Southern California in a classic Rose Bowl in the 2005 season. Both times, the winners were undefeated but still strong underdogs. Clemson fits that mold."
---
What they said:
"It's crazy to call Alabama and Clemson — the teams that met in the championship in both 2015 and 2016 and in the semis in 2017 — overachievers, but here we are. Neither Vegas nor S&P+ kept up with how good either really was, underestimating both consistently despite having them at or near the very top all year.
That's wild, and it's probably encouraging for those of us hoping for an awesome championship game. This game is projected tightly, and neither team makes a habit of underachieving.
It may feel like this title game was ordained back in early October. But it should still be a doozy, now that we're finally here."
---
© Brett Davis-USA TODAY Sports
Sporting News, Multiple predictions, 34-31 Alabama by lead author
What they said:
"Alabama will get off to a fast start, because that's what it has done all season, and it wouldn't be a surprise if the Tide have a double-digit lead heading into the second quarter. Just when viewers think about turning off the television, however, Trevor Lawrence will rally the Tigers once he settles in. It will be tight, just like the other national championship matchups between the two, but Tua Tagovailoa will lead the game-sealing drive in the fourth quarter. Those who turn this off will miss another instant classic."
Never miss the latest news from Clemson Sports Talk!
Join our free email list