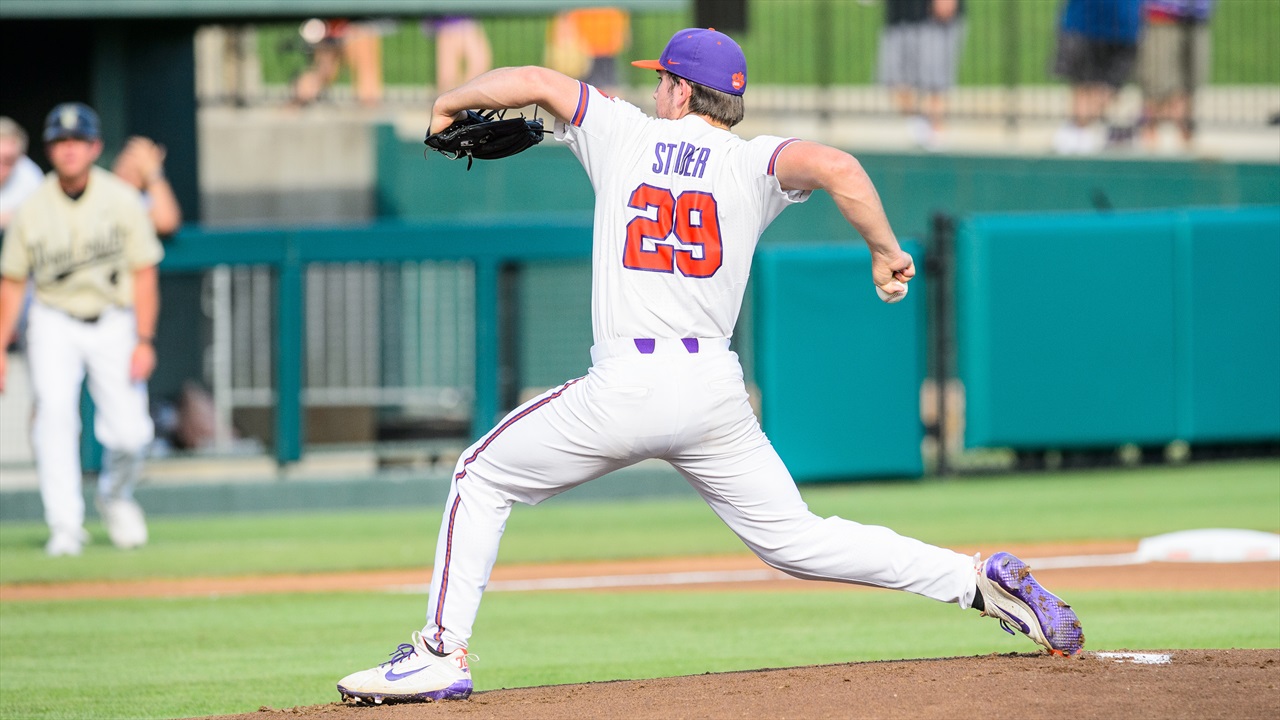 Monte Lee
Spencer Strider
Clemson Baseball
Spencer Strider, one of Clemson's best pitchers, embraces adversity after UCL injury
---
On the first day of spring practice for the 2019 campaign, Clemson baseball was hit with a curveball.
Spencer Strider, who was in the mix for a starting spot in the weekend rotation after being a freshman All-American in 2018, tore his UCL in his right arm during warmups. Strider said he felt fine when he began tossing the baseball around, but once he felt a pop he knew it was bad.
An MRI confirmed he would have to have Tommy John surgery and be out for the entire season, a pretty tough blow to Clemson's pitching staff.
Strider looked pretty disappointed on Friday afternoon, but at peace. He said he must act quickly with the surgery and get everything in order because it is a long road back.
"It's always frustrating when you go down with something," Strider said. "It's going to be good for some of the younger guys to step up and good for the team in certain ways. You've just got to embrace the adversity."
"It's always frustrating when you go down with something," Strider said. "It's going to be good for some of the younger guys to step up and good for the team in certain ways. You've just got to embrace the adversity."
In the 2018 season, Strider pitched 51 innings and was 5-2 with a 4.76 ERA. He struck out 70 batters and opponents had a .215 batting average against him.
Strider said this is the first major injury he's ever had. He joked that the only thing that has kept him from playing the game for a long period of time before this injury was a rain delay.
The recovery time for Tommy John surgery is from 10 to 12 months. The process is lengthy and delicate. Freshman pitcher Carter Raffield had Tommy John surgery as well, but is eight weeks ahead of Strider in recovery time. But at least he won't be alone as he tries to fight back to full strength.
"It's adversity. It can come at any time. You never know what's going to happen. That's one of those things that's really out of your control," Strider said. "This is going to be different. It's going to be tough at times. You've just got to try and hold on to the vision and hold on to what it is that you're trying to accomplish and that should make every day a little bit easier."
As for the starting rotation, head coach Monte Lee said Strider's injury "changes things" and he's going to take the next six intrasquad scrimmages to come up with a plan. A week ago, Strider was among the four names Lee mentioned who were in contention for a weekend starting role.
The other three? Brooks Crawford and Jacob Hennessy, who pitched 160 of the 571 total innings for Clemson in 2018, and freshman Davis Sharpe. Obviously, those three players are going to have to earn their spot as spring practice continues.
Clemson plays five games during the opening week of the season, something Monte Lee said was done on purpose so almost every pitcher's arm can get thrown into the fire.
"It definitely makes things a little bit tougher on us from a depth standpoint, but it's also a great opportunity for some of these younger guys to step up and into bigger roles and compete at the highest level," Lee said. "it's just a matter of those guys separating themselves, especially the guys who don't have 'stripes on their sleeves,' as we like to say. Those guys are going to have to separate themselves and earn it."
As for Strider, Lee hopes he will tackle the role of helping out the young pitchers and ease them into the stresses of the season. Lee said he spoke with Strider personally about how much he thinks of his starting pitcher, what he means to the program, and what his next steps need to be.
The hope is that Strider will be back pitching again this time next season after a redshirt saves him a year of eligibility.
"I think (Strider) will grow from it and be better because of this," Lee said. "Pitchers have to deal with this. It's just a part of our game, whether we like it or we don't… We've got to help Spencer deal with it. We've got to be there for him.
"One thing's for sure: the recovery rate with injuries that he's dealing with is pretty high. He's going to be fine… I don't have any doubt in my mind that not only is he going to come back, but he's going to come back better."
The day after Strider learned of his torn UCL and that he'd be out for the entire year, he met with Cory Shaffer, a mental coach who works with the team in all aspects. The message was simple.
"He said, 'you've got to be able to maintain the idea that it's because of this, good things are going to happen and you have to embrace it,'" Strider said. "It's adversity, and it can only make you better as long as you let it."
Never miss the latest news from Clemson Sports Talk!
Join our free email list