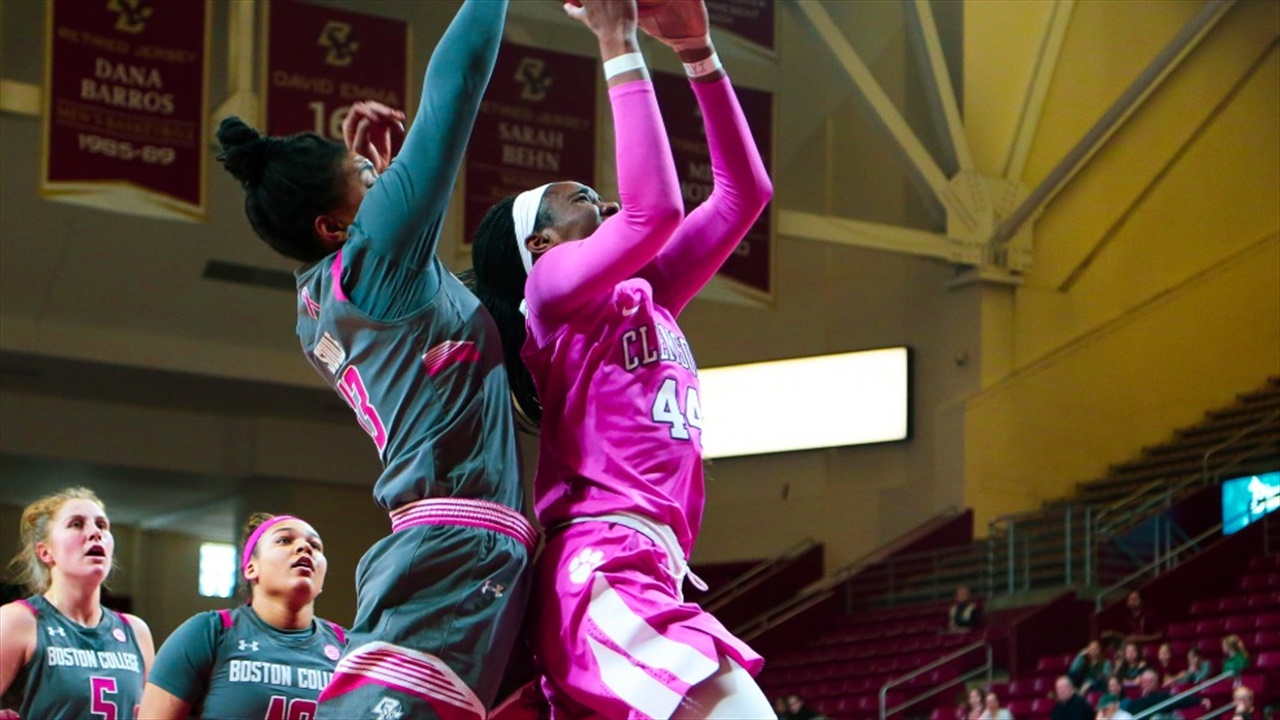 Clemson Women's Basketball
Tigers accomplish record-breaking defeat against Boston College Eagles
---
On Saturday, the Clemson Tigers (17-9, 8-5) dominated the court in every way possible when they faced the Boston College Eagles (14-12, 3-10) at Conte Forum in Chestnut Hill, MA.
Clemson women's basketball posted an incredible score of 91-58 and broke some records along the way, passing the 90-point mark for the first time in almost 10 years. The Tigers are also now at 8-5 in conference play, giving the team the most ACC wins its had since 2009.
Head coach Amanda Butler said: "We did a great job of setting the tone with our defense, and that's what we talked about with this quick turnaround. Our recent play is a testament to what happens when we play to our strengths and stay true to who we are."
The Tigers gave one of their most stellar performances of the season, shooting 59 percent from the field, holding the Eagles to 30 percent shooting. Clemson has now shot greater than 50 percent from past the arc for 4 consecutive games, making 9 of the 12 attempted shots made that afternoon.
The victory can be attributed to not one or two standout players, but the whole team, as 10 players made baskets in the contest.The Tigers' bench alone, led by senior Aliyah Collier who scored 18 points, posted 38 of the team's points to the scoreboard. of the team's total points. Forward Kobi Thornton was also a major factor in the team's success against the Eagles, accumulating 11 rebounds and 11 points before halftime.
In the first quarter, characterized by senior Aliyah Collier's stunning buzzer-beater, Boston College was already falling to the Tigers, boasting 14 points to Clemson's 29 points. The ladies of Clemson basketball proved to be relentless well into the second quarter, holding the Eagles back and taking even more control over the court, leading the game 53-23.
Clemson finished out the fourth quarter gaining of 26 points with the help of freshman Camreé Clegg. Clegg made a trio of 3-pointers and closed the game with 12 points, a career high for the athlete, completing 4 of 5 attempted 3-pointers.
The Tigers are heading to the McCamish Pavilion in Atlanta, GA this Thursday for their second game this season against the Georgia Tech Yellow Jackets. Tipoff is scheduled for 7 p.m. and the game will air on ACC Network Extra.
Never miss the latest news from Clemson Sports Talk!
Join our free email list