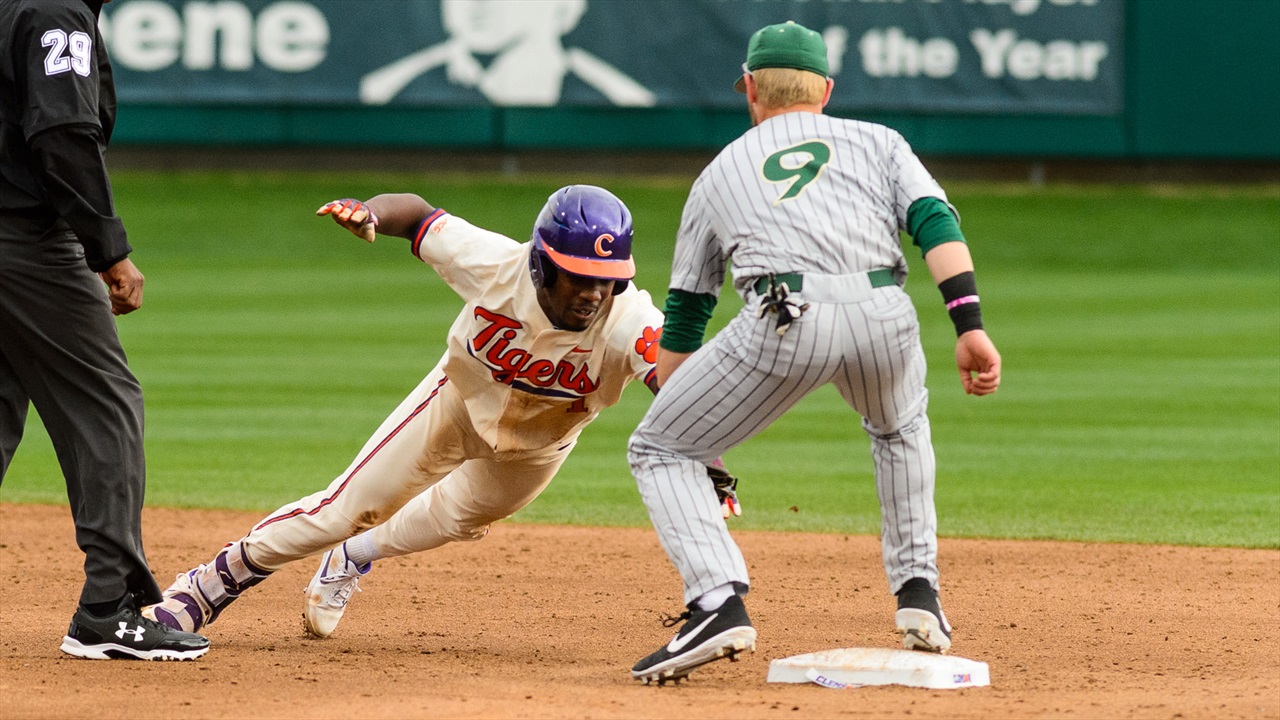 Clemson Baseball
Clemson Hosts VMI in Weekend Series
---
CLEMSON, S.C. - The Tigers continue their homestand with a three-game series against Virginia Military this weekend.
SERIES SETUP
• Who - Virginia Military (2-3) vs. Clemson (3-1)
• Best Rankings - VMI - NR; CU - No. 14 Baseball America
• When - Friday (4 p.m.), Saturday (3 p.m.), Sunday (1 p.m.)
• Where - Clemson, S.C. (Doug Kingsmore Stadium)
• Watch - ACC Network Extra
• Video Announcers - Fred Cunningham (Saturday), Ron Smith, Pete Yanity (Friday, Sunday)
• Listen (Radio) - WCCP (105.5 FM), ESPN Upstate
• Listen (Internet) - ClemsonTigers.com, TuneIn
• Live Stats - ClemsonTigers.com
• Social Media - ClemsonBaseball
• Tickets - ClemsonTigers.com, 1-800-CLEMSON
• Promotion (Sunday) - Game Highlight - Kids run the bases
SERIES HISTORY
• Overall Record - Clemson leads 1-0 (1916)
• Record at Clemson - 0-0
STARTING PITCHERS
• Friday - RHP Jacob Menders (VMI) vs. RHP Brooks Crawford (CU)
• Saturday - RHP Adam Jewell (VMI) vs. RHP Davis Sharpe (CU)
• Sunday - RHP Zak Kent (VMI) vs. LHP Justin Wrobleksi (CU)
CLEMSON OVERVIEW
• Clemson built a 6-0 lead and edged Charlotte 7-6 at home on Monday behind four home runs and five stolen bases.
• The Tigers are averaging 5.8 runs per game and hitting .229 with a .386 on-base percentage and 12 steals.
• The pitching staff has a 3.00 ERA, .195 opponents' batting average and 6.57 strikeout-to-walk ratio and Clemson is fielding .986.
VIRGINIA MILITARY OVERVIEW
• Virginia Military is led by fifth-year head coach Jonathan Hadra.
• The Keydets lost at Virginia 9-0 on Tuesday. They are hitting .237 and have a 4.50 ERA and .960 fielding percentage.
• Jake Huggins has both of the team's home runs and is hitting .391 with seven RBIs. Will Knight is batting .389 with two steals.
QUICK HITS
• The only previous meeting between Virginia Military and Clemson took place on April 29, 1916 in a game Clemson won 2-0 at Lexington, Va.
• Seventeen of Clemson's 23 runs in 2019 have come on its 10 home runs.
• Grayson Byrd, Michael Greene, Jordan Greene, Sam Hall and Bryce Teodosio have all reached base in all four games in 2019.
POWER & SPEED SURGE
• Many prognosticators predicted Clemson's power numbers to drop off from 2018, when the Tigers hit 98 homers, tied for third in the nation.
• Clemson has belted 10 home runs in four games, good for 2.5 per game. The Tigers were second in the nation in that category in 2018 (1.6).
• Clemson has hit at least two homers in all four games, including a season-high four homers in the Tigers' 7-6 win over Charlotte on Feb. 18.
• Seven Tigers have accounted for the 10 homers. Logan Davidson, Davis Sharpe and Bryce Teodosio are tied for the team lead with two apiece.
• Clemson has also showed a penchant for stealing bases in 2019. The Tigers have 12 steals, an average of 3.0 per game.
• Six Tigers have accounted for the 12 steals. Logan Davidson has a team-high four steals, while Sam Hall is second with three stolen bases.
• Clemson is the only team in the nation with both seven homers and seven stolen bases in 2019 (through games of Feb. 19).
Never miss the latest news from Clemson Sports Talk!
Join our free email list